Hamas and Islamic Jihad threaten 'escalation of the Intifada' over Temple Mount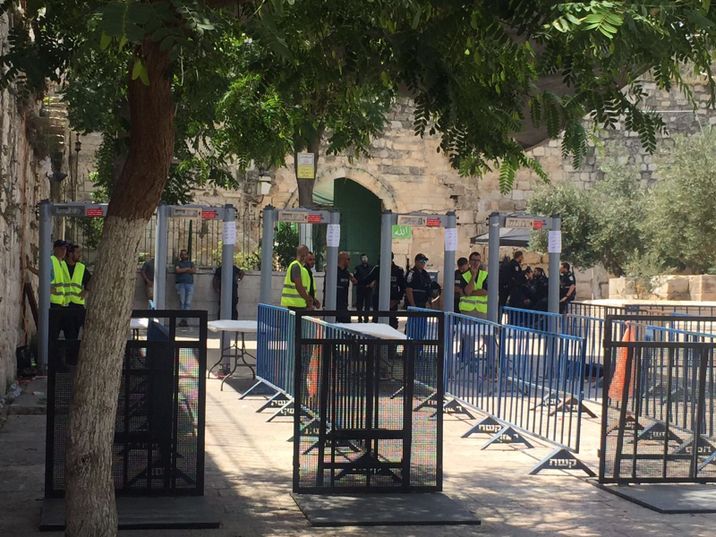 Newly-installed metal detectors and gates at the entrance to the Temple Mount compound in Jerusalem, July 17, 2017
i24NEWS
The two groups said that Israeli-installed metal detectors on the Temple Mount were a red line
Palestinian militant groups Hamas and the Islamic Jihad called for an escalation in violence amid new Israeli security measures on the Temple Mount.
The two groups said that Israeli-installed metal detectors on the Temple Mount --home to the Al-Aqsa mosque and the Dome of the Rock -- were a red line and intolerable, reported Palestinian news agency Maan.
The metal detectors were placed outside the Temple Mount's nine gates following a terror attack on Friday, where three Israeli-Arabs killed two Israeli police officers at the holy site.
On Monday, the two militant organizations called for removing the metal detectors and returning total control of the site back to the Jerusalem Islamic Waqf, a religious trust which administers the site.
"The aggression that took place during the past few days will not pass unnoticed, and we call on our people to prepare for a 'call to arms' to defend Al-Aqsa mosque, and escalate the Jerusalem Intifada," the groups said in a press release, according to Maan.
"Let the popular demonstrations go out all over the homeland and Diaspora, to express their rejection of Zionist aggression, to renew the covenant of victory over the Al-Aqsa Mosque and to be redeemed in spirit and soul."
The two groups are considered by Israel, the United States, and most of Europe as terrorist organizations guilty of planning and carrying out deadly attacks on civilians.
Since Friday morning, Muslims have not prayed on the Temple Mount. Sunday and Monday saw large protests outside the Old City against the new Israeli security measures.
Rival Palestinian party Fatah, which controls the West Bank, has issued a call for a "Day of Rage" on Wednesday, with protests planned in a number of Palestinian towns.
You need to be logged in in order to post comments. Sign up or log in
Pallogic - murdering Israelis is not an escalation of violence, but walking through metal detectors is. This would be unbelievable if it weren't coming from a Palestinian!!