Israel to replace metal detectors with gates on the Temple Mount, says Ch. 2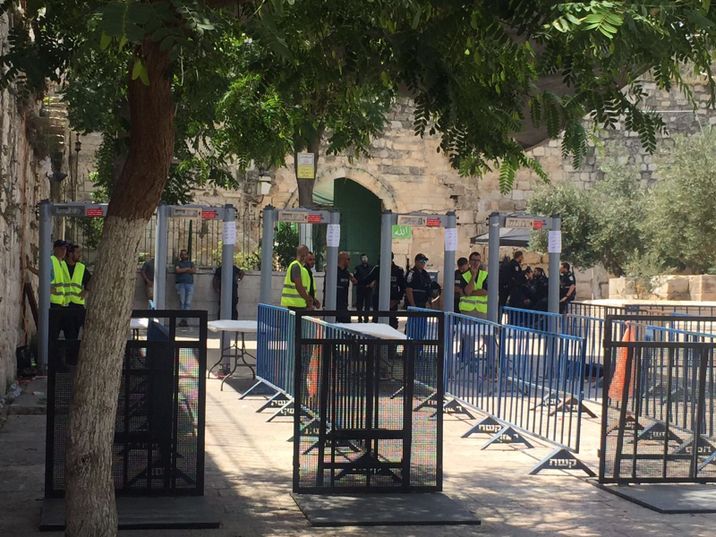 Newly-installed metal detectors and gates at the entrance to the Temple Mount compound in Jerusalem, July 17, 2017
i24NEWS
It is unclear whether Muslim leaders of the Jerusalem Waqf will agree to the proposed crowd control gates
Israel is planning to remove metal detectors installed last week on Jerusalem's Temple Mount/Haram al-Sharif, replacing them with crowd control gates, according to a report by Channel 2.
Following a day of protests and reprisal killings that have left at least four Palestinians and three Israelis dead, the government has decided to take down the metal detectors.
The detectors will be replaced with fences at the nine entrance gates to the Temple Mount/Haram al-Sharif.
The fences will act as a crowd control "entry sleeve," permitting individual screening of those who enter. For suspects, they will be asked to go under a hand-held detector.
It is also possible that entry with backpacks will be prohibited, Channel 2 reported.
Israel took the controversial security measures following a July 14 attack by three Israeli-Arabs which shot dead two Israeli policemen. All three assailants were killed in the attack.
In a meeting on Saturday between Jerusalem District Police Commander Yoram Halevy and Mayor Nir Barkat, it was agreed that the Jerusalem Municipality, under the supervision of the Jerusalem police, will erect fences near the Temple Mount's entrances.
The Israeli police also plan on using the CCTV footage that has been installed. Between the gates and the cameras, it will be possible to pinpoint suspects and compel them to undergo further screening, Channel 2 reported.
It is unclear whether Muslim leaders of the Jerusalem Waqf will agree to the proposed changes.