Israel, West Bank make it to UN WTO's 2017 top 10 tourist destinations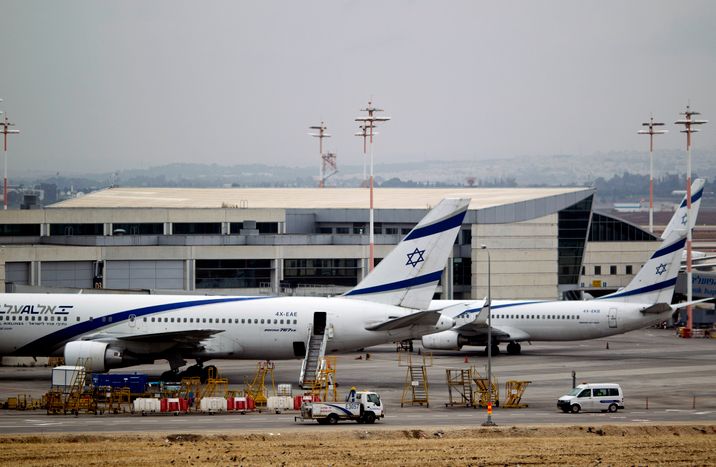 Israeli airliner El Al planes parked at Ben Gurion airport near Tel Aviv, Israel, Sunday, April 21, 2013.
AP Photo/Ariel Schalit
Tourism to Israel is up by 25%, a percentage rate that would bring 3.7 million visitors by the end of 2017.
Israel made it into the top ten tourist destinations for the first part of 2017 according to a "world tourism barometer" used by the United Nations World Tourism Organization (UNWTO).
According to a report published by The Telegraph on the data, tourism to Israel is up by 25%, a percentage rate that if it would hold, will bring 3.7 million visitors to Israel for all of 2017. Also noteworthy is that the West Bank finished in first place, experiencing a 57.8% increase in tourism, while Israel found itself in the top ten's final slot.
The report also notes what appears to be a mutually beneficial relationship between Israel and the Palestinians in the tourism industry, largely due to Israel being a conveyer belt for tourists seeking to visit the West Bank.
Next-door Egypt also witnessed a boom in tourism for the beginning of 2017, making it to the number two spot in the UNWTO rankings. Egypt sustained a significant setback last year largely as a result of increased terror attacks and political instability, receiving some 4 million tourists fewer than the approximate 9 million tourists in 2015.
Egypt's rate of increase in tourism of 51% would result in some 8 million visitors to the country by the end of this year. The estimated figure still falls far short of the more than 14 million tourists recorded in 2010, right at the beginning of what has been dubbed as "The Arab Spring."