Man said to be planning attack shot by police in Jerusalem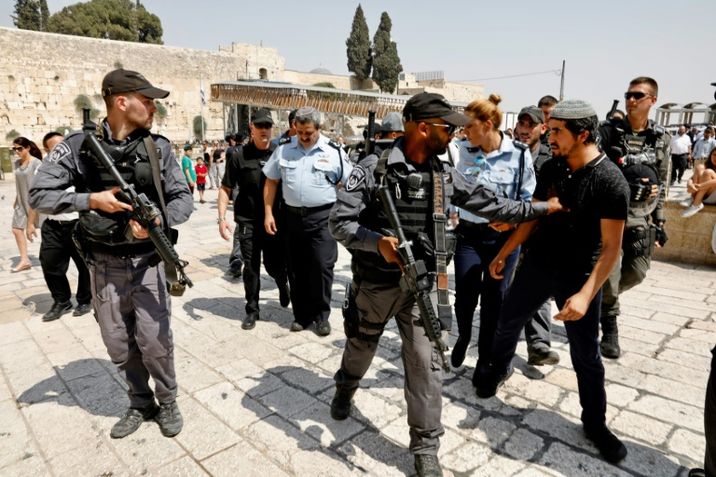 Les forces de sécurité israéliennes sur l'esplanade des Mosquées le 27 juillet 2017 à Jérusalem-Est
GALI TIBBON (AFP)
Residents told local media the man was ill and recently had a pacemaker inserted
Israeli police shot a man in a southern neighborhood in Jerusalem on Sunday after receiving intelligence that he was intending to carry out an imminent attack in the city, police and local media said.
A statement from Israel Police and the internal security service, the Shin Bet, said the two forces were conducting a joint operation in southern Jerusalem.
Channel Two reported that after carrying out an extensive manhunt during the afternoon, security forces located the man near the Beit Safafa neighborhood.
Police said that the suspect opened fire as they approached, and that they in turn fired shots at him. Pictures published by local media showed heavily armed police officers pinning a grey-haired man to the ground. 
A police statement said the man, who has not been named, was shot in the foot and transferred to hospital in a stable condition.
However neighbors of the man, said to be 50 years-old, said he was in poor physical health and had recently had a pacemaker installed. They expressed skepticism to Channel Two that he would be able to carry out an attack. 
Police did not divulge any further details on the nature of the planned assault or where it was supposed to take place.
The incident comes a day after an East Jerusalem woman attempted to stab two people near Jerusalem's Damascus Gate.
Footage released by police showed her crossing the street and then taking out a knife and attacking a passerby, who managed to run away.
Local media said after failing to serious injure her first victim, she then ran to a nearby bus stop and attacked a Christian Arab light rail worker who she mistook for a Jew because of a Hebrew inscription on his shirt, stabbing him in the shoulder.