Israel's Foreign Ministry warned of fallout from sanctions on Al Jazeera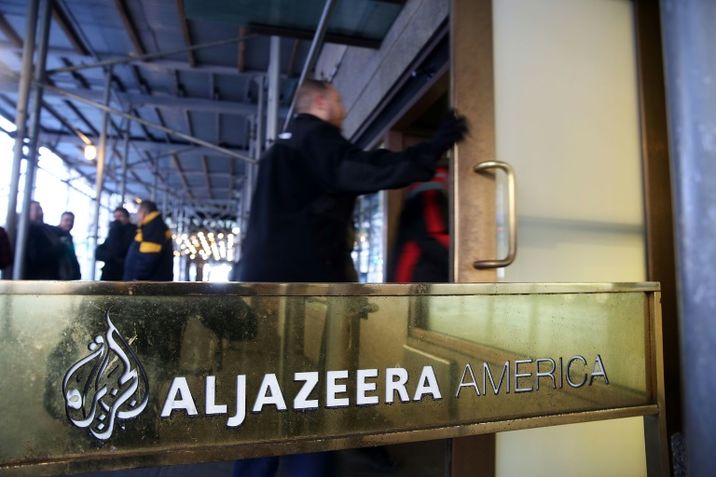 People walk into the offices of Al Jazeera America on January 13, 2016 in New York City
Spencer Platt (Getty/AFP)
Israel announced on Wednesday it was revoking the press pass of an Al Jazeera correspondent
Israel's Ministry of Foreign Affairs two weeks ago warned senior national security officials that imposing sanctions on the Al Jazeera TV network would damage the country's image abroad, Haaretz newspaper reported on Thursday.
The Government Press Office (GPO) on Wednesday announced they were revoking the press pass of an Israeli Al Jazeera correspondent, Elias Karram, following weeks of threats against the broadcaster, who the government accuses of inaccurate and unfair coverage of Israel.
On Thursday Haaretz cited a source briefed on the contents of a National Security Council (NSC) meeting which mulled the possible ramifications of any move against the Qatar-owned broadcaster, who said that the foreign ministry's argument was that "there's no doubt that any infringement on activities by Al Jazeera and its reporters in Israel would cause public relations damage to Israel overseas."
Another source said that the ministry advised that "such moves are liable to result in Israel being portrayed as in the same class as countries like Cuba, Venezuela and Turkey" - all countries that are known to have imprisoned journalists critical of the authorities.
The newspaper also reported that the NSC had sought out the Foreign Ministry's opinion on potential fallout from taking action against Al Jazeera. 
On Wednesday the GPO distributed video of an interview last year in which the journalist, Elias Karram, called his work an "integral part" of Palestinian resistance to Israeli policies. 
"These remarks call into question the ability of Karram, the representative of a foreign network, to cover – as a professional journalist – the Israeli-Palestinian conflict in which, according to his own words, he is taking an active part," the GPO said in a statement.
The revoking of Karram's authorization to work as a journalist is the first solid step the government has taken since Israel's communications minister announced two weeks ago that he plans to close the Jerusalem bureau of the Qatar-owned media network Al Jazeera.
In a request issued to Israel's Government Press Office, Communications Minister Ayoub Kara asked that Al Jazeera journalists in Israel be stripped of their press passes due to the network's reporting of the most recent wave of Temple Mount clashes.
"Due to Al Jazeera's coverage of incitement against Israel which escalated during the Temple Mount clashes, I request that Al-Jazeera journalists in Israel should have their press credentials revoked."
Shortly afterward he told a news conference: "Al Jazeera has become the main tool of Daesh (the Islamic State group), Hamas, Hezbollah and Iran".
Read more: Al Jazeera's man in Jerusalem defends network against Israeli threats of closure
Read more: Netanyahu says he wants to kick Al Jazeera out of Israel
You need to be logged in in order to post comments. Sign up or log in
Qatar supports MBs & Hamas and Haaretz.