Israeli minister requests investigation of event held in support of Arab poet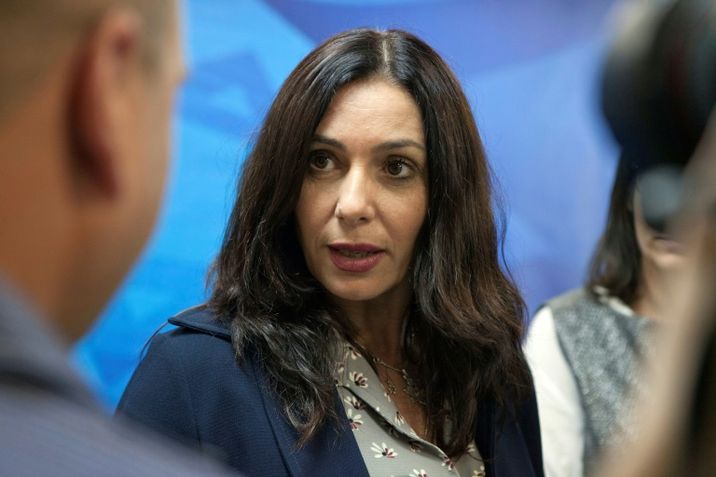 Miri Regev le 21 juin 2015 à Jérusalem
DAN BALILTY (POOL/AFP/Archives)
Dareen Tatour awaits a verdict for allegedly inciting to violence with poem and social media posts
Israeli Culture Minister Miri Regev on Sunday requested that police open an investigation into a theater that hosted an event honoring an Israeli Arab poet accused of incitement to violence and support for a terror organization.
Dareen Tatour, who hails from northern Israel and identifies as Palestinian, remains under partial house arrest and awaits a verdict over videos she posted on social media outlets, including a poem whose English title is "Resist, My People, Resist Them", which includes a vow that she "will not succumb to the 'peaceful solution'".
Her indictment also referred to posts in which she wrote that the "Islamic Jihad Movement hereby declares the continuation of the intifada throughout the West Bank" and another that captioned an image with the words "I will be the next shahid", meaning martyr, according to Israeli daily Haaretz.
She first denied writing the posts, but then told investigators that her intentions were nonviolent, said the newspaper.
Minister Regev wrote to Police Commissioner Roni Aslsheikh that she believed "practical steps" should be taken against Jaffa Theater, "which hosted activity that appeared to subvert the state of Israel, its values, and its symbols." The minister also called for an investigation into the event's organizers and participants.
The August 30 event at the Jaffa Theater was attended by hundreds and included performances and readings by Arab and Jewish writers. Some 170 Israeli cultural figures, including four winners of the prestigious Israel Prize, signed a petition in 2016 calling for charges against Tatour to be dropped.  
You need to be logged in in order to post comments. Sign up or log in
September 6, 2017 3:50 AM
Xubver6Jews! No surprise here.
September 6, 2017 3:50 AM