Clashes at Jerusalem house after family evicted, reports say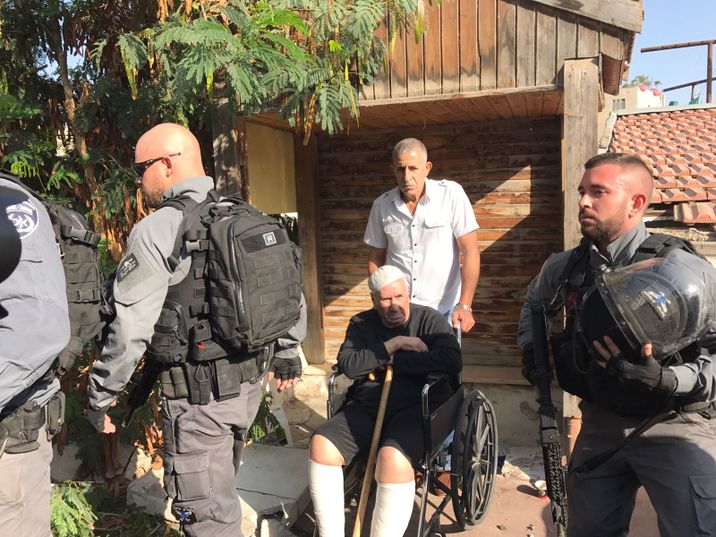 A family is evacuated from their home in the Sheikh Jarrah neighborhood in Jerusalem, September 5 2017
Courtesy
Israel evicted the Arab family after a long-running legal dispute regarding the status of the tenants
Clashes broke out on Friday during protests in support of a Palestinian family evicted from their home in East Jerusalem, Israeli news site Maariv and AFP journalists said.
Around 150 Palestinians and left-wing Israeli activists protested the eviction of the Shamasneh family, with scuffles between police, protesters and Israeli settlers, AFP reporters on the scene in the Sheikh Jarrah district said.
Israel evicted the Arab family from their home in the neighborhood on Tuesday morning, after a long-running legal dispute regarding the status of the tenants and ownership of the building.
The eviction was the first time an Arab family has been forced to leave their home in the neighborhood since 2009.
The courts ruled that the Shamasne family has lived in the house since 1972, however the family claims it has been resident since 1964 (albeit without a lease for part of the period) and that therefore they cannot be evicted under law.
The property was owned by Jews until 1948 when after that year's War of Independence, known to the Palestinians as the "Nakba" or "catastrophe," the area came under Jordanian control and the Jewish family was forced to leave the area, leading to the renting of the property to a Palestinian family.
Under Israeli law, if Jews can prove their families lived in east Jerusalem homes before the 1948 war they can demand that Israel's general custodian office release the property and return their "ownership rights".
During the war, thousands of Jews fled Jerusalem as Jordanian-led Arab forces seized the city, while hundreds of thousands of Palestinians fled from land that was later to become Israel.
No such law exists for Palestinians who lost their land.
A few years ago, a Jewish individual purchased the property in Sheikh Jarrah from the legal heirs with the help of the right-wing Israel Land Fund. A legal battle ensued when the Shamasneh family was issued with notice of the their impending eviction, with a final date for the family having to vacate the property postponed on multiple occasions.
(Staff with AFP)