David Duke tweets story on Netanyahu's son posting meme with anti-Semitic origin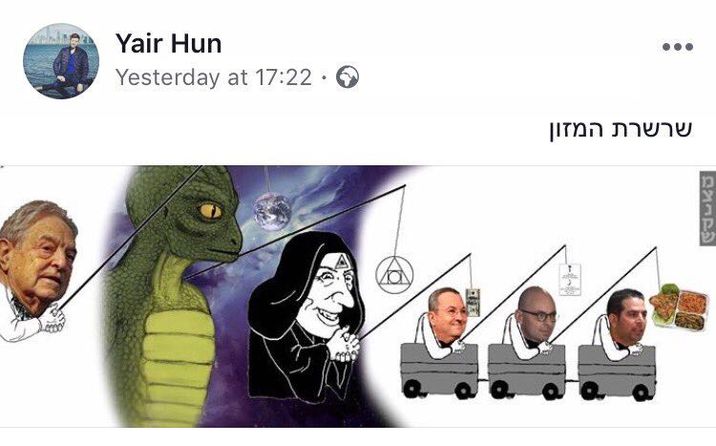 A meme uploaded to the Facebook page of Yair Netanyahu, son of the Israeli prime minister Benjamin Netanyahu
Screenshot
The cartoon adopts of plethora of conspiracy theories
Notorious white supremacist David Duke on Saturday tweeted a link to a story about a Facebook post by Israeli Prime Minister Benjamin Netanyahu's son Yair, which included a cartoon suggesting that Jewish philanthropist George Soros controls the world – and is itself an altered version of an explicitly anti-Semitic cartoon.
Duke, the most well-known American Holocaust denier, wrote: "Netanyahu's son posts a meme suggesting (((Soros))) is controlling the world," using the triple parentheses that some anti-Semites utilize to signify an individual's Jewishness.
The cartoon posted by Yair Netanyahu, which alludes to popular conspiracies including one that reptilians are masters of the universe, implied that Soros was behind accusations that his mother Sara misused public funds to purchase prepared meals.
It depicts Soros dangling a globe in front of a lizard, which in turn dangles an Illuminati symbol before a Freemason, who dangles money before former Israeli prime minister and Netanyahu critic Ehud Barak, who dangles a voting ballot paper in front of Barak associate and attorney Eldad Yaniv, who finally dangles a tray of food before key witness Meni Naftali.
"The food chain," Yair Netanyahu wrote alongside the image.
But the original version of the cartoon is different, showing an anti-Semitic drawing of a Jew dangling the globe, then the lizard and Freemason, who dangles money before yet another anti-Semitic representation of a Jew, who finally hangs a hamburger before a character apparently representing Americans.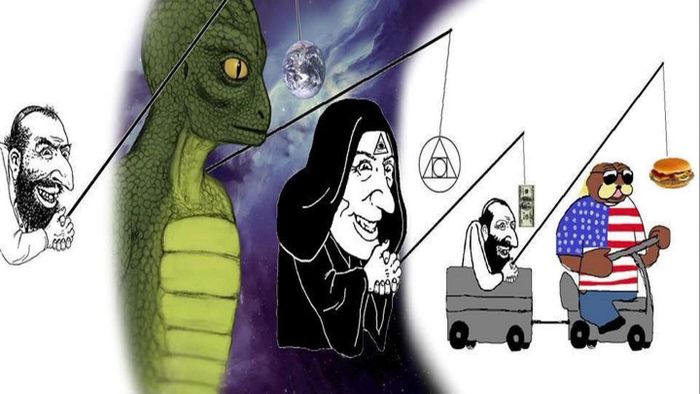 The original cartoon was published on numerous conspiracy theory sites, including several times on anonymous message board 4Chan's "politically incorrect" forum, a reverse image search on Google showed.
Soros, 86, survived the Holocaust by hiding from the Nazis in Budapest as a boy. He later made billions in the stock market.
He donated many of the profits to NGOs and civic organizations seeking to foster multiculturalism and respect for refugees and immigrants, making him a frequent target of anti-immigration activists.
The prime minister's son previously drew attention for a Facebook post commenting on violent clashes between neo-Nazis and counter-protesters in Charlottesville, Virginia.
"The neo nazi scums in Virginia hate me and my country, but they belong in the past," he wrote. Their breed is dying out.
"However, the thugs of Antifa and BLM (Black Lives Matter) who hate my country (and America too in my view) just as much, are getting stronger and stronger and becoming super dominant in American universities and public life."
The Netanyahu frequently takes aim at lawyer and activist Eldad Yaniv, who is at the forefront of anti-corruption campaign taking aim at the prime minister and his wife. Meni Naftali is accused by the family of being behind high food bills during his tenure as caretaker of the prime ministerial residence in Jerusalem.
On Friday Sara Netanyahu was notified that the Attorney General was likely to indict her for fraud, fraudulently receiving goods and breach of trust over the alleged improper ordering of meals at the house.
You need to be logged in in order to post comments. Sign up or log in
September 11, 2017 2:50 PM
I have no doubt that Antifa and BLM are full of American patriots and only want to make America a better place. I don't think their aims are in opposition to Israel to the extent that Israel actually rejects the tactics and politics used against them 80 years ago that led to the Holocaust. If Israel believes that isolating racial and cultural groups and working for some and against others is the way to proceed, than one can only hope the future they build is less bleak than the one the past they decry.