Israeli PM's son vanishes meme blasted as anti-Semitic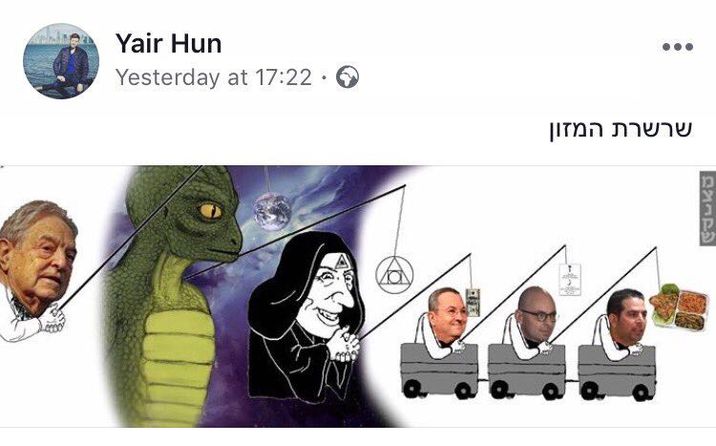 A meme uploaded to the Facebook page of Yair Netanyahu, son of the Israeli prime minister Benjamin Netanyahu
Screenshot
'Next he's going to call for gassings,'wrote Andrew Anglin, the site's viciously anti-Semitic founder
Yair Netanyahu, son of the Israeli prime minister, appeared on Sunday to delete or hide a meme with anti-Semitic origins that took aim at his family's political enemies.
The cartoon, posted on Saturday evening, was widely condemned in Israel, including by the local branch of anti-Semitism watchdog the Anti Defamation League.
White supremacist and former KKK leader David Duke tweeted a link to a story about the cartoon, which suggested that Jewish philanthropist George Soros controls the world – and is itself an altered version of an explicitly anti-Semitic cartoon.
The cartoon, which alludes to popular conspiracies including one that reptilians are masters of the universe, implied that Soros was behind accusations that Sara Netanyahu, Yair's mother, misused public funds to purchase prepared meals.
But the original version of the cartoon is different and includes clearly anti-Semitic caricatures.
However as of Sunday evening local time the cartoon no longer appeared on Yair's Facebook page, although several posts defending it and taking aim at his critics remained visible.
Also on Sunday, Nazi website the Daily Stormer on Saturday published an article calling Israeli Prime Minister Benjamin Netanyahu's son Yair "a total bro" after the 26-year-old posted a cartoon criticized as anti-Semitic on his Facebook page.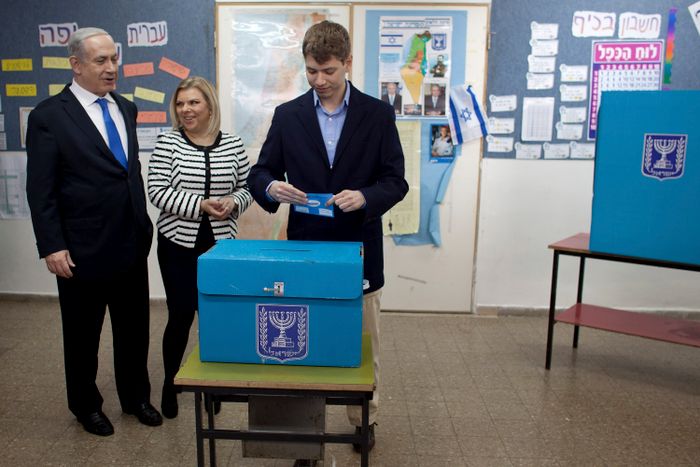 "Next he's going to call for gassings," wrote Andrew Anglin, the site's viciously anti-Semitic founder, in an article bearing the headline: "Netanyahu's Son Posts Awesome Meme Blaming the Jews for Bringing Down His Father".
The Israeli office of the Anti-Defamation League said on its Hebrew-language Twitter account that the cartoon "contained clear anti-Semitic elements".
Anglin gleefully noted that after Israeli daily Haaretz published an article about the cartoon, Yair Netanyahu accused the newspaper of anti-Semitism. "That was always the fundamental problem with the concept of Israel: when you make Jews live only among themselves, they start feeding off of one another," wrote Anglin. "They are naturally parasites."
The cartoon posted by Yair depicts Soros dangling a globe in front of a lizard, which in turn dangles an Illuminati symbol before a Freemason, who dangles money before former Israeli prime minister and Netanyahu critic Ehud Barak, who dangles a voting ballot paper in front of Barak associate and attorney Eldad Yaniv, who finally dangles a tray of food before key witness Meni Naftali.
"The food chain," the prime minister's son wrote alongside the image.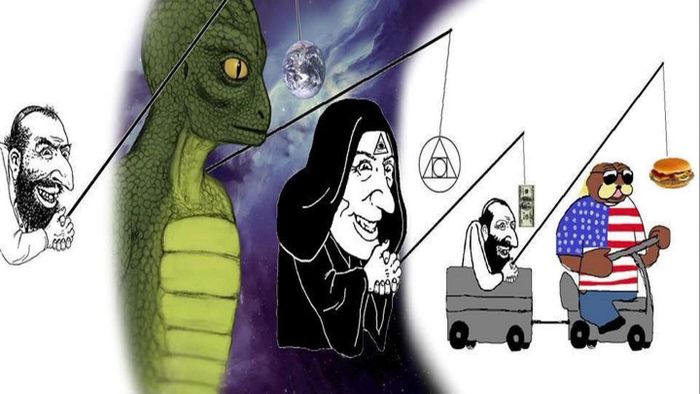 But the original version of the cartoon is different, showing an anti-Semitic drawing of a Jew dangling the globe, then the lizard and Freemason, who dangles money before yet another anti-Semitic representation of a Jew, who finally hangs a hamburger before a character apparently representing Americans.
The original version was published on numerous conspiracy theory sites, including several times on anonymous message board 4Chan's "politically incorrect" forum, a reverse image search on Google showed.
The prime minister's son previously drew attention for a Facebook post commenting on violent clashes between neo-Nazis and counter-protesters in Charlottesville, Virginia.
"The neo nazi scums in Virginia hate me and my country, but they belong in the past," he wrote. Their breed is dying out.
"However, the thugs of Antifa and BLM (Black Lives Matter) who hate my country (and America too in my view) just as much, are getting stronger and stronger and becoming super dominant in American universities and public life."