Netanyahu's wife thanks 'thousands' of supporters before flying to Latin America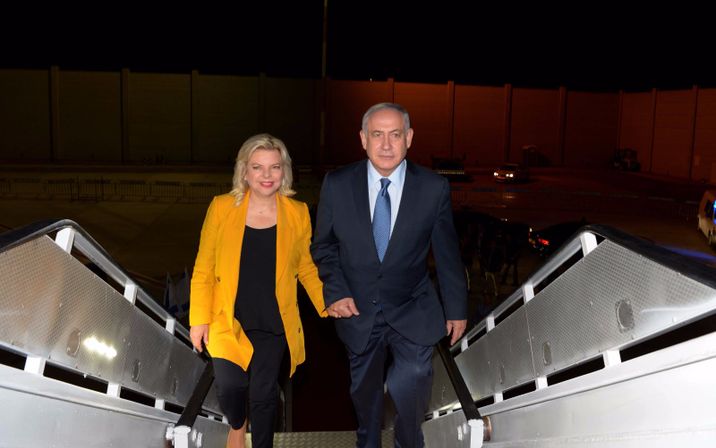 Sara Netanyahu and Israeli prime minister Benjamin Netanyahu before departing on a trip to the Americas, September 10 2017.
Avi Ohayon/GPO
The prime minister and his wife will first visit Argentina, then swing through Colombia and Mexico and the US
Israel's prime minister Benjamin Netanyahu's wife Sara thanked "thousands, thousands, thousands" of his supporters around the world as he boarded a plane on Sunday evening on a trip in which he will become the first Israeli head of state to visit Latin America.
"I want to say thank you to thousands, thousands, thousands of Israeli citizens and people around the world who support me and help and encourage," Sara Netanyahu said at Tel Aviv's Ben Gurion Airport, before taking off for Buenos Aires, the first stop of his nine-day trip to the western hemisphere.
"I want to say that on good days and on less good days, your help and support gives me the strength to continue to do the real things I do for all those who need the help."
Netanyahu made her remarks against a backdrop in which she has already been notified by the Attorney-General that she would be indicted for alleged misappropriation of approximately $102,000 in public funds, pending a routine hearing later in the year.
Sara and her husband attracted more controversy on Saturday night after their eldest son, Yair, posted a meme on Facebook that took aim at Netanyahu's political enemies. The post was blasted by the Anti-Defamation League for its anti-Semitic themes and origin.
A significant portion of Netanyahu's stay in Argentina will be geared towards commemorating two terror attacks against Israeli targets in Buenos Aires that were blamed on Iran and the Lebanese terrorist group Hezbollah.
After visiting Argentina, Netanyahu will swing through Colombia and Mexico, before making his final stop in New York City to address the annual meeting of the United Nations General Assembly. Netanyahu is also scheduled to have a separate meeting with US President Donald Trump.
Ahead of his trip to Latin America, Netanyahu said that Israel is prepared to assist both Mexico in dealing with the aftereffects of an 8.2-magnitude earthquake.
"I told (the Mexican president) that Israel is ready to give any assistance at our disposal. And he very much appreciated it, and we decided, of course, to continue our conversation later in the week," Netanyahu noted.
The Israeli premier also expressed best hopes for the United States in dealing with Hurricane Irma's impact.
"I would like to take this opportunity to wish all our friends in the United States that they will survive these difficult times," Netanyahu said. "This storm will also pass, and every Israeli citizen prays for the safety of American citizens of America."