Israeli army chief says Iran must be stopped from becoming Mideast's North Korea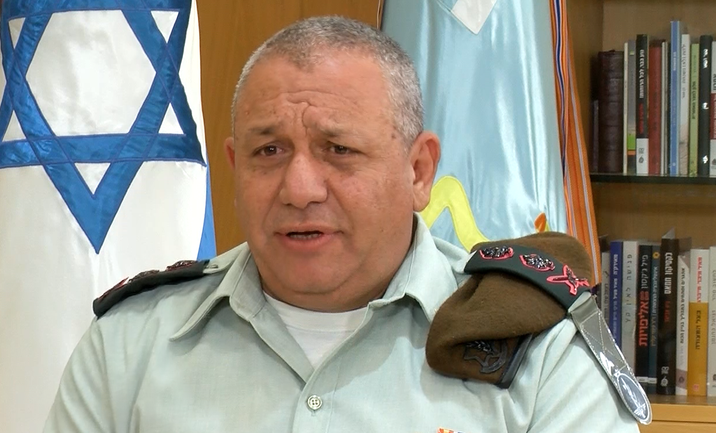 Israel's chief of general staff Gadi Eizenkot
Courtesy of Walla! News
Gadi Eizenkot denied that Israel was rebuffed by Russia in Syria ceasefire negotiations
Iran is partially violating the terms of the 2015 nuclear accord, the Israeli armed forces chief Gadi Eizenkot told the Walla news website on Friday. 
"Iran violates certain elements of the agreement for tactical reasons. All in all, the Iranians are partly fulfilling [the accord]," the Israel Defense Forces (IDF) Chief of the General Staff told the online news outlet. "However I have no doubt that once they can find the detours they will find them to get out of the deadlock they were in until two years ago."
When asked if Israel should lobby the United States into pulling out of the agreement, however, Eizenkot stopped short of advocating its termination, saying that "the nuclear agreement is a fact" and that the IDF's goal is to thwart the Iranian nuclear threat, with or without a deal. 
"The Iranian goal is to achieve nuclear capability out of the perception of Iran as a regional power, so the effort to tackle the Iranian nuclear threat is at the top of the army's priorities -- before the agreement and after the agreement." said Eizenkot, who has served in the powerful position since February 2015.
Eizenkot was also asked about reports that senior officials in Israel's defense and intelligence community are chafing at Netanyahu's insistence that the nuclear deal -- in which Iran gave up its nuclear weapons program in exchange for broad sanctions relief -- should be scrapped. 
"We have a common goal: to prevent Iran from becoming the North Korea of the region. This is a joint effort by the State of Israel, the moderate Sunni states in the Middle East and the entire world," he said in the interview marking the Jewish new year. 
The military chief was asked to confirm that Israel asked for, and was denied, a stipulation in the July ceasefire in southern Syria that Iranian forces not be allowed closer than 60 kilometers from the Israeli border.
"The demand did not get a negative answer," Eizenkot claimed. "There are ongoing discussions."
"This agreement is supposed to be signed at the beginning of October. The demand of the State of Israel is that Iranian forces be removed from Syria for the good of the Syrian state, for the good of the State of Israel's security interests, obviously, and also for regional stability," he said. 
He also confirmed that Israel maintains a 24/7 hotline with the Russian army in order to prevent inadvertent confrontations as the two states pursue their own interests in the skies over the war-torn country. 
The interview took place not long after Israel was reported to have carried out an air strike against a government facility in Syria involved in chemical weapons production. 
Eizenkot said chemical weapons factories in Syria "do not exist yet, at the moment it's an aspiration" but added that "when such efforts begin to be realized -- we act."