Palestinian who lost eye in police shooting recognized as 'hostile acts' victim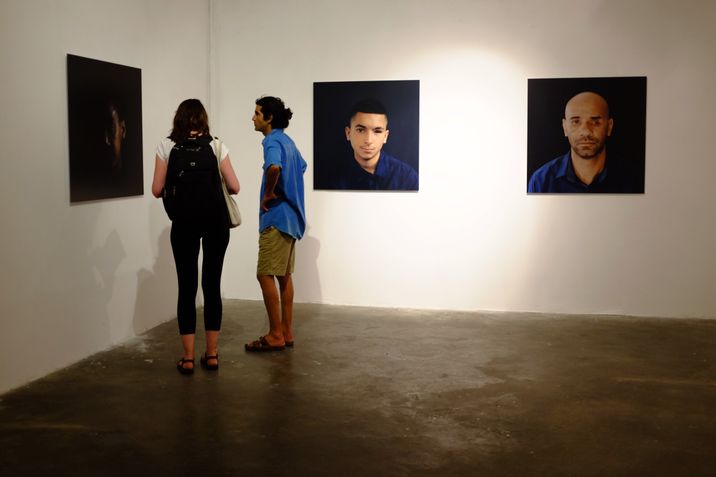 A photograph of Luai Abed (R), is displayed at an exhibition of Palestinians injured by Israeli police foam-tipped bullets
Ido Grumer
The decision could open the door for dozens of East Jerusalem residents to claim government aid
After a lengthy legal battle, an Arab resident of East Jerusalem who lost an eye after being shot on his balcony by Israeli police has been officially recognized as a victim of 'hostile acts,' a determination typically made for victims of terror.
According to Haaretz newspaper, Luai Abed went out on his balcony in the Isawiyah neighborhood in October 15 after hearing a disturbance on the street.
He was then hit in the eye by an Israeli police-issued foam-tipped bullet, seriously injuring his nose and eye socket, as well causing the loss of his left eye.
On Tuesday Abed's lawyer Eitay Mack was informed by the National Insurance Institute that they had determined his client had a "40% disability" as a result of "hostile actions" and he will be able to claim a disability allowance, Haaretz reported.
The decision could open the door for dozens of East Jerusalem residents who have been injured by Israeli police during protests or other disturbances in the city to claiming government allowances.
Abed's case was hard-won, with Mack's requests to the police and Justice Ministry to open an investigation into the shooting having been turned down. Police have reportedly never suggested that Abed had any involvement in the neighborhood violence.
The Association of Civil Rights in Israel says that "more than 12 residents" of East Jerusalem have lost an eye as a result of the police's use of the bullets, which replaced a softer version used until 2014.
"These severe injuries indicate that treating the new sponge-tipped bullets as a non-lethal weapon is unreasonable, and that they are not an appropriate means for dispersing demonstrations and riots," the NGO says in a statement on their website.