Paramedics treat over 1,500 Israelis during Yom Kippur holy day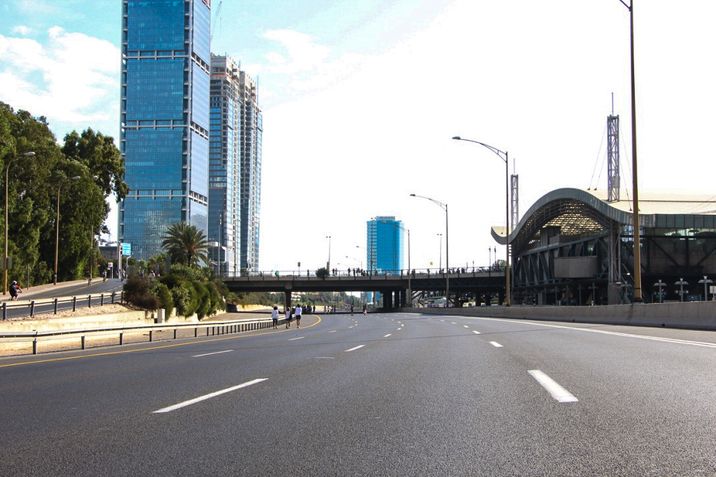 The only cars to drive on Tel Aviv's Ayalon freeway on Yom Kippur are emergency vehicles
Jessi Satin
Paramedics assist 134 women in labor, delivering seven babies at home or in ambulances
Israel's Magen David Adom (MDA) emergency medical service said Saturday that paramedics were called to respond to over 1,500 incidents during Yom Kippur, or Day of Atonement, the holiest day of the Jewish year.
Israel's streets and major highways were deserted for the holiday during which driving is prohibited, except for emergency vehicles. While religious Jews commemorated the holy day with a 25-hour fast and intense prayer, secular Israelis took advantage of a once-per-year opportunity to cycle, skateboard, or rollerblade down the country's busiest highways and roads.
MDA said in a statement that it treated a total of 1,659 people over the holiday, including 265 injured while biking, skateboarding and rollerblading.
Another 228 people were treated for dehydration or fainting due to the fast, which includes a ban on drinking water. MDA said 21 of those treated for fasting-related ailments required resuscitation.
Paramedics were also called to assist 134 women in labor, seven of whom delivered their babies either at home or in MDA ambulances. 
The Yom Kippur holiday, which began at sundown on Friday, came to a close on Saturday evening at which point transportation and commerce resumed as normal.
Crossings into Israel from the West Bank and Gaza, which were closed to Palestinians at midnight on Thursday, are set to reopen at midnight on Saturday.