Across Israel, women are waging peace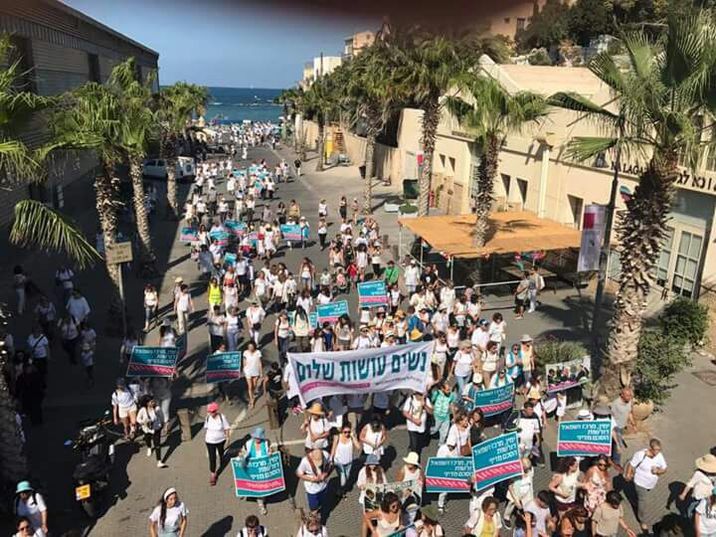 Women Wage Peace march through Jaffa port in Tel Aviv on October 6 2017.
Yoel Admi
Women are taking to the streets to demand a peace deal between Israel and the Palestinian Authority by 2018
For thousands of women across Israel and the Palestinian territories, feelings of hopelessness and desperation at what seemed to be deteriorating prospects for peace following a 2014 war between Israel and Hamas, fought in the Gaza Strip, demanded a new approach. The answer to their mutual despair -- a grassroots movement led by women with one objective -- to wage peace.
Since 2014, Women Wage Peace has marched across the Dead Sea and rallied outside the Prime Minister of Israel's residence, calling to end the cycle of violence that has plagued the region for years.
The movement says it is the fastest growing grassroots organization in Israel with 40,000 members and is getting worldwide recognition and support.
On the last weekend of the Jewish holiday of Sukkot, tens of thousands of participants from across the region and all over the world will gather for the final leg of the group's annual "Journey to Peace" -- a week-long rally with events taking place across the country, from Israel's southern Negev region, through central Israel to Jerusalem.
Some 5,000 Palestinian women will join a group of Israeli women at a peace village for the main event near the Dead Sea in Area C of the West Bank, territory designated as accessible to both groups.
Suzann Abed, a Palestinian woman from the village of Taybeh in the West Bank, made her way to Jaffa on Friday to attend one of the group's rallies with her young son.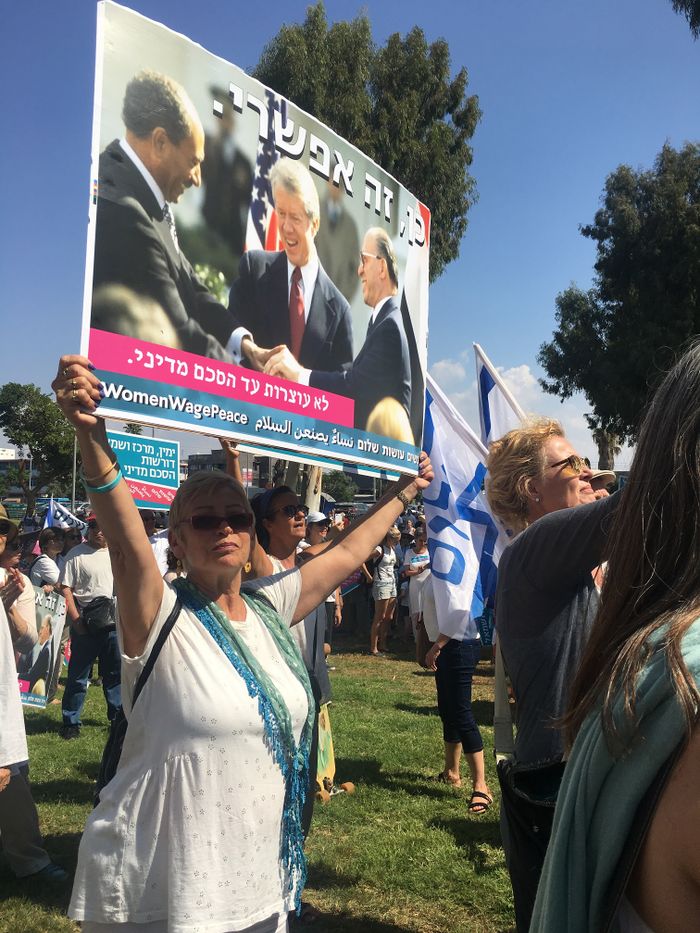 "We all want to live in peace, the women in Palestine also want peace," says Abed.
"This is really peace," Abed says of the thousands gathered in the port city of Jaffa on Friday afternoon, dressed in white, dancing, laughing and singing. "This is what it looks like."
"Men talk, but women do," she says of why she believes this movement will achieve its goal. "Women have power. I know how strong women are."
Her version of peace would see the ability for Palestinians to travel freely within Israel and the West Bank, without checkpoints, and soldiers, and live in a country without racism or fear of the "other".
Peace is the essential aim of the group, while they demand the reaching of a political agreement, the group describes itself is apolitical and nonpartisan.
Women Wage Peace participants come from every walk of life -- they are Jews, Muslims, Christians, Bedouins, Druze, and Atheists; they come from settlements, villages in the West Bank, desert towns, and bustling cities in the center of Israel; they are lawyers, judges, publicists, journalists, stay-at-home moms, and even men, who make up 30 percent of the group.
"The Israeli-Palestinian conflict is so ancient, there's a feeling that if this can be solved any conflict can be solved," says head of the Jerusalem branch, Rivi Diamond.

THE RUNDOWN | Women Wage Peace: a grassroots... by i24news-en
Women Wage Peace has pledged to reach the ambitious goal of demanding a peace agreement be signed by 2018.
"We're pressuring them [the Israeli and Palestinian governments] in many ways. We demand that they don't sit down and drink their coffee in the morning without thinking about it," says Orli Gold-Haklay head of the group's southern branch. "We are talking about the future of our children in this country and we'll do anything to stop this cycle of violence."
"It's really important to us to send the message to the world that Israeli women want peace and we're not giving up -- We're not going to stop until we reach a political agreement," says Gold-Haklay, who instead of going out for coffee on her weekend afternoons now stands on her street corner holding signs for Women Wage Peace.
She says she will campaign for peace as long as she has to. "Women are very determined and when women decide to do something there's no stopping them."
"It's women from the left, from the right, Arab women, religious women, women from settlements, and women from all over the world are joining us."
Indeed, the movement has gained international recognition and cells of Women Wage Peace have sprung up in Cyprus, Spain, Brazil, Germany, and places in Africa.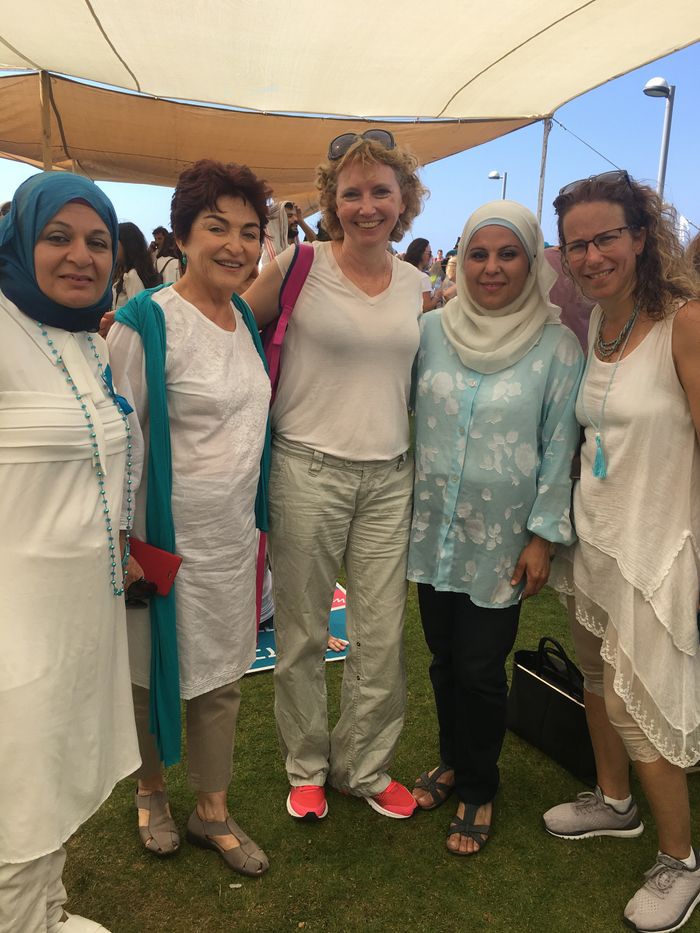 Andrea Schaupp, an environmental activist, who chooses not to fly because of global warming, even made an exception to her no-fly ideology in order to travel from Germany to participate in Sunday's Journey to Peace event.
"It was a big decision for me to take an airplane, but I feel it is that strong and really big," says Schaupp, who works for the German sector of Young Friends of the Earth.
She stumbled on the movement through YouTube after discovering Israeli singer and songwriter, Yael Deckelbaum's "Prayer for the Mothers," a song sung in Hebrew, Arabic, and English which has not so accidentally become the battle cry for Women Wage Peace.
The movement has also spawned a youth chapter, which aims to inspire the next generation of peace activists through events such as Spoken Word poetry nights, Ted Talks, and street parties.
Yuval Haklay, the 24-year-old daughter of Orli Gold-Haklay, helped establish a youth chapter of the organization which she characterizes as "less talking and more doing."
"Kids my age want the opportunity to relax and have a good time and not worry about the next war."
Yuval was in the army during the IDF's Operation Protective Edge, serving on the burial crew platoon. "I was putting flowers on graves at least once a week," she says. "We live from one war to another... when we were in school we were were promised that when we grow up we won't have to wear these uniforms or go to war, but it keeps on happening again and again."
What the women and men of Women Wage Peace hope more than anything, is to bring back the hope and belief that such peace is even possible, in Israel and across the world.
Ana Nissan is an i24NEWS web editor and journalist.