Israeli scientists hope to work on start-ups with 'eager' Uzbekistan students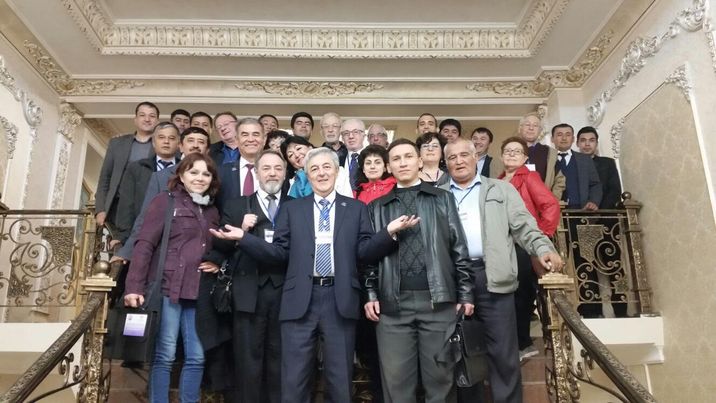 Professor Eduard Yakubov, center, with a group of Uzbek and Israeli scientists in Uzbekistan's capital, Tashkent, in October 2017
Supplied
Jewish immigrants from the former Soviet republic are keen to bring about stronger Israeli-Uzbek ties
A group of Israeli scientists visiting Uzbekistan are aiming to forge closer ties between the two countries by establishing joint start-ups and cooperate on information technology and data science, as the Central Asian state embarks on a new course following the death last year of its decades-long ruling strongman. 
Around 20 Israeli scientists are currently visiting the Uzbek capital Tashkent for a conference called 'Contemporary Problems in Mathematics and Physics'.
According to a statement promoting the summit, young people in the Muslim-majority country of around 32 million "are eager to study with Israeli experts. Contrary to Israel, girls in Uzbekistan are just as interested as boys are in pursuing professions such as programming, math, physics, IT, data science and engineering. Many of them aspire to work with Israeli firms online."
Israel and Uzbekistan are reported to have stable ties. The republic's long-serving emissary to Tel Aviv, Oybek Eshonov, told the Jerusalem Post last year that he "represent[s] a Muslim country – but one that is friendly to Israel."
Islam Kamirov, who ruled the country almost since its independence from the Soviet Union, died last year and was replaced as president by Shavkat Mirziyoyev.
"So now with the new President relations are becoming warmer," said Victoria Martynov, a media consultant for the conference, adding that plans for exchange students and exchange of lecturers are in the works.
This week's conference was a product of the friendship between Professor Eduard Yakubov, president of the Holon Institute of Technology (HIT), and Professor Azimbay Sadullaev from the National University of Uzbekistan. Both are advocates of stronger relations between Uzbekistan and Israel.
In June, Sadullaev made a pilgrimage to Jerusalem's Al Aqsa mosque and said in a lecture at HIT that "Israel is very close to our hearts. Many Uzbeks have friends and former colleagues in Israel. We are well aware of Israeli hi-tech and are interested in broadening cooperation with it."
There are also a large community of Uzbek-origin Jews in Israel, who mainly hail from the famous Jewish city of Bukhara. The city maintains a closely-knit Jewish community and Uzbeks continue to immigrate to Israel.
Yakubov, who himself made aliyah from the country in the 1990s, said that "Israel is beginning to discover the tremendous opportunities in cooperating with Uzbekistan, and we are glad to pave the way toward it."
In Tashkent, the two parties agreed to hold an international conference in 2018, establish joint start-ups, undertake joint research and hold online courses.