Women peace activists arrive in Jerusalem after two-week march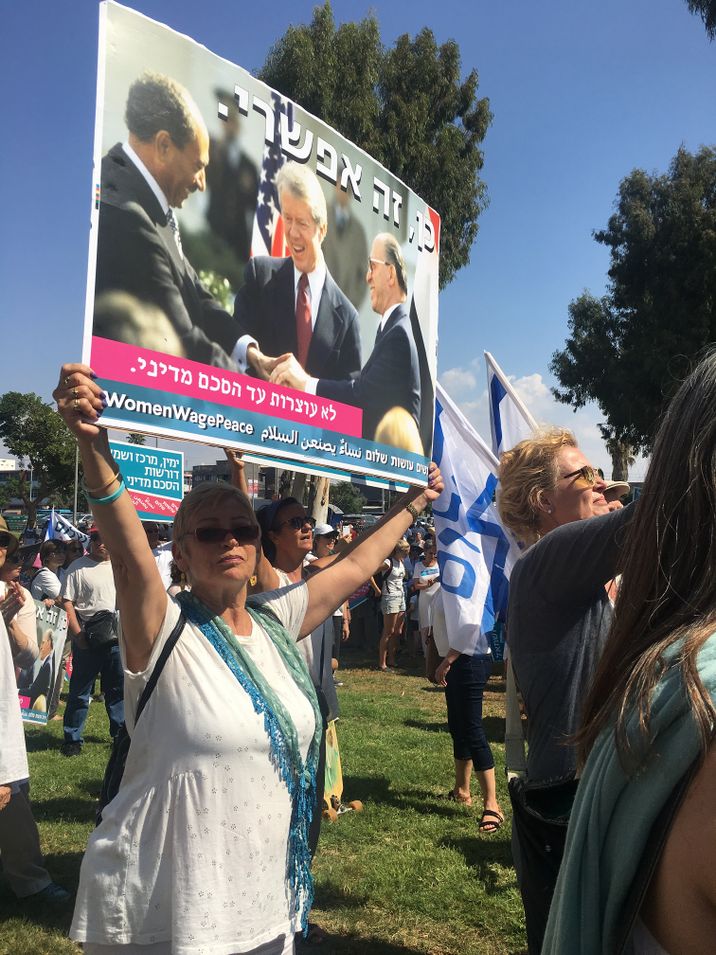 A woman holds a sign at a Women Wage Peace rally in Tel Aviv on October 7 2017.
Ana Nissan/i24NEWS
The march comes at a time when many analysts see little hope for an Israeli-Palestinian peace deal
Thousands of Israeli and Palestinian women arrived in Jerusalem Sunday at the end of a two-week march through Israel and the West Bank to demand a peace deal.
The Women Wage Peace movement organized the march, which began on September 24 and included participants who have themselves been affected by violence in the Israeli-Palestinian conflict.
Several thousand activists joined the march over the two weeks, with events taking place across the country from Israel's southern Negev region through central Israel.
The women arrived in Jerusalem late on Sunday mostly dressed in white and carrying placards calling for peace.
The Women Wage Peace movement was founded in 2014 following Israel's 50-day war with Hamas in the Gaza Strip. The group prides itself on integration, bringing together Jewish, Muslim, Christian, Bedouin, Druze women from Israel, the West Bank, and even settlements in the name of peace.
"This kind of integration never has been done before. We always used to have peace organizations from the left side. And again and again they failed. And we decided that its our time, women, to lead a new movement. The time for women has arrived," Dina Ben Yakir, the Women Wage Peace national coordinator told i24NEWS.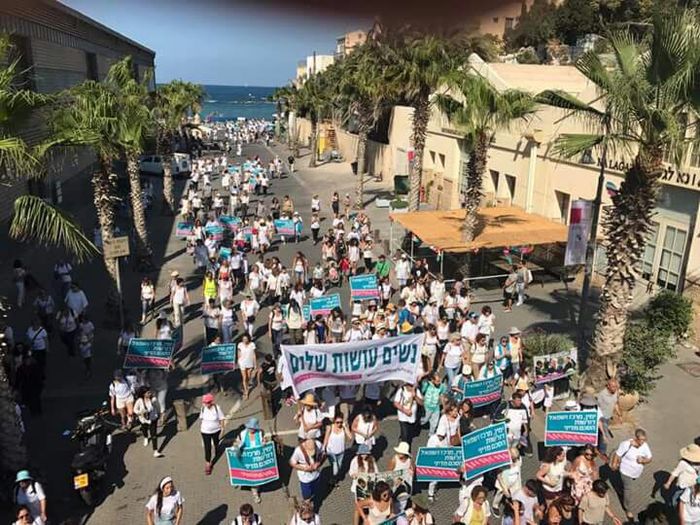 Another of the organizers, Marie-Lyne Smadja, said the march was meant to "give voice to those tens of thousands of Israeli Jewish and Arab women of the left, center and right, and their Palestinian partners, who hand in hand together took this road towards peace."
"Israeli women want to prevent the next war if possible and try as soon as possible to reach an agreement between Israelis and Palestinians," she said.
Huda Abuarquob, another organizer and a Palestinian from Hebron in the West Bank, said: "This march is not just another protest, but a way of saying that we want peace, and together we can obtain it."
The group is not only taking their message to the streets, but also to the halls of government. The group has established a ministerial committee of female lawmakers in Israeli parliament on peace and security which aims to better integrate women into the peace process.
The march comes at a time when many analysts see little hope for an Israeli-Palestinian peace deal.
Palestinian president Mahmud Abbas is 82 and unpopular, while Israeli Prime Minister Benjamin Netanyahu leads what is seen as the most right-wing government in his country's history.
In 2015, Women Wage Peace members fasted in relays over 50 days, the length of the 2014 war between Israel and Palestinian militants in the Gaza Strip.
"The men who have power believe only in war, but with the strength of women we can bring something else, something new," said Amira Zidan, an Arab Israeli mother of one of the organisation's founders.
Sunday's arrival in Jerusalem coincides with the week-long Jewish holiday of Sukkot, which commemorates the Jews' journey through the Sinai after their exodus from Egypt.
Earlier Sunday, thousands of Jews gathered at Jerusalem's Western Wall for a priestly blessing held during the holiday each year.
See also:
Across Israel, women are waging peace
(Staff with AFP)