Israel says will refuse talks with Palestinian unity gov't unless Hamas disarms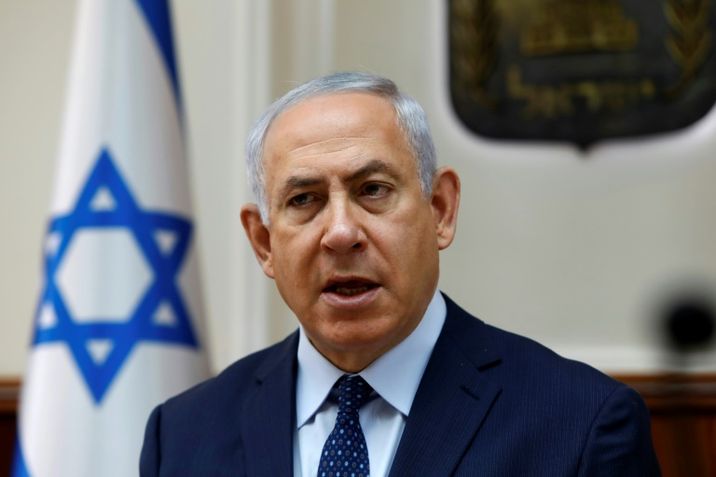 Israeli Prime Minister Benjamin Netanyahu opens the weekly cabinet meeting at his Jerusalem office on September 26, 2017
GALI TIBBON (POOL/AFP)
Hamas is due to hand over Gaza's border crossings by Nov 1 ahead of a full transfer of power by Dec 1
Israel's security cabinet on Tuesday issued a statement declaring that it would not hold diplomatic negotiations with a unified Palestinian government unless the Islamist Hamas faction disbanded its military wing, renounced violence, and recognized the State of Israel.
"In continuation of previous decisions, the Israeli government will not conduct diplomatic negotiations with a Palestinian government that relies on Hamas, a terrorist organization calling for the destruction of Israel, as long as the following conditions are not met," the statement read.
The security cabinet's other demands included that Hamas be disconnected from its backers, Iran; that it return the bodies of fallen Israeli soldiers and captive civilians held in the Gaza Strip; and that the Palestinian Authority (PA) be given full control over security in territory, including all border crossings, while continuing to combat the terror threat posed by Hamas networks in the West Bank.
It also called for the establishment of mechanisms for ensuring the flow of humanitarian supplies and funds through the Palestinian Authority only.
The decision by Israel's security cabinet, announced in a statement from Prime Minister Benjamin Netanyahu's office, comes after rival Palestinian movements Fatah and Hamas signed a landmark unity deal last week aimed at ending their decade-long split.
Security Cabinet: Israel will not negotiate with a Palestinian gov that relies on Hamas until it fulfills conditionshttps://t.co/cH7fEyyagq

— PM of Israel (@IsraeliPM) October 17, 2017
A spokesperson for the Palestinian Authority responded to Israel's statement saying their response would not change the official Palestinian position to move forward with the deal.
"We have already formed a government of national unity...external considerations have no impact because the Palestinian leadership believes in national unity and the interests of its people," he stated. 
Netanyahu had reportedly told members of his security cabinet earlier in the day that although Israel would not accept the unity deal, it would not lead to a break in relations with Fatah.
Under the deal, signed last week in Cairo, Hamas is due to hand over Gaza's border crossings by November 1 ahead of a full transfer of power by December 1.
A Hamas spokesperson earlier in the day denied a report that the deal includes an "understanding" that the militant group would not attempt to start a conflict with Israel in the West Bank.
"There are no secret clauses in the reconciliation understanding, and what the occupation published on the resistance halting in the West Bank is not true," senior Hamas spokesperson Husam Badra told the Palestinian news site Quds Network.
Hamas is blacklisted as a terrorist organization by Israel, the United States, and the European Union.
It has fought three wars with Israel since 2008 and the blockaded Gaza Strip has seen deteriorating humanitarian conditions.
Meanwhile, along with the bodies of two fallen Israel Defense Forces (IDF) soldiers, Oron Shaul and Hadar Goldin, Hamas is believed to be holding two Israeli civilians, Avera Mengistu and Hisham Al-Sayeed in Gaza.
Negotiations of a prisoner exchange deal have reportedly taken place on several occasions, but neither side has accepted.
A primary condition set forth by the Israeli government to resume diplomatic relations with the Palestinian Authority is for Hamas to release the two bodies and the two Israeli citizens being held in Gaza.
See also:
Hamas says unity deal at risk if Abbas does not end sanctions
Fatah and Hamas: a decade of strained relations
'Don't negotiate with Hamas to free my son', says father of Gaza-held Israeli