Tunnel found under UN school in Gaza for second time in months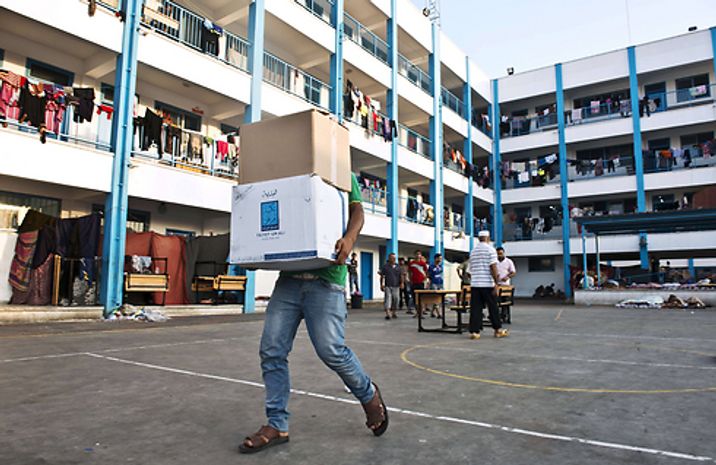 Une école de l'UNRWA à Gaza
AFP
Israel's envoy to UN says discovery is proof of Hamas using children as human shields
A tunnel dug under a school run by the United Nations Relief and Works Agency (UNRWA) was recently discovered in the Gaza Strip, Israeli news site Ynet reported on Sunday.
UNWRA staff immediately shut the school upon discovery of the tunnel and reopened it ten days later after sealing the hollow space, according to the report.
"Yet another terror tunnel under an UNRWA school yard," Israel's Ambassador to the UN Danny Danon said. "This is what Hamas rule looks like and this is more proof of the double war-crime committed as terror tunnels are built to attack Israelis, while using the children of Gaza as human shields," said Ambassador Danon.  "We cannot accept a situation in which UNRWA schools are used as terror bases.  This dangerous incident must not be ignored and strict oversight is needed to ensure that UN facilities are not used to protect terrorists."
The report came five months after a tunnel passing under two UNRWA schools was found and sealed by the agency.
Following the June discovery, UNRWA condemned the existence of the tunnel "in the strongest possible terms."
Israel's ambassador to the UN Danny Danon called on the UN secretary general and the Security Council to intervene.
"The UN must act immediately to ensure that their structures and institutions are not being used to harbor the terror infrastructure of Hamas," he said.
In a 50-day campaign against Hamas, the Islamist group that controls the Gaza Strip and is considered a terrorist organization by the international community, Israel uncovered a vast tunnel network in which some 34 tunnels were destroyed.
Hamas has reportedly invested considerable resources to rebuild its network of attack tunnels over the past few years.
The UNRWA has founded schools with over 312,000 students in the West Bank and East Jerusalem, and 262,000 in the Gaza Strip.
You need to be logged in in order to post comments. Sign up or log in
Why on earth can't the world see what Hamas is like using children to shield them from attack while the Jews protect their children the Arabs send them to kill people with suicide belts on