Israeli army offers rare pledge of help to embattled Syrian Golan village
Dozens of Israeli Druze villagers try to cross fence on Syria-Israel border
The Israeli army said on Friday that it will not allow jihadists to overrun a government-held Druze village inside Syria, in an unprecedented intervention into the country's years-long civil war.
Hader, a town just inside Syrian territory, is reportedly being targeted by the Nusra Front, formally known as Jabhat Fateh al-Sham. Earlier on Friday a car bomb exploded on the town's outskirts, killing nine people, according to Syrian state media.
The Syrian Observatory for Human Rights, a Britain-based monitor, said the clashes that followed the blast killed several forces on both sides.
Hader lies in southwestern Syria's Quneitra province, around 70 percent of which is held by either rebel or jihadist groups while the government controls the remaining 30 percent, according to the Observatory.
"The IDF [Israel Defense Forces] is prepared and ready to help the villagers and prevent damage or occupation of the village of Hadar out of a commitment to the Druze population," an army statement said, adding that "the claims of Israeli involvement and assistance to global jihad elements in the fighting on the Golan Heights are groundless."
Syrian state media have accused Israel of engineering the jihadist attack on the town. Damascus frequently accuses the Israeli army of backing jihadists who are engaged in bloody battles with regime forces across the country.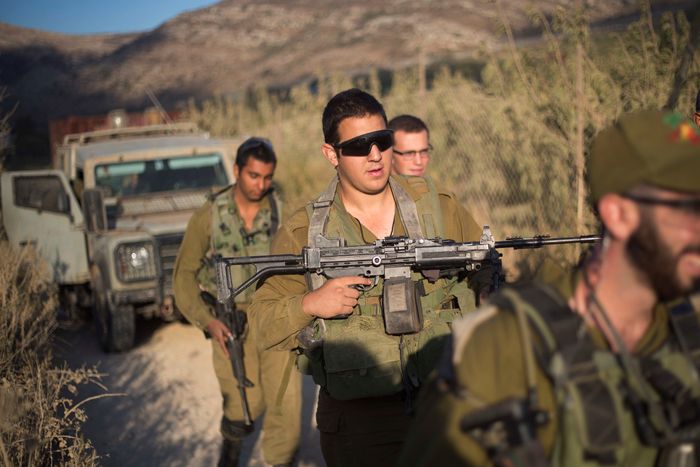 The statement came shortly before dozens of Druze villagers from the Golan Heights attempted to cross the security fence from Israel into Syria to help fight alongside the villagers in Hader.
The IDF said they forced some ten villagers to return to Israel after they made it into the no-mans-land that separates Israel from Syria. The army said they damaged "security infrastructure" in the process.
Also on Friday a Druze citizen of Israel from the northern village of Majdal Shams was lightly wounded by stray gunfire as a result of spillover fire from Syrian infighting. The resident is being treated for his wounds.
In a conversation with Druze leader Mowafaq Tarif, the head of Israel's internal security service, the Shin Bet, said that Israel "would not allow terrorists to take over the village."
There are approximately 140,000 Druze in Israel, including 20,000 in the Golan Heights.
Israel has long professed a policy of not intervening militarily in the Syrian civil war, while carrying out strikes on weaponry that could threaten it and treating people wounded in the fighting.
Israel seized 1,200 square kilometers (460 square miles) of the Golan Heights from Syria in the Six-Day War of 1967 and later annexed it, a move never recognized by the international community.
AFP contributed to this report