Two Netanyahu confidantes detained for questioning in submarine scandal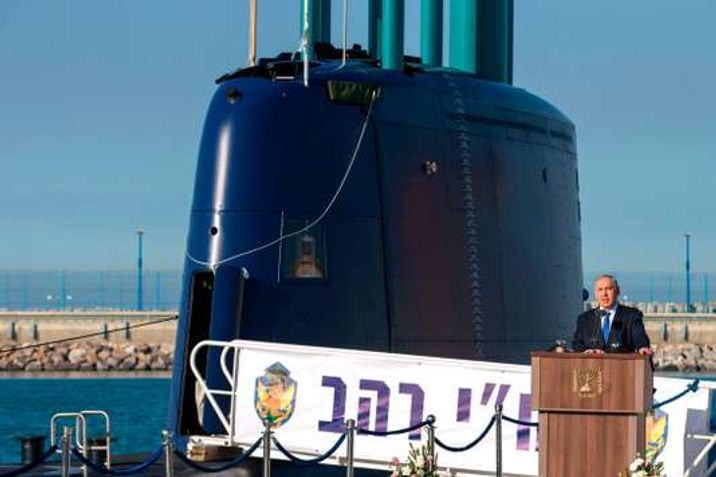 Le premier ministre israélien Benyamin Nétanyahou lors de la livraison d'un sous-marin de fabrication allemande, en janvier 2016 à Haïfa
AFP
Israeli media has reported that it is likely that Netanyahu himself will be questioned during the probe
Two close confidantes of Israeli Prime Minister Benjamin Netanyahu were detained for questioning on Sunday as part of an ongoing corruption probe into the purchase of three submarines from German conglomerate ThyssenKrupp.
A statement by Israel Police said that "two senior lawyers" had been detained for questioning, without providing any further details. Israeli media reports said that Netanyahu's personal lawyer David Shimron was one of those detained.
Shimron is implicated at the center of the submarine affair -- known as  'Case 3000', to differentiate it from the other corruption probes surrounding senior government officials including Netanyahu -- which centers on allegations that Shimron pushed for multi-billion shekel deals in favor of German conglomerate ThyssenKrupp, which is his client in Israel.
The case has been shrouded in controversy following the arrests of several Israelis on suspicion of offences including bribery and money laundering.
Israeli media has reported that it is likely that Netanyahu himself will be questioned during the investigation, although he is not considered a suspect.
Germany and Israel signed a memorandum of understanding last month green-lighting the submarine purchases, with a caveat that the deal will be scrapped should corruption charges be proven at the end of the investigation.
The developments in Case 3000 come as two other graft probes surrounding Netanyahu -- known as Case 1000 and Case 2000 -- also come to a head, with the prime minister expected to deliver testimony in the two investigations later Sunday.
Netanyahu has already been questioned several times by police.
Various Israeli media reports have suggested that Netanyahu is being investigated in Case 1000 -- involving the suspicion he improperly received gifts such as champagne and cigars from wealthy businessmen including film producer Arnon Milchan and Australian casino mogul James Packer.
In the second probe, known as Case 2000, police are reportedly examining conversations with newspaper proprietor Noni Mozes, leaked excerpts of which were sensationally broadcast on Israeli television earlier this year.
See also:
Former Israeli defense minister slams Netanyahu over submarine scandal
Ex-ThyssenKrupp employee in Israel turns state witness in submarine graft probe