Israel's Iron Dome interceptor deployed as tensions rise with Gaza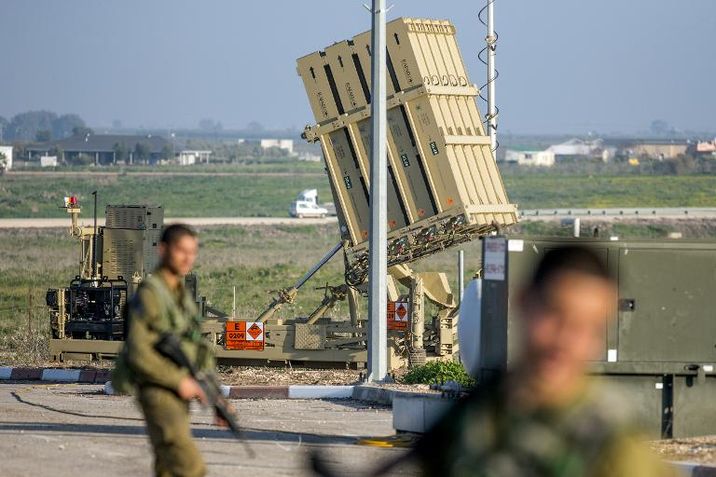 Israeli soldiers patrol near an Iron Dome defence system in the Israeli-annexed Golan Heights, on January 20, 2015
Jack Guez (AFP/File)
Israel has warned of retaliation from Islamic Jihad after IDF destroyed one of its attack tunnels in Gaza
The Israel Defense Forces (IDF) on Monday stationed a battery of its missile defense system the Iron Dome in the country's center, Israeli meda reported on Tuesday, a preemptive move tensions with Gaza come to a boil.
The IDF confirmed on Monday that an Iron Dome battery was deployed, but refused to confirm its exact location as per its policy.
In recent days, Israeli military has warned off potential retalition from Islamic Jihad over an attack tunnel, orginating in central Gaza, and was blown up by the IDF, killing at least a dozen militants last month.
The IDF later revealed it is holding the bodies of five, likely to use as bargaining chips in negotiations over the release of Israeli captives and fallen IDF soldiers.
The military said that the tunnel had been under surveillance for some time and that it was under active construction, indicating it was not left over from the vast tunnel network operated by the Hamas terrorist group during its last war with Israel.
The IDF said that the tunnel's opening was at least two kilometers away from the closest Israeli community of Kissufim, and did not pose a threat to residents.
The army called the tunnel's discovery "a blatant violation of Israeli sovereignty and a situation that cannot be accepted."
On Sunday, Israeli Prime Minister Benjamin Netanyahu warned Palestinian militant groups against carrying out revenge attacks saying at his weekly cabinet meeting that Israel "will react forcefully to whoever tries to attack us or attacks us from any arena."
Later, Islamic Jihad responded to the warning in a statement proclaiming the threats as a "declaration of war" and that they intended to "punish" Israel for the deaths of its members.
Adding that the group was "weighing their options" and "will not lose their right to react" against the "Zionist terrorist government."
Read More:
Israel-Gaza tensions boil after tunnel strike kills Islamic Jihad commander
Israel destroys tunnel extending from central Gaza into Israel
Islamic Jihad says Israel's revenge-plot warning a 'declaration of war'