For second day, Israel fires warning shots at Syrian army on Golan Heights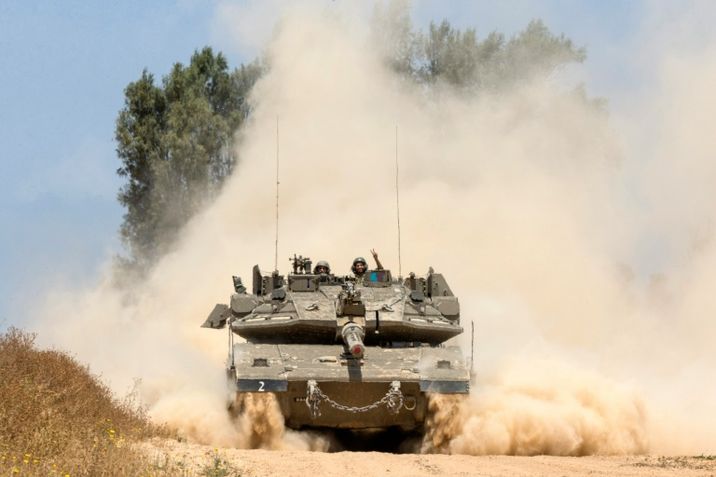 An Israeli tank rolls along the border between Israel and the Gaza Strip
Jack Guez (AFP)
Israel says Syrian military personnel violated the ceasefire by entering the separation zone
An Israeli tank fired a warning shot at a Syrian army position on the Golan Heights on Saturday, the second time in two days it has accused Syria of violating the decades-long ceasefire agreement between the two countries.
An Israel Defense Forces (IDF) statement said that Syria violated the 1974 agreement by "conducting construction work in order to strengthen a military post in the Northern part of the demilitarized zone between Syria and Israel."
Exactly the same incident unfolded on Saturday afternoon local time, although the army said then that they had complained to the United Nations Disengagement Observer Force (UNDOF).
UNDOF did not respond to a request for comment on Saturday. 
Israel and Syria signed a ceasefire agreement in 1974 after the end of the Yom Kippur War, which is monitored by a multinational UN force that oversee a "buffer zone" between the two territories.
Israeli media reported the Syrian military installation is near the Druze village of Hader, which lies just inside Syrian-held territory.
The village has come under attack from jihadist forces in the area, and earlier this month Israel offered a rare pledge of support for its inhabitants.
"The IDF is prepared and ready to help the villagers and prevent damage or occupation of the village of Hadar out of a commitment to the Druze population," a November 3 statement said.
There has been a noticeable uptick in military incidents on the Golan Heights in recent weeks, including Israel shooting down a Syrian army drone and several stray mortar rounds landing on Israeli-held territory.
Israel has long professed a policy of not intervening militarily in the Syrian civil war, while carrying out strikes on weaponry that could threaten it and treating people wounded in the fighting.
Israel seized 1,200 square kilometers (460 square miles) of the Golan Heights from Syria in the Six-Day War of 1967 and later annexed it, a move never recognized by the international community.
AFP contributed to this report.