Israeli minister: most US Jews don't send their kids to fight for their country
Tzipi Hotovely also said most Reform and Conservative Jews are 'not even interested in going to the Kotel'
Israel's deputy foreign minister said on Wednesday that most American Jews do not understand Israel because they have "never" sent their children to fight for their country and do not know how it feels to be "attacked by rockets."
Speaking to i24NEWS about the widening chasm between the Jewish state and Jews in world's largest diaspora population, Tzipi Hotovely emphasized that she would even accept a left-wing government in Jerusalem if it meant most Jews would live in Israel.
However, she accused American Jews who criticize Israel of "not understanding the complexities of the region," describing them as "people that never send their children to fight for their country, most of the Jews don't have children serving as soldiers, going to the Marines, going to Afghanistan, going to Iraq."
"Most of them are having quite convenient lives," the Likud lawmaker suggested, adding that "They don't feel how it feels to be attacked by rockets."
American Jews who are members of the Reform and Conservative streams of Judaism have been at loggerheads with the current government of prime minister Benjamin Netanyahu over issues such as egalitarian prayer at Jerusalem's Western Wall holy site and a proposed law that would not recognize conversions performed outside the Chief Rabbinate's authority.
Hotovely defended the government's decision earlier this year to freeze work on a solution to the Western Wall issue, noting that an egalitarian prayer space already exists in a location just south of main plaza.
"I think it's a very important goal to bring American Jews closer to Israel, I think this is one of my goals, but we need to be open about this," Hotovely said.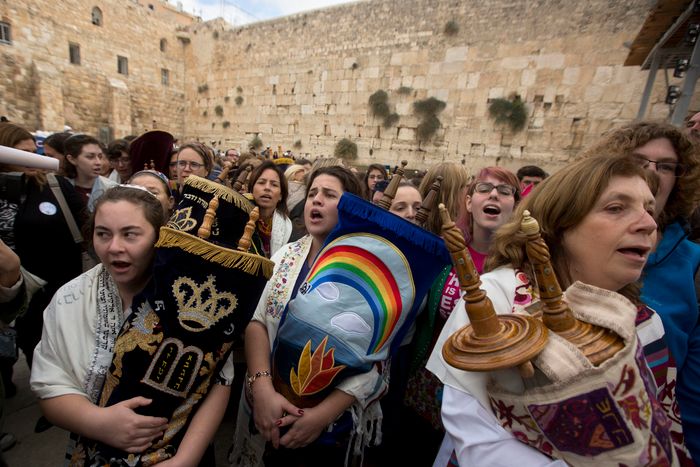 "Most of the time it's empty," she said of the current egalitarian prayer space.
"And the reason it's empty, if you're asking me, it's not because they don't like the arrangement, it's empty because most of the time those people are not even interested in going to the Kotel," she charged, using the Hebrew term for the Western Wall.
Reform and Conservative Jews say that the site does not meet their demands because it is too removed from the existing prayer plaza.
Earlier in November Netanyahu himself struck a concialatory tone in an address to a conference of Jewish leaders in Los Angeles, saying that "I believe that the Jewish people are all one family. I believe that Israel is the hope of the Jews and that all Jews should have access and prayer in the Kotel [Western Wall]".
However Hotovely was defiant, accusing Reform and Conservative streams of turning the revered holy site into a political football.
"The Israeli government was doing a lot in order to make sure that they can have egalitarian prayer, that women can go together with their family, that men can go together with their daughters."
Everything is set up but they are not willing to get that because if you're asking me this is a political matter. They want to get recognized through the Kotel issue and they are making a religious, holy place something for political dispute and I really think the solution that was offered was quite good."
Hotovely also said she had fallen victim to a "liberal dictatorship" when speaking of an episode earlier in November when her invitation to give a talk at Princeton University was rescinded by Hillel, the premier organization for Jews on US campuses.
"What is happened with Hillel, what is happening with freedom of speech and academic freedom, what is happening to the very basic human respect to the fact you are inviting an overseas representative of the Israeli government and you are cancelling on the same day because some students don't like my opinions -- this is something really bad that's happening under what I call the the liberal dictatorship," Hotovely said.
Hotovely's charges sparked outrage on social media among American Israel partisans. 
On Twitter, Ron Kampeas, the Washington bureau chief of the Jewish Telegraphic Agency, branded her statements "mindless insults," adding that the idea that Jews never send their children to fight for their country represents "a classic anti-Semitic trope." 
Commentator Joel Braunold tweeted that Hotovely "has managed to unite the right and left of the US Jewish community in utter disgust of her comments."
You need to be logged in in order to post comments. Sign up or log in
November 23, 2017 12:36 AM
November 23, 2017 12:38 AM
Joel, the truth can be excruciatingly painful.
November 23, 2017 10:28 AM
"Most of them are having quite convenient lives.They don't feel how it feels to be attacked by rockets." - she says. I say:"Most of western females are having quite convenient lives, They don't feel how it feels to be attacked by false accusation of sex rape in a sociaty built by men, where security is provided by men."
November 23, 2017 11:03 AM
I'm not Jewish. However, I believe that the day is coming when each of us who claims to have belief and faith in the God of Abraham, Isaac and Jacob are going to be called upon to prove our allegiance to God. Each person of faith is going to have to choose for herself or his self what they will do, just as in the Bible when Joshua said, "15 And if it seem evil unto you to serve the LORD, choose you this day whom ye will serve; whether the gods which your fathers served that were on the other side of the flood, or the gods of the Amorites, in whose land ye dwell: but as for me and my house, we will serve the LORD." Book of Joshua, chap. 24, v. 15 (KJV). They had to conquer the people who occupied the Land, if they were going to obey God and possess the Land. I choose to support the people and the Land of Israel because I trust in the God of Abraham, Isaac & Jacob.
November 23, 2017 5:28 PM
The truth is very inconvenient for Jewish liberal establishment
November 24, 2017 6:09 PM
Truth hurts! The Union of Reform Judaism/ Manhattan Hillerites and JStreet hate Bibi in their hearts and disdain Israel. Jino's all.
November 24, 2017 11:19 PM
Liberal Jews need to decide if they are going to be Jews first or humanists first. Listen to Hillel: if I am not for myself who will be for me. If I am only for myself what am I and if not now when?
November 26, 2017 12:41 PM
She could not have put it better. American Jews are so wrapped up in their own self importance, they aren't interested in Israel or Judaism.