How an Israeli minister's sensational interview horrified American Jewry
Hotovely told i24NEWS that US Jews can't understand Israel because they 'never send their children to fight'
Israeli Prime Minister Benjamin Netanyahu on Thursday led a rising chorus of condemnation over "offensive" comments made by Deputy Foreign Minister Tzipi Hotovely during an i24NEWS interview on Wednesday in which she disparaged the "convenient lives" of US Jews who "never send their children to fight for their country" and "do not know how it feels to be attacked by rockets".
Speaking about the widening chasm between the Jewish state and Jews in world's largest diaspora population, Hotovely accused American Jews of "not understanding the complexities of the region", describing them as "people that never send their children to fight for their country, most of the Jews don't have children serving as soldiers, going to the Marines, going to Afghanistan, going to Iraq."
"Most of them are having quite convenient lives," the Likud lawmaker suggested, adding that "They don't feel how it feels to be attacked by rockets."
Netanyahu slammed Hotovely's "offensive remarks towards American Jewry", adding that they "do not reflect the position of the State of Israel."
"Diaspora Jews are dear to us and an inseparable part of our people," a statement from Netanyahu's office said.
PM Benjamin Netanyahu condemns Tzipi Hotovely's offensive remarks regarding the American Jewish community. The Jews of the Diaspora are dear to us and are an inseparable part of our people. There is no place for such attacks, and her remarks do not reflect the position of Israel.

— PM of Israel (@IsraeliPM) November 23, 2017
Hotovely's incendiary remarks come as American Jews who are members of the Reform and Conservative streams of Judaism have been at loggerheads with Netanyahu's government over issues such as egalitarian prayer at Jerusalem's Western Wall holy site and a proposed law that would not recognize conversions performed outside the Chief Rabbinate's authority.
Her interview on i24NEWS' program 'The Rundown' on Wednesday evening immediately provoked angry reactions on social media from US Jewish leaders and fellow Israeli lawmakers.
The head of the Reform Judaism movement in the United States, Rabbi Rick Jacobs, slammed Hotovely's "ill-informed and insulting views" and called on Netanyahu -- who holds the post of foreign minister -- to fire his deputy saying that "such views disqualify her holding such an important role in Israel's diplomatic corps."
"We note with appreciation the Prime Minister's statement criticizing Hotovely's words. This moment, however, demands action and not simply words. He needs to dismiss Hotovely immediately," Jacobs said.
World Jewish Congress head Ron Lauder said similarly that it "is unacceptable for any Israeli official to be disrespectful of the Jewish people living in the Diaspora."
"Israel is the homeland of Jews throughout the world and its central mission is to preserve and strengthen the Jewish people, all Jewish people wherever they may be," he said in a statement.
Netanyahu did not escape the scandal unscathed, with political rivals accusing the Prime Minister of creating a culture in which such statements against American Jewry have become acceptable.
Former Labor head and opposition leader Isaac Herzog said that "the justified condemnation of Hotovely's words can not cover Netanyahu's own humiliating treatment of himself and his government toward American Jewry."
"How many blows will they take until they get completely fed up ?!" he added.
His successor, current Labor party chairman Avi Gabbay, meanwhile, told i24NEWS that Netanyahu was "responsible for the culture of his ministers and deputies."
"That means that he is responsible for the fact that [Hotovely] could even imagine that she can say something like that. This is something so severe that its only an issue of the culture that he leads the country with," Gabbay said.
Labor Party leader @GabbayAvi tells correspondent @EHochenberg: @netanyahu is responsible for culture that allowed for @TzipiHotovely's comments pic.twitter.com/BSynxiL98u

— i24NEWS English (@i24NEWS_EN) November 23, 2017
Former prime minister Ehud Barak called Hotovely's comments "arrogant and ignorant" and accused her of hypocrisy noting that she completed her mandatory military service through the country's National Service volunteer program as an envoy of the Jewish Agency in Atlanta, Georgia, and as a museum tour guide in Jerusalem, and not in the army.
Likud lawmaker and former interior minister Gideon Sa'ar called Hotovely's comments "disgusting and outrageous" and demanded an apology.
Leader of the center-left Yesh Atid party Yair Lapid said that "Hotovely's comments about American Jewry are a combination of ignorance and arrogance. This government has to stop trying to divide the Jewish people, both in Israel and abroad."
Member of the opposition Zionist Union faction Nachman Shai, who heads the parliamentary caucus on Israel-US ties, called on Netanyahu to suspend Hotovely.
Hotovely-arrogant and ignorant. US Jews send their children to fight, some have fought themselves. How dare she preach, when she herself hasn't served?
Our vital ties with our own flesh and blood are torn by weak BB and the extreme right. Faint condemnation will not do. Fire her

— אהוד ברק (@barak_ehud) November 23, 2017
Hotovely's office issued a statement in response to the outcry clarifying that "despite the fact that only a small part of the full interview was distributed, it is important to say that most of the interview spoke about the importance [Hotovely] sees in the connection between us and American Jewry and that Israel is the home of all the Jews in the world."
But she defended her position, saying that "the difficulty in understanding the reality in the Middle East of people who do not experience the daily reality of Israel is great. The gap stems from a different reality of life. This is the basis for the distance between American Jewry and Israel."
In an interview with Hadashot later in the day, Hotovely offered somewhat of an apology for her remarks, saying she was sorry "if someone is hurt by my words", but refused to retract her comments.
She also confirmed she had been personally reprimanded by Netanyahu, amid reports he was considering dismissing her over the incident.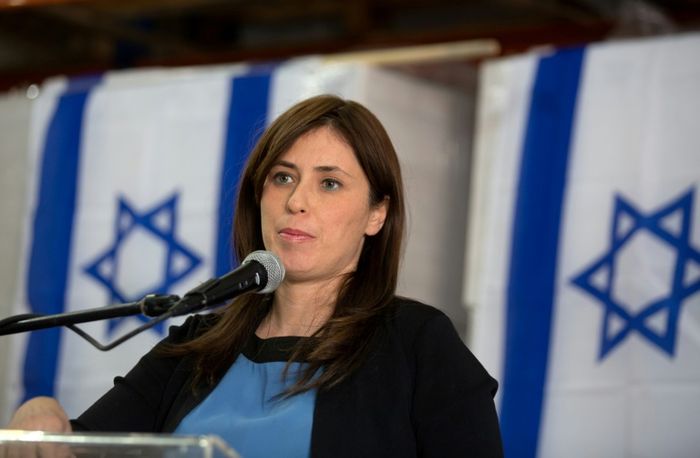 Orthodox Jewish groups, which form a central plank in Netanyahu's coalition government, have long pushed back against more liberal streams of Judaism, resulting in feelings of greater alienation among Reform and Conservative streams of Judaism, which have a large representation in the American Jewish community.
Lashing out against Hotovely's interview, many commentators pointed to the sizeable Jewish presence in the US military and the significant number of US Jews who have lived for periods of time in Israel serving in the ranks of the Israel Defense Forces.
The United States' military no longer records troops' religions, but until then served in slightly higher proportion than their percentage in the general population, JTA reported.
Over 6,300 so-called "lone soldiers" -- soldiers without a family support network in Israel -- serve in Israel's military and some 35 percent come from the United States.
See also:
Rivlin urges 'renewed Israel-Diaspora alliance' as crisis reaches fever pitch
Daily Stormer takes Hotovely remarks as admission that Jews are fifth column in US
You need to be logged in in order to post comments. Sign up or log in
November 24, 2017 10:15 AM
I can see other media misquoting Hotovely but certainly not the same people who interviewed her and who undoubtedly are aware of the entire transcript. She said "never" then immediately qualified herself and used the word "most". To say that "most American Jews" do not serve as enlistees is hardly controversial and is the truth.
November 24, 2017 6:48 PM
Horrified? You are making Ms Hotovely's exact point. She is also referring the the many who are permanently HORRIFIED by Israel, no matter what.
November 30, 2017 3:15 PM
What Hotovely said is certainly true in the UK. Fewer than 100,000 professional members of the armed forces fight our battles, which in any case are thousands of miles away. Their mothers don't send them to war, they volunteer for a fight because they are born fighters. I am 80 years old and the last of a generation that remembers planes dropping bombs on our London homes. My younger daughter lived in Tel Aviv through the last Gaza war and heard a few rockets explode over head. She has a basic idea what it means to live in a threatened country. We do not. Anyone seeing what is happening all over the Middle East, knows why giving back an inch of territory to Israel's neighbours, is only seen as Judo/Christian weakness for which a price will be paid in Israeli lives. As for non-Jews that are horrified by what Israel is doing, I have news for you, they always will be. Anti Semitism is alive and kicking as much as it was a thousand years ago. Modern laws simply ensure it is limited to anonymous letters with swastikas all over them, that are sent to me when I defend Israel.