'I will not forget this reception my whole life,' says Israel's Linoy Ashram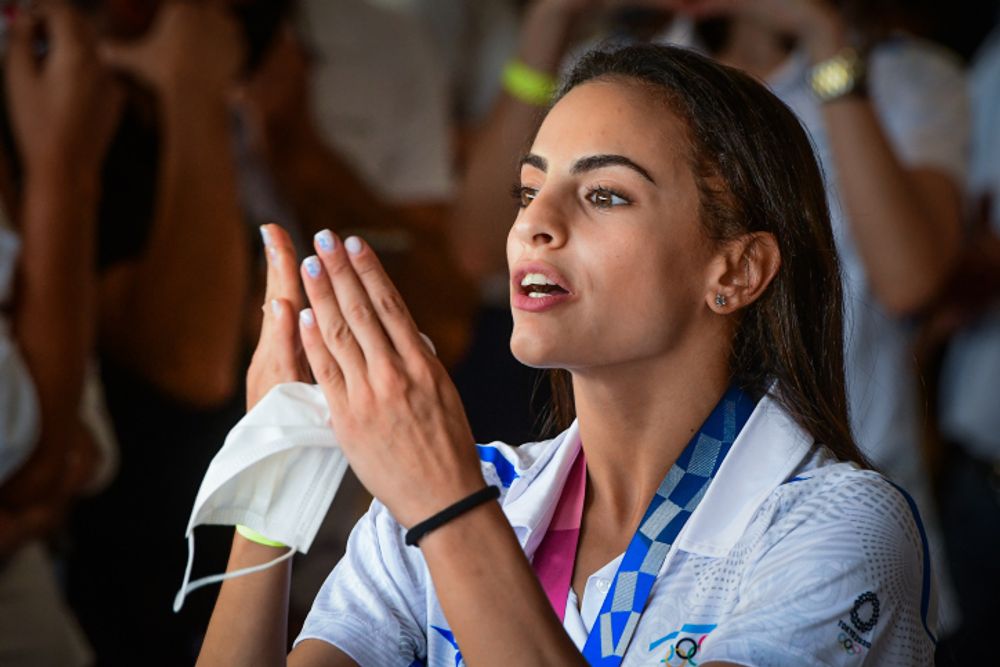 Hundreds of people greeted the gold-winning rhythmic gymnast at Ben Gurion Airport to celebrate her victory
Israel's only ever female gold medal-winning athlete returned home to a hero's welcome Wednesday as hundreds of people turned out to celebrate Linoy Ashram's success - and that of her teammates.
"I have no words. This is one of the craziest experiences I have had in my life. I will not forget this reception my whole life. Thank you all for your love and warmth," Ashram told the crowd according to The Times of Israel (TOI).
"I am delighted to finally be back in Israel. You are the best crowd of people anyone could ask for," she said.
Ashram won her gold medal on Saturday in the rhythmic gymnastics final in which she narrowly beat Russia's three-time world champion Dina Averina. Her victory came amid mild controversy as Averina's Russian supporters took to social media to claim that Ashram's gold medal was undeserved because of a perceived fault in her routine.
However, the Russian gymnast herself, putting the frustration behind her, said that Ashram was not to blame for the judges' marking and congratulated the Israeli athlete on her win.
The Tokyo Games were Israel's most successful ever, with the country collecting another gold medal through gymnast Artem Dolgopyat (at that time, only the country's second-ever gold medal-winning athlete) as well as two bronze medals through the mixed judo team, and Avishag Semberg for taekwondo in the women's -49kg category.
Meanwhile, Ashram would not be drawn on whether she would defend her title at the 2024 Paris Olympics, maintaining that after an intense five years of near-constant competition she need to let her body rest.
This article received 1 comments