Israel publishes 'BDS blacklist' of 20 groups barred from entering country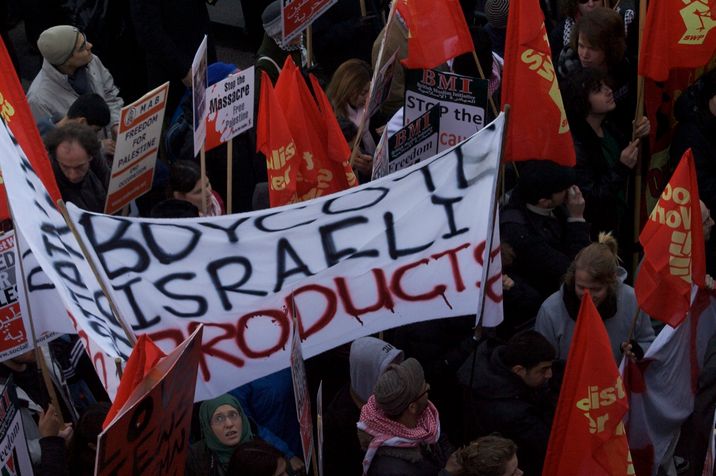 BDS supporters, London 2009
claudia gabriela marques vieira/ Wikipedia
Israel on Sunday published a list of 20 global organizations whose members will be barred from entering the country due to their support for the boycott, divestment, and sanctions (BDS) movement against Israel.
The so-called "BDS Blacklist" was published in full on Sunday by the Ministry of Strategic Affairs, which together with the Ministry of Interior decided that entry to Israel would not be permitted to individuals associated with the listed organizations.
"We have moved from defense to attack. The boycott organizations need to know that the State of Israel will act against them and will not allow them to enter its territory in order to harm its citizens," Strategic Affairs Minister Gilad Erdan said in a statement issued with the list on Sunday.
"Forming the list is another step in our struggle against the incitement and lies of the boycott organizations, and no state would allow visitors who come to harm the state to enter it, and certainly with the goal of destroying Israel as a Jewish state," he said.
American organizations appearing on the blacklist include: American Friends Service Committee, American Muslims for Palestine, US Campaign for Palestinian Rights, National Students for Justice in Palestine, Code Pink, and Jewish Voice for Peace.
Banned groups from Europe include: The France Association Palestine Solidarity, BDS France, BDS Italy, The European Coordination of Committees and Associations for Palestine, Friends of Al-Aqsa, Ireland Palestine Solidarity Campaign, The Palestine Committee of Norway, Palestine Solidarity Association of Sweden, Palestine Solidarity Campaign, War on Want, and BDS Kampagne.
BDS Chile, BDS South Africa, and the BDS National Committee were also blacklisted.
"These people are trying to exploit our law and our hospitality to act against Israel and to defame the country. I will work against it in every way," said Interior Minister Aryeh Deri, who spearheaded the 'Entry into Israel Law' passed in March 2017 authorizing his ministry to deny visas to non-Israeli citizens who are believed to have been involved in BDS activities.
The ban will impact those who hold senior or important positions within the blacklisted groups, as well as activists associated with the organizations even if they do not hold official positions.
Mayors and other establishment figures who promote boycotts of Israel will also be barred from entering the country, as will activists who arrive to the country as part of a delegation initiated by any of the blacklisted groups.
Israel had previously refused to divulge the full list of blacklisted groups.
BDS is a global movement that advocates boycotts against Israel as a state.