Defense minister moves to legalize Havat Gilad outpost after Rabbi shooting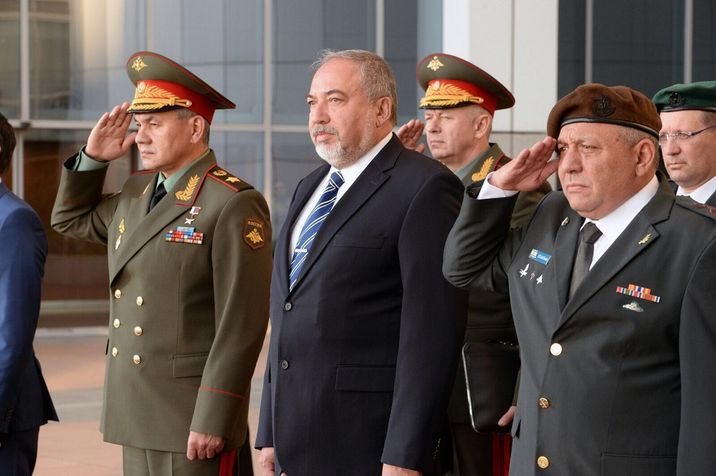 Shoygu, Liberman, Eizenkot
Ariel Hermoni, Israel Ministry of Defense
Naftali Bennett said 'the only revenge is to keep building' in response to killing of Rabbi Shevach
Defense Minister Avigdor Liberman submitted a proposal to the cabinet on Sunday to initiate the legalization process of the Havat Gilad outpost in the West Bank following the killing of resident Rabbi Raviel Shevach last week.
"He's asking the cabinet for approval to direct bodies that are already under his jurisdiction," said an official in a statement according to the Times of Israel. "Liberman doesn't want to make the decision himself so he's passing it on to the cabinet."
Moves to legalize the outpost follow the drive-by shooting of father of six Shevach who was gunned down whilst driving on Route 60 that crosses the West Bank from North to South. Local settlers urged Israeli Prime Minister Benjamin Netanyahu to permit more Israeli construction in the area in response.
At Shevach's funeral hundreds of mourners called for "revenge" to which Education Minister Naftali Bennett who was delivering a eulogy declared that, "the only revenge is to keep building."
"Our enemies think that they can make us desert the land...we will extinguish that hope by building families and building communities," Bennett declared.
If the cabinet adopts the Havat Gilad proposal, it would then permit the defense minister to embark on the next step of instructing government bodies to assess the legal mechanisms for altering its status to an official settlement, the Times of Israel reported on Sunday.
The statement said that the settlement on "Israeli-owned land" in the West Bank would operate under the municipal framework of the Samaria Regional Council.
"Jewish settlement plays a tremendous role in preserving the borders of the country and the homeland," Liberman declared in support of the proposal.
The resident of Havat Gilad claim they purchased the land before the establishment of the outpost in 2002. Palestinians however deny this and contest that the documents are forged.
Israeli settlements are seen as illegal under international law and major obstacles to peace as they are built on land the Palestinians see as part of their future state.
Prominent members of Israeli Prime Minister Benjamin Netanyahu's right-wing government openly oppose Palestinian statehood.
Israel faced sharp criticism from the administration of former US president Barack Obama over settlement construction, but that has not been the case with US President Donald Trump's White House and Israeli officials have sought to take advantage of his backing.