Abbas knew details of Trump peace plan ahead of PLO meeting, Israeli TV says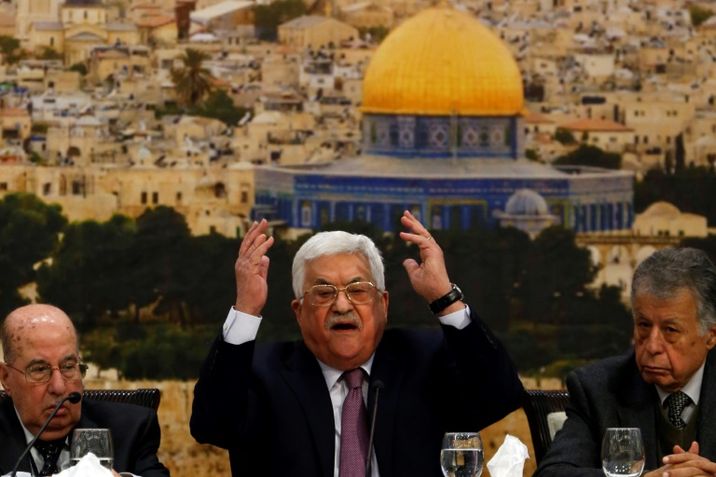 Palestinian president Mahmoud Abbas speaking in the West Bank city of Ramallah on January 14, 2018
ABBAS MOMANI (AFP)
An Abbas envoy is said to have learnt unfavorable terms for the peace deal on a trip to Saudi Arabia
Palestinian Authority President Mahmoud Abbas gave an angry speech at the The Palestinian Liberation Organization (PLO) meeting in Ramallah because he knew details of the upcoming US plan for the Israeli-Palestinian conflict, Israeli TV reported Tuesday night.
According to Hadashot news, Abbas envoys traveled to Saudi Arabia earlier in the month to learn about the terms of what American President Trump has called the upcoming "deal of the century".
The White House is yet to release the details of the plan but, according to Israeli media, they involve the preservation of settlements, an exclusive Israeli control on security matters, and the continuation of Israeli military presence in the Jordan valley, along the border with Jordan. 
The alleged terms, which are at odds with central Palestinian conditions to reopen the peace process, angered Abbas ahead of the PLO meeting, according to Israeli TV. 
Saudi Arabia has been slowly recasting its attitude towards Israel, which it officially does not recognize. According to the Swiss newspaper Basler Zeitung, Saudi Arabia has even reached out to Israel to buy the "Iron Dome" Missile Defense system.
"Saudi Arabia is said to have wanted to acquire the system in an attempt to stop missile attacks by Houthi militias in Yemen and is seeking to boost its anti-missile systems arsenal," wrote the press review Mideast Mirror last week, quoting the Swiss report.
"The Saudis have apparently requested Israel to examine the possibility of acquiring an anti-tank missile system and the Iron Dome missile defense system through a third party," added the report.
Saudi Arabia could play a role in the negotiations over the upcoming Trump plan which, however, Mahmoud Abbas has already branded "the slap of the century", going as far as to threatening President Trump to "demolish his house" in the speech at the PLO.
Abbas' harsh speech came on the backdrop of a deterioration in relations between the United States and the Palestinian Authority, which has been particularly sharp since President Trump's recognition of Jerusalem as Israel's capital on December 6.
In a latest show of distrust towards the Palestinian leadership, The United States have frozen over half of their contribution to United Nations Relief and Works Agency (UNRWA), from $125 million dollars to a mere $60 million.
In a harshly worded tweet on the move, the The Palestinian Liberation Organization (PLO) said the administration was "targeting the most vulnerable segment of the Palestinian people and depriving the refugees of the right to education, health, shelter and a dignified life."