'Not in our name': Israeli lawmakers decry deportation of African asylum seekers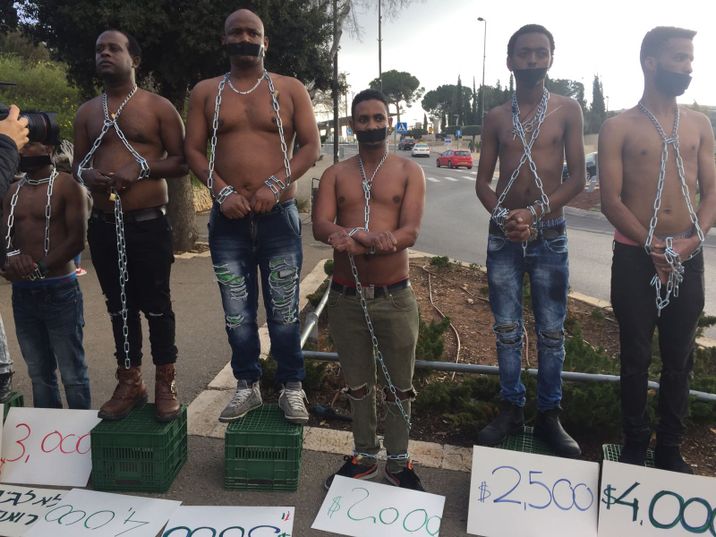 Mock 'slave trade' auction outside Knesset, Jan 2018
Jesseca Manville, i24NEWS
Only ten asylum seekers, eight Eritreans and two Sudanese, have ever been recognized by Israel as refugees
Lawmakers, rabbis, students, Holocaust survivors and asylum-seekers united on Wednesday at the Israeli parliament under the banner "not in our name", in opposition to Prime Minister Benjamin Netanyahu's recently announced and highly controversial scheme to deport African migrants from the country.
"We are here today to convey a clear message to the government: Not in our name! We must stop this government from...expelling refugees and asylum seekers to the unknown," declared Meretz MK Michal Rozin who convened the Knesset conference, alongside Dov Khenin from the Joint List and Kulanu member Eli Alaluf.
Outside the Knesset, meanwhile, ten asylum seekers stood on crate boxes bound by thick silver chains with masking taped-mouths in a dramatic mock 'slave auction' shouting: "Get your slaves, slaves for half price."
"Soon tens of thousands of people will be deported to their deaths and we will stand aside," Kheinin warned, addressing the Jerusalem auditorium filled by around two hundred protesters cheering and applauding in support. "We have to stop the expulsions!" he urged.
The 38,000 Eritrean and Sudanese asylum seekers currently residing in Israel, referred to by Israeli officials as "infiltrators", face a difficult choice over the next few months: either receive a one-time payment of $3,500 and leave Israel "voluntarily" to an African country, or, stay in Israel and endure indefinite incarceration in the Saharonim detention center, where freedom of movement is curbed and rights are limited. The deadline for what has been referred to as a "life or death" decision has been set for late March 2018.
Asmait Merhatsion, a 28-year-old Eritrean asylum seeker who delivered her testimony at the Knesset on Wednesday told i24NEWS, "it's not about money, $3,500 means nothing for us, we paid around $35,000 to get to Israel...we are asking the Israeli government to give us asylum." A mother of one, Merhatsion said, "I am choosing to stay, in Eritrea they are killing us. I do not want to take my child to die."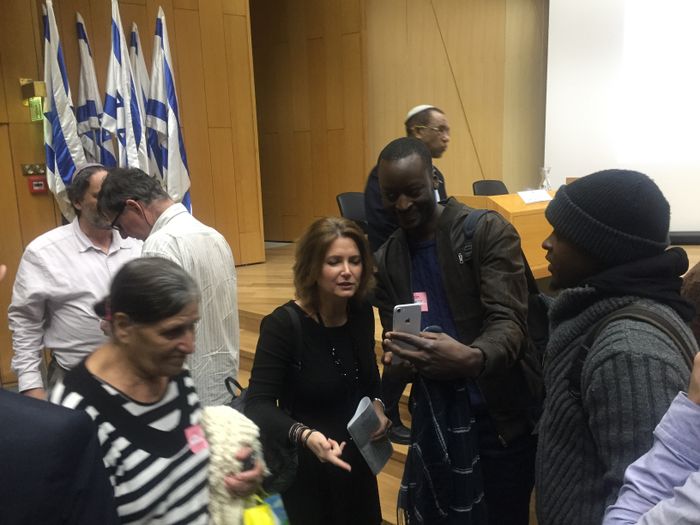 "In the last five years many Eritreans have been repatriated to their home land on their own will," the Eritrean embassy said in a statement to i24NEWS, however, it added, the "air tickets and pocket money to returnees was not ideal."
"Every country has an obligation to protect its borders," Netanyahu explained when issuing the directive to National Security Advisor Meir Ben Shabbat earlier this month. "Protecting the borders from illegal infiltration is both the right and the fundamental obligation of a sovereign country."
He is supported by members of his coalition who have vowed that the government would "give back" the South Tel Aviv neighborhood to its Israeli residents, where the majority of asylum seekers have settled since arriving in 2012, mainly by crossing over the porous Egyptian border.
Polarizing political rhetoric
South Tel Aviv has since become the epicenter of the refugee debate. While some residents argue that the influx of migrants has been coupled with their neighborhood's degeneration, others claim the area has long been neglected by the government and that the hate-filled rhetoric that has described asylum-seekers as a "cancer" is merely for political gain.
"They say the migrants are taking over, it is developers and their economic interests causing this by building towers for rich people," Shula Keshet a local of the suburb said at the Knesset conference claiming that the tensions were related more to "class warfare" and gentrification.
Tensions between the opposing views was brought on display Wednesday, when a woman interrupted an activist's speech shouting "not true, not true!" before being escorted out by security guards.
Further complicating the issue is the Israeli government's insistence that the majority of those entering Israel illegally are actually economic migrants seeking a better life and job opportunities, as opposed to legitimate asylum seekers fleeing persecution of oppressive regimes.
But, Khenin told i24NEWS, "95-97% of those fleeing from Eritrea gain refugee status around the world...Do we know something about Eritreans that the Canadians and Europeans don't know? These numbers show that there is no real check-up of the situation."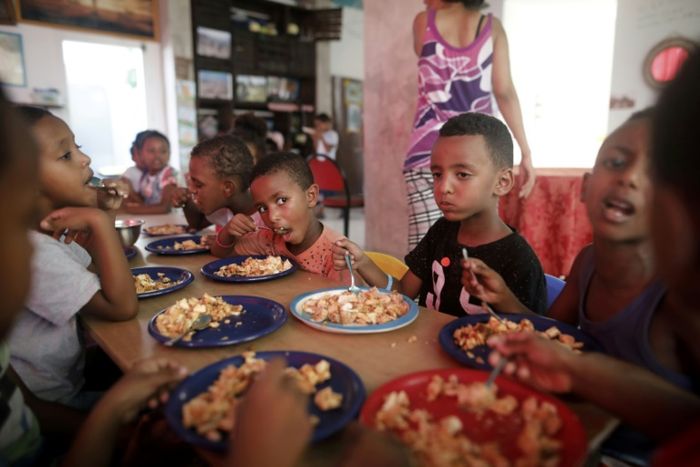 According to UNHCR data, only ten asylum seekers, eight Eritreans and two Sudanese, have ever been recognized by Israel as refugees. Mutasim Ali, 31, is one of the 1% of applicants who was granted refugee status. He fled to Israel from Sudan's Darfur region in 2009.
"Everybody wants refugee status, nobody is looking for permanent citizenship," Ali said in an interview. "People are looking for an opportunity to contribute to society and live in a dignified way."
"I see no difference between me and the others fleeing the same circumstances. Most of the refugees from Sudan and Eritrea leave for the same reasons," Ali added. "To have given me refugee status when others deserve it too? Why? I have no idea."
"They aren't refugees," Netanyahu has previously asserted, arguing that it is legal to deport them to a new country in line with the High Court's decision.
Israel cannot 'refoul' asylum seekers to their countries of origin, so it instead struck deals to deport them to Rwanda and Uganda, although none of the countries involved has confirmed the arrangement. Rwanda's deputy foreign minister Oliver Nduhungirehe recently told the Associated Press no such deal has ever been reached, and a Ugandan official said it was "fake news".
The UNHCR has tracked asylum seeker cases following relocation by Israel, discovering that many have suffered torture, abuse, and extortion, and risked their lives to travel onward through conflict zones in South Sudan and Libya.
Like a number of US Jewish groups have done in past weeks, a number of Israeli lawmakers deemed the forced deportation of African migrants as going against Jewish values.
Israeli right-wingers counter that the 38,000 have the power to upset the Jewish demography and the social fabric of society.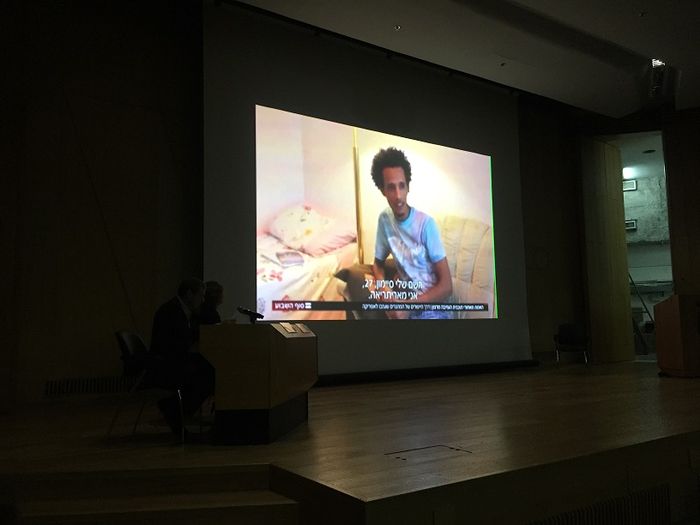 "Look at the generations who came before us, those who came from Europe, our history obligates us to be moral and ethical," Alaluf said.
"This is not Jewish, not accepting people who have escaped in order to leave persecution is totally against all the commandments," Khenin said similarly.
What are alternatives?
Those opposing the plan have vocalized alternative solutions, with calls for individualized case-by-case decisions rather than a blanket deportation policy.
Others have suggested that the money used to execute the expulsion plan instead be reinvested in regenerating South Tel Aviv suffering from a bout of "real problems."
"Money for infrastructure, money for education, order and policy. Money for the construction of community centers. This will help," Rozin proposed in a statement to i24NEWS.
On Thursday a delegation of Orthodox rabbis visited the Holot Detention Cente, "to offer their prayers to the asylees...and to tell them they are not alone in their struggle."
Meanwhile, a new initiative, the Anne Frank Home Sanctuary, was launched by another group of rabbis to provide refuge to asylum seekers facing expulsion by opening up their homes.
"It is inspiring...to finally see Israelis protesting and rallying to support refugees amid the policy to drive many from the country," said Mutasim, who was part of the asylum seeker-led protesters back in 2013 following the opening of the Holot prison.
"I am very surprised," said Asmait. "I am surprised about how many young people are against deportation."
"For us, this makes us strong."
Jess Manville is a web editor for i24NEWS English