Liberman calls on Army Radio to ban poet who compared Tamimi to Anne Frank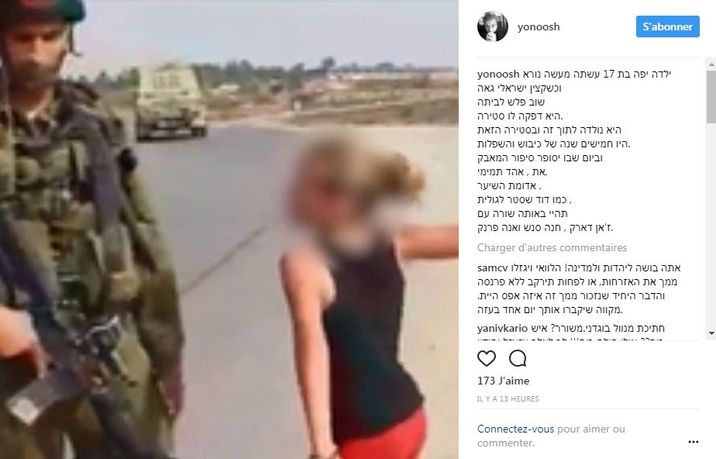 Texte de Jonathan Geffen dédié à Ahed Tamimi, publié le 22.01.2018 sur Instagram
Capture d'écran Instagram
Attorney General Avichai Mandelblit said Liberman has no right to interfere in Army Radio's editorial policy
Israeli Defense Minister Avigdor Liberman has requested Gal Galatz, the Israeli military radio station, to refrain from giving a platform to Israeli intellectual Yehonatan Geffen after he compared Ahed Tamimi to Anne Frank in an Instagram post.
Sixteen-year old Tamimi kicked and slapped Israeli soldiers in her home village of Nabi Saleh,  turning her into an icon of Palestinian resistance as her trial made the news around the world.
Ahed Tamimi has been detained since the 19 December on charges of "assaulting a soldier, harming the security of the area, incitement, and other felonies," court documents say. She is to be detained until the trial takes place, despite an international campaign for her liberation.
Yehonatan Geffen, an Israeli poet, singer and writer, joined into the campaign to liberate Tamimi with a post on Instagram which compares her actions to the deeds of Joan of Arc, saying "She was born into it and in that slap."
"In that slap there were 50 years of occupation and humiliation," Geffen says in the post.
"You, Ahed Tamimi, like David who slapped Goliath, You will be on a par with Joan of Arc, Chana Senesh and Anne Frank," he adds.
Liberman has called the post "sickening", asked Army Radio to stop inviting Geffen to broadcasts, also making an appeal to Israeli media at large to stop giving him a platform.
"The State of Israel will not grant a platform to a man who compares a girl who died in the Holocaust and a heroic warrior who fought the Nazi regime with the brat Ahed Tamimi, who attacked a soldier. Geffen's headline-seeking is sickening and outrageous," he said in a statement.
Attorney General Avichai Mandelblit, however, slammed Liberman saying he has no legal right to encroach on the editorial line of Army Radio.
The tragic story of Anne Frank has recently been used in a campaign against the deportation of African asylum seekers from Israel called "Anne Frank Home Sanctuary movement".
Launched by prominent Israeli Reform Rabbi Susan Silverman, the movement proposes to shelter African asylum seekers who are due for deportation in order to save them from unsafe prospects upon their return to Africa.
Anne Frank, who authored a diary before being deported and killed in concentration camps from the Netherlands, lived in hiding with her family until Nazi occupation authorities uncovered her hidden shelter.
You need to be logged in in order to post comments. Sign up or log in
Lieberman has not to ask, to order to military radio to stop any anti government program