Holocaust survivors join into calls against deportations of African refugees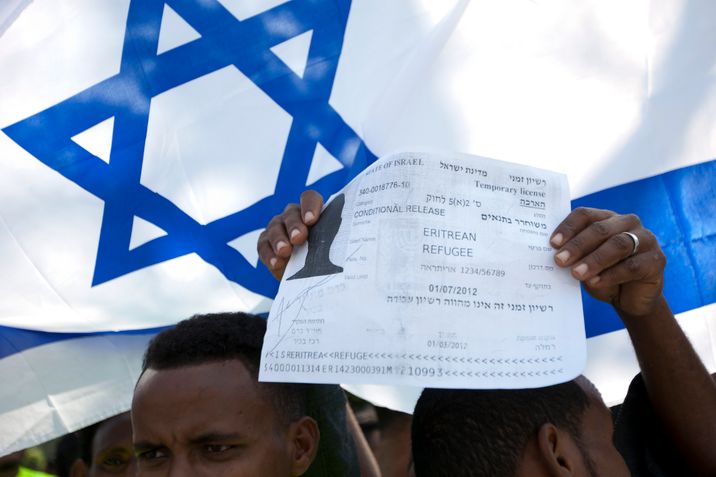 African refugees in Israel
AP Photo/Ariel Schalit
Some quote e a responsibility to emulate the behavior of the "Righteous Among the Nations"
A number of Holocaust survivors who now live in Israel have joined into calls against the deportation of African asylum seekers from Israel.
Speaking to the Israeli daily Yedioth Ahronoth, some of them suggested they have a responsibility to emulate the behavior of the "Righteous Among the Nations" during World War Two.
The Righteous are non-Jewish people who risked their lives to save Jews from deportation to Nazi concentration camps. A section of the Yad Vashem, the Jerusalem Holocaust memorial, is dedicated to them.
"I always asked myself what I would have done if, during the Holocaust, I was on the other side — would I have been strong enough to do what the Righteous Among the Nations did?," said 73 years old Veronika Cohen to Yedioth Ahronoth.
Hana Arnon, another survivor in her late 70s, said Israelis should emulate those who helped Anne Frank and her family hide until they were discovered and deported by the Nazis.
Anne Frank, who authored a diary before being deported and killed in concentration camps from the Netherlands, lived in hiding with her family until Nazi occupation authorities uncovered her hidden shelter.
The tragic story of Anne Frank has also been used in a campaign against the deportation of African asylum seekers from Israel called "Anne Frank Home Sanctuary movement".
Launched by prominent Israeli Reform Rabbi Susan Silverman, the movement proposes to shelter African asylum seekers who are due for deportation in order to save them from unsafe prospects upon their return to Africa.
Critics have however noted that while the "Righteous" in World World Two risked their lives to save Jews, and indeed that is one of the conditions to be accepted as such by the Yad Vashem, Israelis today would not risk their lives if they were to keep migrants in hiding.
"Israel's 70th birthday is coming up this spring, It can either be a celebration of our innovation, contributions and values or it can be symbolized by deporting African Asylum Seekers to trafficking and death." — @RabbaSusan https://t.co/5hFUjNGoig

— Tablet Magazine (@tabletmag) January 21, 2018
The government plan to deport around 40.000 asylum seekers from Israel has sparked outrage in Israeli civil society, including reactions from religious, intellectual and media figures.
In a speech at the Knesset, Israeli Prime Minister Netanyahu acknowledged the wave of protests against the deportations.
"I hear claims regarding the illegal migrants and our policy. We are not acting against refugees. We are acting against illegal migrants who come here not as refugees but for work needs. Israel will continue to offer asylum for genuine refugees and will remove illegal migrants from its midst," Netanyahu said.
A number of pilots from the Israeli airline carrier El-Al said they would not be ready to fly refugees back to African countries, even if they are in Israel illegally, .
Iddo Elad, Shaul Betzer, Yoel Piterbarg, all El-Al pilots, wrote on Facebook that they would refuse to fly planes "to a destination where their chances of surviving (in a 'third country') are small."
A number of pilots are also joining the appeal against the deportations, but the migrants could still be deported with different airline carriers.
Lawmakers, rabbis, students, Holocaust survivors and asylum-seekers united on Wednesday at the Israeli parliament under the banner "not in our name", in opposition to Prime Minister Benjamin Netanyahu's recently scheme to deport African migrants.
"We are here today to convey a clear message to the government: Not in our name! We must stop this government from...expelling refugees and asylum seekers to the unknown," declared Meretz MK Michal Rozin who convened the Knesset conference, alongside Dov Khenin from the Joint List and Kulanu member Eli Alaluf.
Outside the Knesset, meanwhile, ten asylum seekers stood on crate boxes bound by thick silver chains with masking taped-mouths in a dramatic mock 'slave auction' shouting: "Get your slaves, slaves for half price."
"Soon tens of thousands of people will be deported to their deaths and we will stand aside," Kheinin warned, addressing the Jerusalem auditorium filled by around two hundred protesters cheering and applauding in support. "We have to stop the expulsions!" he urged.