Vandalism at Tel Aviv immigration office warns against African deportations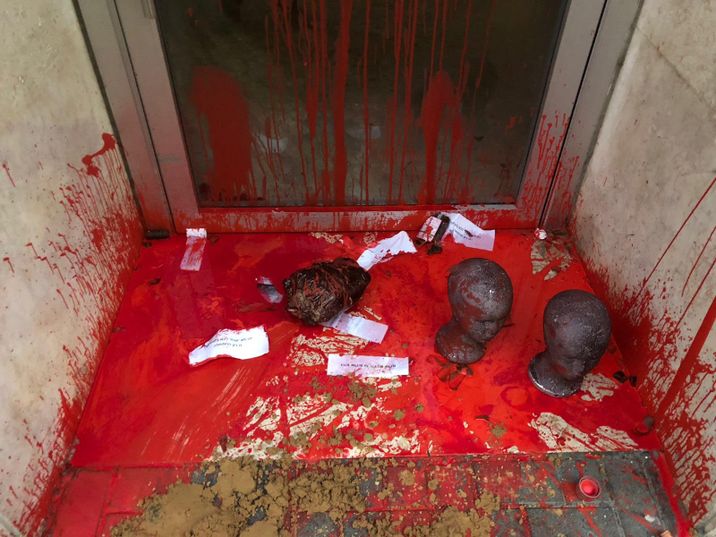 Vandalism at Tel Aviv immigration office warns against African deportations
Israel Police
Dozens of ex-diplomats warn deportation scheme undermines Israel's reputation as ethical, law abiding nation
An immigration authority office in Tel Aviv was vandalized on Saturday with a gruesome display that featured severed doll heads strewn in a puddle of red paint along with messages warning against Israel's planned deportation of tens of thousands of African asylum-seekers.
"Their blood is on your hands" read one of the anti-deportation notices discovered among the paint and doll heads outside the Tel Aviv office of the Population, Immigration, and Border Authority (PIBA).
Israeli police said they launched a high-priority investigation into the vandalism, adding that it views defacement of government property "with severe gravity."
The immigration authority called the incident a "despicable act against government employees doing their jobs" and condemned it as an inappropriate form of protest.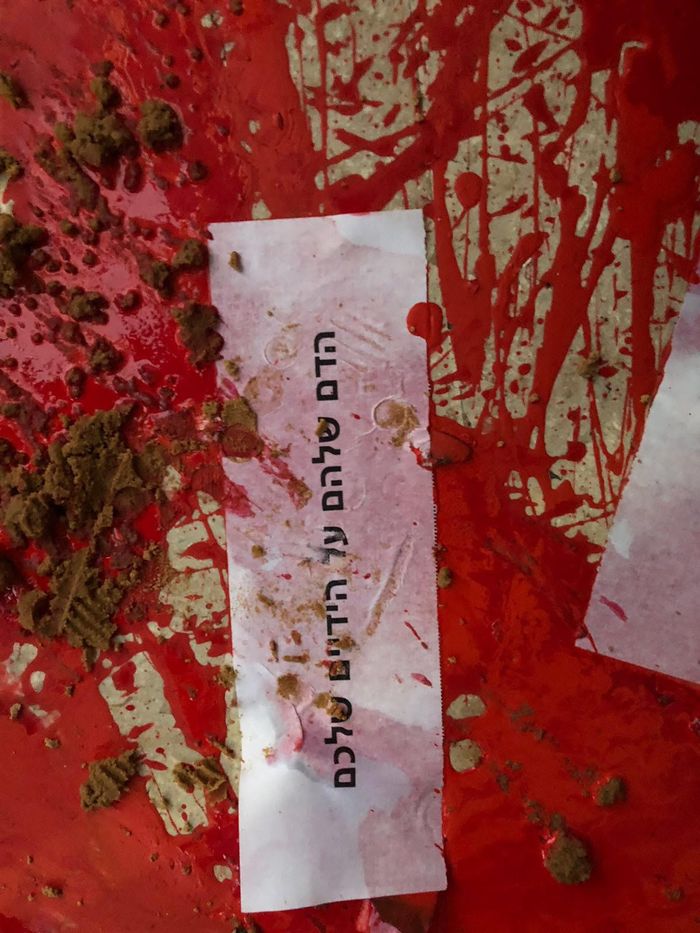 Anger and opposition at the government's plan to deport 38,000 African migrants seeking asylum in Israel to third countries including Rwanda and Uganda has grown in recent weeks, with former diplomats, US Jewish groups, Holocaust survivors, and Israeli doctors, teachers, and El Al pilots all urging Prime Minister Benjamin Netanyahu to reconsider the policy.
The 38,000 Eritrean and Sudanese asylum seekers currently residing in Israel, referred to by Israeli officials as "infiltrators", face a difficult choice over the next few months: either receive a one-time payment of $3,500 and leave Israel "voluntarily", or, stay in Israel and face indefinite incarceration.
Israel claims that most of those claiming asylum are in fact economic migrants.
The deadline for what has been referred to as a "life or death" decision has been set for late March 2018.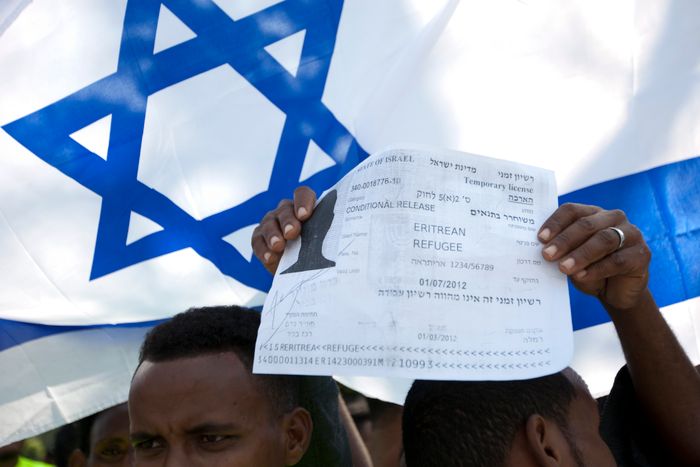 Joining a growing chorus of condemnation of the policy, dozens of former ambassadors and consuls general, including two former heads of the Foreign Ministry, warned that implementing the deportation scheme would undermine Israel's reputation as an ethical and law abiding nation.
"As official representatives of Israel, we could always note proudly, even in times of extreme criticism at home and abroad, that 'The State of Israel is based on freedom, justice and peace as envisaged by the prophets of Israel' as is written in the proclamation of independence," the 35 former diplomats wrote, according to the Ynet news outlet. "By carrying out these deportations we are pulling out the ground from under these claims, and from under the image of Israel as a state of law and ethics."
Netanyahu has defended the scheme and said that "Israel will continue to offer asylum for genuine refugees" while removing "illegal migrants from its midst."
He vowed during a meeting with his Rwandan counterpart at the World Economic Forum in Davos, Switzerland on Wednesday that deportations would be carried out in accordance with international law.
See also:
'Not in our name': Israeli lawmakers decry deportation of African asylum seekers