UN peace envoy criticizes Abbas speech, warns Gaza on brink of 'collapse'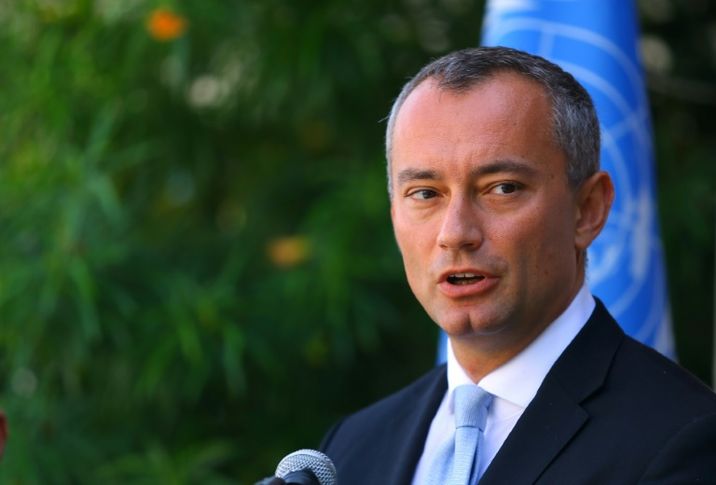 UN envoy Nikolay Mladenov speaking to reporters in Gaza City.
MOHAMMED ABED (AFP)
'The chances of another escalation in Gaza are increasing by the day,' Nickolay Mladenov warned
The United Nations envoy for the Israeli-Palestinian peace process said on Tuesday that a speech by Palestinian Authority President Mahmoud Abbas that was criticized by Israel as anti-Semitic was in part "unacceptable" but that Palestinians are "very angry".
As well as criticizing US President Donald Trump's interventions in the peace process, Abbas claimed in a January 14 speech to the Palestinian Liberation Organization's (PLO) central council that Israel was a colonial project established by Europe to advance their interests in the Middle East.
In an interview with i24NEWS at the Institute for National Security Studies (INSS) conference in Tel Aviv, Mladenov said that "parts of that speech I find unacceptable."
"I think the anti-Semitism, which is a problem not just in Europe it's a problem in the Middle East as well, is really something that needs to be tackled," but added that it was not only Abbas giving hardline speeches.
Politicians "on all sides" are making speeches in the context of a "toxic media and social media environment," the Bulgarian diplomat argued.
"I think it's very important to not just focus on the political steps that need to be taken... we need to make sure that political leaders on both sides show a little bit more constraint in their language," he added.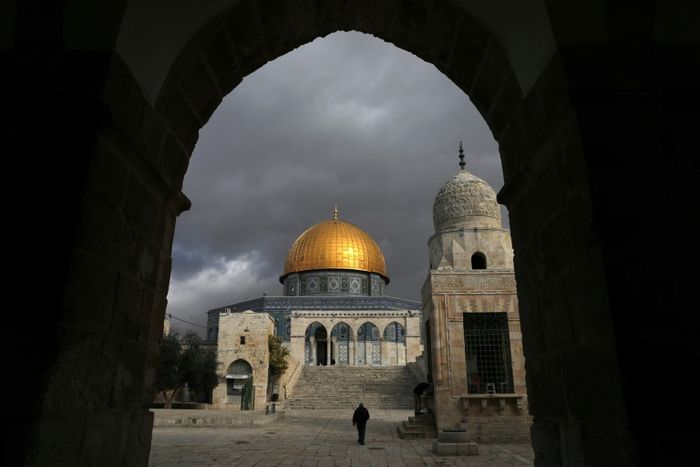 Trump's acceptance of Israel's claim on Jerusalem as its capital in early December triggered weeks of disturbances in the Middle East and Muslim world, and the Palestinian leadership cut off all contact with Trump's peace envoys.
"The Palestinians are very angry," Mladenov, who took up his post in February 2015, said.
"They're frustrated because they see no progress. And they're angry because they see what has traditionally been defined as the final status issues one by one challenged.
"To the people in the street these are messages that the issues that they most care about are being pushed off the negotiating table. And that makes this debate very emotional," he said, referring specifically to the declaration of Jerusalem as Israel's capital and the freezing of tens of millions of dollars in funding to UNRWA, the UN body that deals with Palestinian refugees.
"The chances of another escalation in Gaza are increasing by the day. The threats of attacks in the West Bank materialize," he said, referring to the drive-by shooting of a Rabbi near an Israeli settlement earlier this month.
"We see from a Palestinian perspective settlements continue to grow."
Gaza on verge of 'collapse'
Mladenov also gave a dark assessment of the situation in the Palestinian enclave of Gaza, burdened by stringent economic restrictions by Israel and the iron-fisted rule of Hamas, an Islamist terror group. 
The UN official said in his address the INSS conference that it is imperative that Abbas' Palestinian Authority be restored to power there, a decade after it was forced out by the militant Islamist movement Hamas. 
"Without that Gaza risks exploding in our face again, this time in a far more deadly and violent manner than in the past," Mladenov warned. 
"I often say publicly, in (UN) Security Council briefings and in other formats, that we are in the midst of a major humanitarian crisis," Mladenov said.
"Let me be very clear today here, that we're well beyond that," he added.
"We're on the verge of a total systems failure in Gaza, with a full collapse of the economy, with social services, political, humanitarian and security implications stemming from that."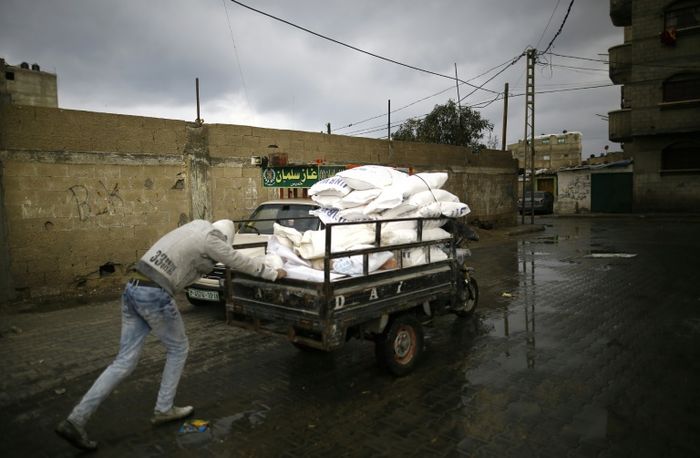 Speaking to i24NEWS, he also argued that while the Middle East is teeming with conflicts and the Palestinian issue has taken a back seat, the status of Jerusalem remains an emotional flashpoint.
"The Arab world is in a struggle between moderation and radicalization, between modernization and going backwards," he said, "But that doesn't reduce the explosive charge of Jerusalem for Arabs," he says.
"It is important to recognize that both Jews -- Israelis and Jews in general -- have a strong historic, religious, national connection to Jerusalem just as Palestinians have. Both sides have that connection."
"It is a slow process," he says, saying that while the expectation of an immediate explosion of mass violence did not materialize, it does diminish the potential for a slowly boiling frustration to eventually erupt.
"Who can guarantee that over time this process is not going to change? That over time people will not continue growing that anger and ultimately undermining security for Israelis?"
Nickolay Mladenov was interviewed by i24NEWS diplomatic correspondent Ellie Hochenberg. AFP contributed to this report. 
You need to be logged in in order to post comments. Sign up or log in
January 30, 2018 10:02 PM
Amazing to hear anything from the UN that puts Abbas in a bad light! What's more amazing is that Abbas continues to bite the hand that feeds him. President Trump already cut US aid and hope he continues to save the US citizens money. Now Abbas, in his wisdom, is biting the European handouts that Lee him enriched and in power. Keep it up Mr Abbas, let the world know what you really think and what you are really about.