Netanyahu lashes out again at investigators in his corruption cases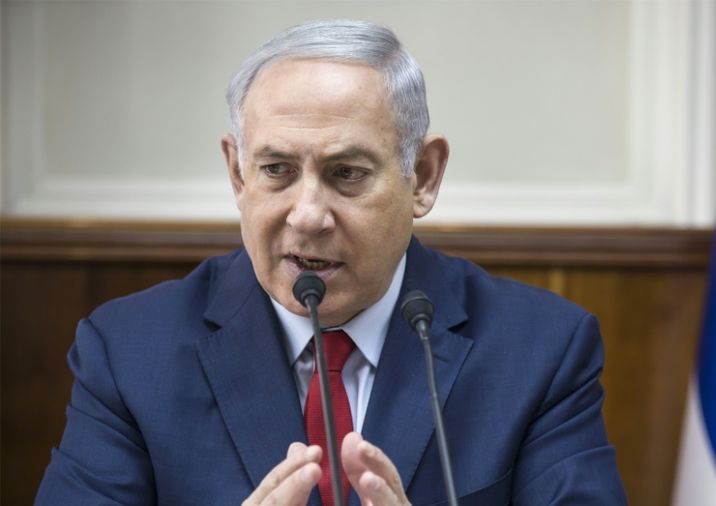 Le Premier ministre israélien Benjamin Netanyahu, le 28 janvier 2018 lors d'une réunion du gouvernement à Jérusalem
Tsafrir Abayov (POOL/AFP/Archives)
Police are expected to recommend that Netanyahu be indicted for bribery, fraud and breach of trust
Israeli Prime Minister Benjamin Netanyahu took to Facebook Friday to lash out again at police investigators pursuing a corruption probe against him after slamming them as "delusional" just days earlier.
Following an interview earlier in the week on Channel 2 television with Police Commissioner Roni Alsheich, Netanyahu rebuked the detectives conducting his probes for suggesting that he sent private investigators to dig up dirt on them.
He added in his Friday post that the head of Israel Police's Lahav 433 anti-corruption unit, Maj. Gen. Roni Rittman, should have recused himself from the investigations into Netanyahu's corruption cases.
"When the police believe such outlandish and false claims that the prime minister is working against them personally and sent investigators against them, how can they investigate him and file recommendations in an objective way?" Netanyahu wrote. "And we were amazed to discover that is exactly what happened."
The Israeli Prime Minister brought up a leaked letter sent by Rittman's lawyer to the Attorney General expressing concern that a female officer's sexual assault allegations against him was subterfuge.
Nevertheless the news report stipulated that the leaked letter was sent months before the start of investigations into the Israeli premiere.
Sexual assault allegations were made against Rittman already in 2015 for incidents that occurred in 2011, and while he was never indicted, the High Court of Justice chastised him in his leadership position, the Times of Israel reported.
Pressure has built on Netanyahu with police investigating him reportedly set to hand over their recommendations to the attorney general next week in the long-running probe.
Israeli media have reported that police are expected to recommend that the long-serving prime minister be indicted for bribery, fraud and breach of public trust.
Israeli authorities have refused to comment publicly on the reports. The attorney general is expected to take weeks or months to decide how to proceed after receiving the recommendations.
"Any honest person would ask himself how people who say such delusional things about the prime minister can objectively investigate him and honestly give unbiased recommendations," Netanyahu's Wednesday post read.
"A large shadow was cast tonight over the police investigations and their recommendations related to Prime Minister Netanyahu."
Zionist Union chairman Avi Gabbay said that the Israeli premier was "humiliating us, the citizens of Israel" adding that Netanyahu was "trying to dismantle peoples' trust in the legal system."
Yesh Atid chairman Yair Lapid echoing Gabbay, said it was "a desperate attempt of a suspect to use his elevated status to threaten the rule of law and vilify the police who protect all of us," the Times of Israel reported.
The investigation has raised the possibility that Netanyahu, prime minister for a total of nearly 12 years, will eventually be forced to resign.
Police are investigating Netanyahu over suspicions that he received expensive gifts from wealthy supporters as well as over allegations that he sought a secret deal for favourable coverage with a newspaper publisher.
The 68-year-old premier has repeatedly denied any wrongdoing and says he is being targeted by political opponents.