Ex-Senator to i24NEWS: Iran incursion on Israel 'inevitable' given US failures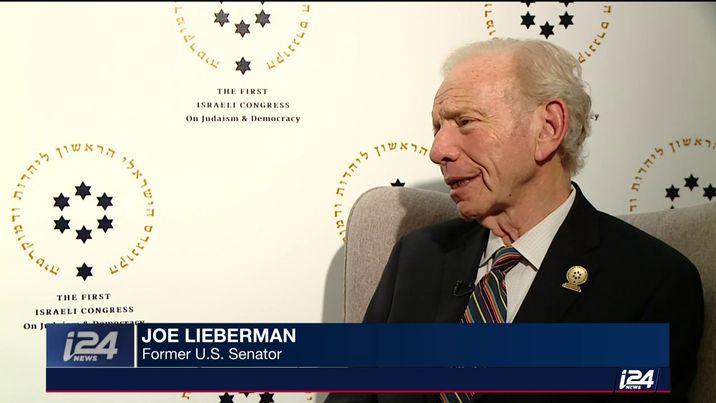 Former US Senator Joe Lieberman speaks to i24NEWS, February 11, 2018
i24NEWS
Joe Lieberman says US inaction on Syria war 'will be seen by history as one of Obama's great failures'
Former US Senator Joe Lieberman expressed support for airstrikes conducted by Israel against Iranian targets deep within Syrian territory on Saturday, and said that the preceding incursion by an Iranian drone into Israeli airspace was "inevitable" given Washington's past inaction on Syria which allowed Iran's entrenchment there.
"The government of Israel did exactly what it has to do, which is to make Iran and Syrian government forces pay for that incursion or else it will happen more and more," Lieberman told i24NEWS on Sunday, in an interview on the sidelines of the First Israeli Congress on Judaism and Democracy in Jerusalem.
Lieberman said Israel's response -- described by the Israel Defense Force (IDF) as the "largest and most significant attack" against Syrian air defenses since the 1982 Lebanon War -- sent both Iran and Syria a clear message that a conventional ground war on the northern border is "not worth it to them."
Saturday's conflict on the Israel-Syrian border was the most serious confrontation between arch foes Israel and Iran since Syria's civil war began in 2011, and Lieberman said that past US policy failures with regards to both countries were partially to blame.
"We're paying the price now for not having acted strongly earlier on. And I don't mean Israel, I mean the United States [and] European powers," Lieberman said. "We let Syria essentially collapse. And Iran and Russia came in and created a presence there."
"It's almost inevitable that at some point they would do what they did," he said of Iran's infiltration into Israel.
Lieberman said that former president Barack Obama's inaction on Syria and desire to negotiate an agreement with Iran on its nuclear program had enabled Tehran's entrenchment in the war-torn country.
According to Lieberman, Washington has "a lot of catching up to do to get back to somewhere constructive in Syria."
"Half a million people, more than that, have been killed. Millions have been forced into refugee status. All because we sat back -- America, Europeans, et cetera -- and didn't do anything when the war began," he said. "I think it will be seen by history as one of the great failures of president Obama."
Lieberman, a Democrat-turned-independent who served as Senator of Connecticut from 1989 to 2013, said that he agrees with President Donald Trump that the Iran nuclear accord is "a terrible deal".
"[Obama] didn't trouble Iran's movement into Syria because he wanted so much to negotiate an agreement over Iran's nuclear program, which ended up being a terrible agreement," he said.
"We in Congress, and the administrative branch of the Bush and Obama administrations, put a lot of economic sanctions on Iran to force them to give up their nuclear weapons. And those economic sanctions were hurting, and that's why they came to the table with the Obama administration. But the agreement gave it all away for nothing...or very little," he continued.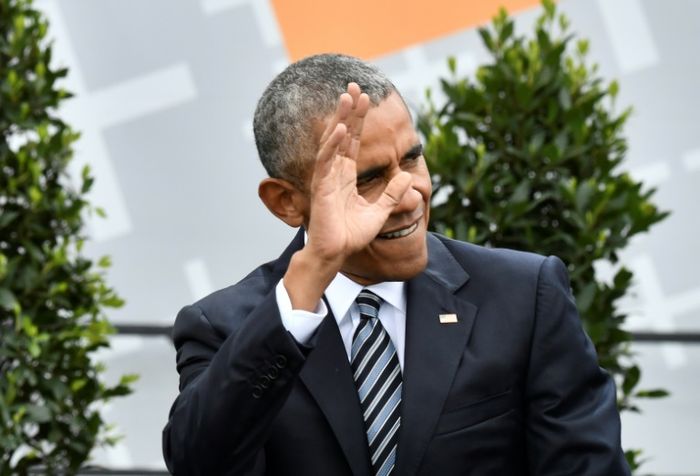 Lieberman anticipates that Trump, who last October kicked the fate of the accord back to Congress, will pull out of the deal if Washington's European co-signatories do not agree on a new approach.
"I think it's the right thing to do to pull out of the agreement and re-impose sanctions on Iran," Lieberman said. "I don't think they've earned what they've gotten."
Another subject on which Independent Lieberman and Republican Trump's views on the region converge is on the Israeli-Palestinian peace process, and more specifically, on the decision to recognize the flashpoint city of Jerusalem as the capital of Israel.
Lieberman co-sponsored the 1995 law passed by Congress which gave initial approval for moving the embassy to Jerusalem, symbolically endorsing Israel's claim on the city as its capital. The law contained a clause that allowed each president since then to issue and renew a six-month waiver on carrying out the move, something presidents Bill Clinton, George W. Bush, Obama had all done.
But Trump, in a landmark December 6 declaration, upended decades of careful US policy towards the flashpoint city, declared that Washington would finally implement the Congressional act and move the embassy to Jerusalem.
"I think the Palestinians made more of the decision about locating our embassy in Jerusalem than it deserved," Lieberman said of the dramatic reaction that followed the decision, which included the suspension of contacts between the US and Palestinian Authority.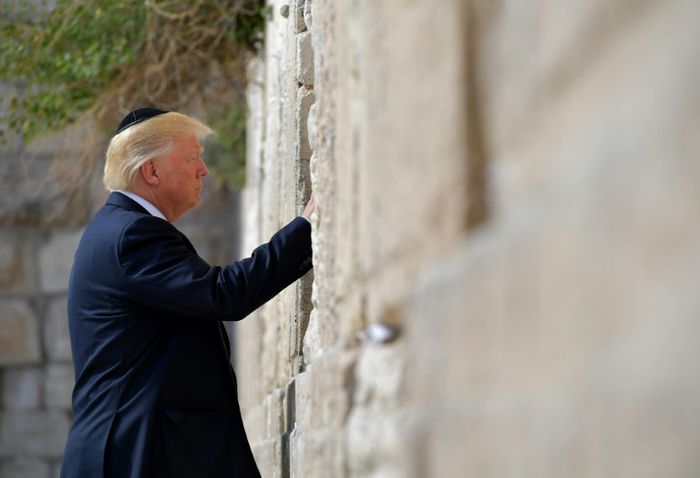 "Israel is the only country in the world where we don't have our embassy in the city the host country calls its capital. And how could we do that?" Lieberman said, defending the decision.
He added that the move does not prejudge any negotiations on the final status of the city, especially its Arab-majority eastern sector which the Palestinians desire as the capital of their future state.
"The embassy will be in a part of Jerusalem that has been part of the Jewish State since 1948, so it's not going to affect possible negotiations," he said.
Lieberman said that Trump, who has expressed confidence that he will be able to negotiate "the ultimate deal" between the two sides, "is challenging the Palestinians to get with the program if they want peace."
"Stop paying terrorists or terrorists' families. Stop the incitement. And come to the table," Lieberman said.
Lieberman said that, as far as he is concerned, Israel has always been prepared to negotiate on other issues of contention such as its settlements in the West Bank.
"There's an existing agreement, negotiated by [former President George W.] Bush and former Prime Minister [Ariel] Sharon, that four big so-called settlement blocs will remain part of Israel. And I think that's a basis for discussion...if the Palestinians are willing to negotiate," he said, adding that they "occupy a relatively small percentage of the land in the West Bank."
"I've always felt that the Israeli government was prepared to negotiate about the outposts," he continued, referring to those rogue communities built without the State's approval, typically by hardline religious nationalists who see the entire West Bank as part of Israel.
All Israeli settlements are seen by the international community as illegal. Israel faced sharp criticism from Obama over settlement construction, but that has not been the case with Trump's White House and Israeli officials have sought to take advantage.
The current Israeli government, seen as the most right-wing in the country's history, has several times given retroactive approval to outposts and last year began work on the first government-sanctioned settlement built in the Palestinian territories in some 25 years.
Interview by i24NEWS Diplomatic Correspondent Jordana Miller.
Text and Editing by Senior News Editor Emily Gatt.