Vandals daub cars with slogan 'Death to Arabs' in Palestinian village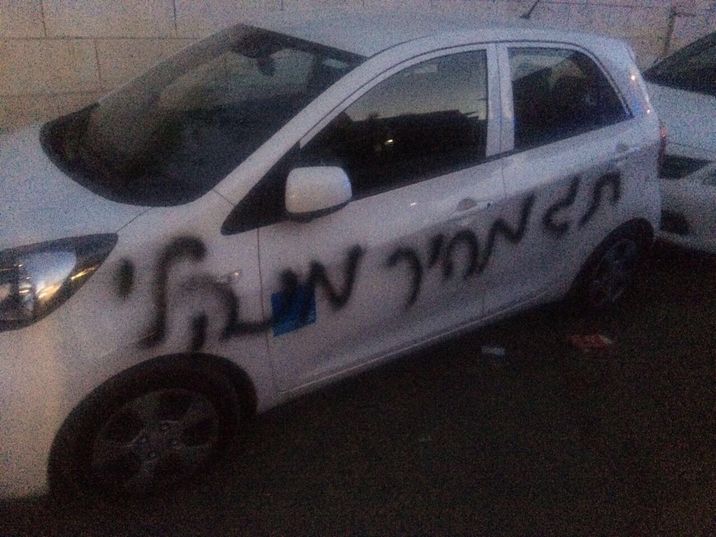 Some 20 vehicles vandalized in suspected 'Price Tag' incident in East Jerusalem, May 9, 2017
Police Spokesperson
Event followed on from a vandal attack on Monday where car were defaced with 'regards from Itamar' graffiti
Residents of the West Bank village of Jit awoke on Tuesday morning to offensive graffiti reading "Death to Arabs" sprayed across their vehicles and walls, and with slashed tyres on some of their cars.
Other graffiti slogans written in Hebrew read, "Transfer now" referring to the far-right idea of expelling Palestinians to other countries, and another read, "Regards to Yitzhak Gabai," a right-wing Jewish extremist convicted of burning an Arabic-Hebrew bilingual school in 2015.
Witnesses told WAFA news that the settlers from the Gilad outpost broke into the village late at night, ran havoc in the streets before spray painting cars and homes with the racist slogans.
Zacharia Sadeh, a field worker from the Rabbis for Human Rights group and a resident of Jit called on the Israeli security forces to increase their efforts to bring the perpetrators to justice, the Times of Israel reported.
This incident followed on from a similar vandalism act that took place on Monday in the East Jerusalem neighborhood of Silwan.
Despoiled vehicles were daubed with phrases "price tag" and "regards from Itamar," most likely alluding to the father of four Ben-Gal who was stabbed close to the Israeli settlement of Ariel earlier this month.
Police have since opened an investigation into the incident.
The acts have been condemned by Israeli leaders across the political spectrum.
Israelis were filmed throwing rocks at the Palestinian villages of Farata and Jit last month, following the funeral of Rabbi Raziel Shevach who was murdered in a drive-by shooting close to the outpost of Havat Gilad where he resided.