50% voters think PM should resign after indictment recommendation, poll suggests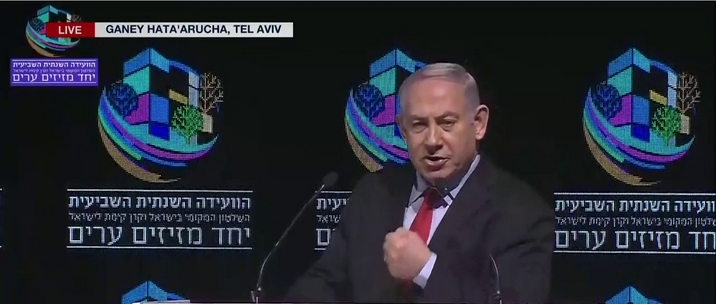 Netanyahu says government coalition 'stable' after police recommend he be indicted on several charges for corruption, February 14, 2018
i24NEWS
Despite police recommendations, 70% of respondents said their opinion about the Israeli PM had not changed
Fifty percent of Israeli citizens believe that Israeli Prime Minister Benjamin Netanyahu should resign or be removed following police recommendations charging him with fraud, bribery and breach of trust, according to a survey conducted by Channel 10 News on Wednesday.
The poll, however, indicates that 42% of respondents believe that Netanyahu should continue with as usual, while 8% do not know either way.
The results of the TV survey that sampled 726 citizens, of which 601 who identify as Jewish and 125 who state they are from other religious faiths.
When asked what party they would vote for if elections were held today, Netanyahu's ruling Likud party would receive 27 seats down from its current 30. Opposition party's, Yesh Atid chaired by Yair Lapid would receive 25 seats, an increase from its current 11 whilst the Zionist Union, chaired by Avi Gabbay would accrue 16 seats, a reduction from its current 24 seats.
In the event of an election today, the Jewish Home and the United Arab List will each have 11 seats.
The data indicates that the prime minister's popularity amongst the voters appears largely unaffected by the recent recommendations provided by the police.
Lapid, who appears to have grown in popularity based on the poll findings, has been spearheaded the barrage of criticism targeting the premier and has urged him to step down. Earlier today it surfaced that Lapid, a former finance minister and known hostile political rival to Netanyahu testified in one of the investigations.
The Likud coalition which currently controls 66 out of 120 seats in total, is said to be "stable" according to Netanyahu's comments on Wednesday morning. "Neither me nor anyone else has plans for elections. We're going to continue to work together for the good of Israeli citizens until the end of the term," he added, after denouncing the recommendations as "full of holes, like Swiss cheese."
When respondents from the Channel 10 poll were asked about the alleged police 'coup' carried out against the political system, 53 percent of respondents said they do not believe the law enforcement are attempting to overthrow the government, whilst 34% believe that there is
Despite police recommendations, 70 percent of respondents said their opinion about the Israeli prime minister had not changed while 12 percent said their perception had changed.
The long-awaited police probe stated that the Israeli premier should be indicted in two different cases leveled against him.
Case 1000 centers on suspicions that Netanyahu received gifts such as expensive champagne and cigars from wealthy businessmen including film producer Arnon Milchan and Australian casino mogul James Packer, in exchange for favorable government treatment.
In Case 2000, police are reportedly examining conversations with newspaper proprietor Noni Mozes, which revealed an alleged quid pro quo' arrangement with the Yedioth Ahronoth publisher to limit circulation of the newspaper's main rival in exchange for more favorable coverage.
You need to be logged in in order to post comments. Sign up or log in
February 14, 2018 9:51 PM
February 14, 2018 10:30 PM
Looks like US poll predicting HC win!