Israel jails first asylum-seekers for refusing deportation orders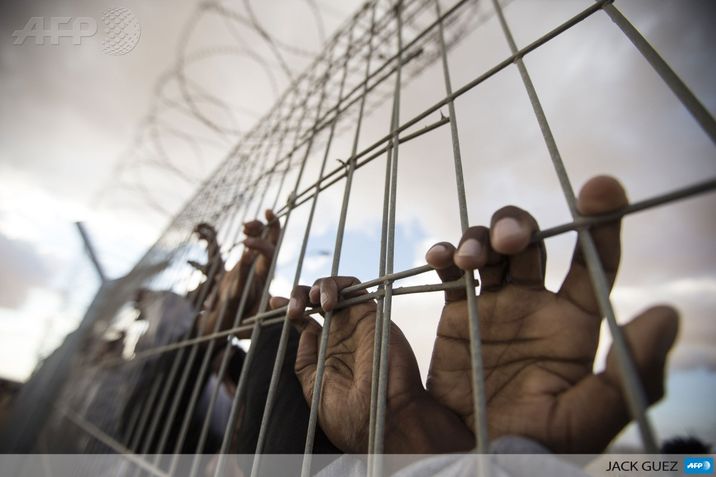 Centre de détention de Holot
AFP
Seven Eritrean asylum-seekers who refused to leave Israel were jailed on Tuesday, in the first apparent enforcement of a controversial expulsion policy that aims to deport around 40,000 African migrants and asylum-seekers from the country.
After being summoned for pre-deportation hearings on Tuesday, the seven were immediately escorted to Saharonim Prison fear they would attempt to flee, the Haaretz daily reported.
The report said that in response to the move, asylum-seekers being held at the open Holot Detention Facility began a hunger strike, Then men's imprisonment will be appealed by the legal department at the Hotline for Refugees and Migrants, it added.
The seven were among 200 unmarried, childless working-age Eritrean men issued deportation notices last month, which gave them until the end of March to accept a one-time payment of $3,500 and a plane ticket to a third country or face indefinite imprisonment.
Another 400 deportation notices were issued on February 4.
The expulsion notices say that deportees will be sent to an unnamed African nation which has "developed tremendously over the last decade" and enjoys a relatively "stable government."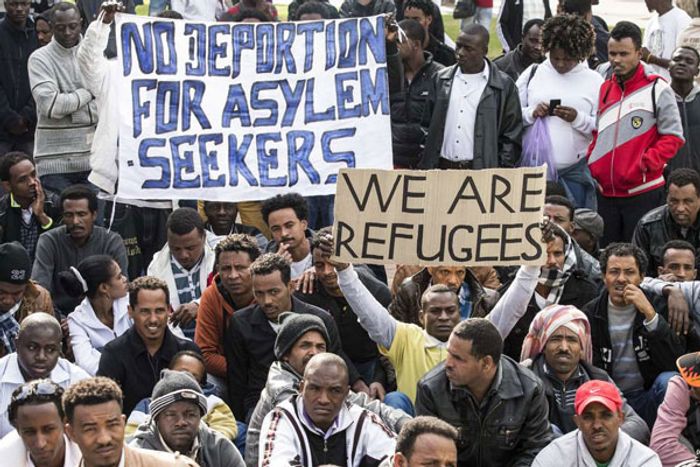 It is illegal to "refoul" asylum-seekers to their countries of origin, so Israel is said to have struck deals to deport them to Rwanda and Uganda, although none of the countries involved have confirmed the arrangement, and has been outright denied by some Rwandan and Ugandan officials.
Reports have said that Israel is also considering forced deportations due to concerns over the strain of indefinite incarceration on Israel's already over-saturated prison service. Senior officials in the the Israel Prison Service (IPS) have said that they do not have the capacity to hold thousands of migrants who are expected to refuse deportation orders.
The United Nations High Commission on Refugees is currently attempting to negotiate with Israel and other governments re-settlement deals in third countries deemed "safe" by the UN in exchange for some of the asylum-seekers to be given permanent residency in Israel.
A Justice Ministry's immigration tribunal in Tel Aviv ruled last week that an Eritrean draft dodger should be entitled to asylum based on international conventions. The ruling found that Eritrean draft dodgers have a "very well-founded basis for persecution" and should therefore be granted asylum.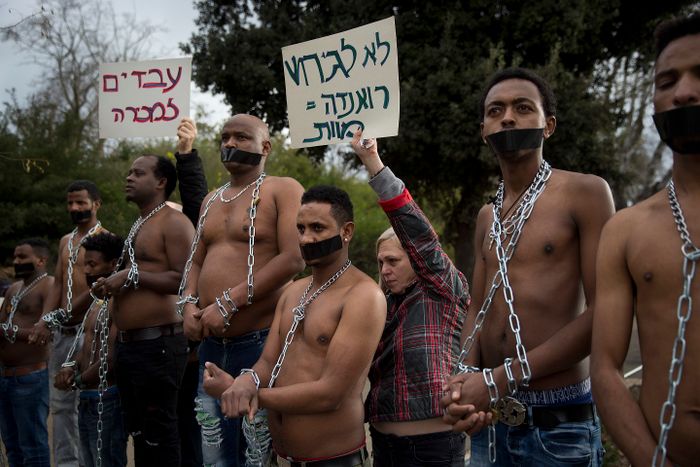 Eritrea is a violent and repressive dictatorship where obligatory conscription gets easily extended for many years and soldiers get exploited without a chance to pursue different lives, which is why they often choose to flee abroad and start off from scratch.
Netanyahu has said that the plan is not intended to act against "genuine refugees" but rather economic migrants who came to the country illegally.
"We are not acting against refugees. We are acting against illegal migrants who come here not as refugees but for work needs. Israel will continue to offer asylum for genuine refugees and will remove illegal migrants from its midst," Netanyahu said.
Israeli officials stress that no one they classify as a refugee or asylum seeker will be deported.
But out of some 15,400 asylum requests filed, 6,600 have been processed and just 11 have received positive answers. Another 1,000 Sudanese from Darfur have received special status preventing their deportation.
Migrants began entering Israel through what was then a porous Egyptian border in 2007. The border has since been strengthened, all but ending illegal crossings.