Satellite images reveal new Iranian military base in Syria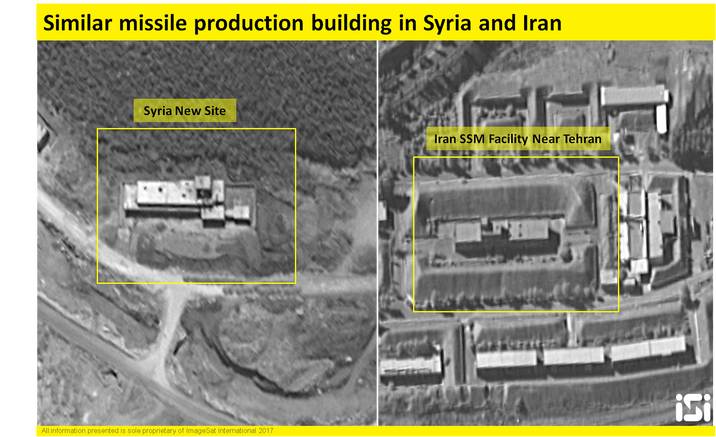 Image released by ImageSat International comparing facilities in Syria and Iran
ImageSat International
Israel has repeatedly warned that Iran is seeking to establish permanent military bases in Syria
Satellite images revealed on Wednesday appear to show an Iranian military base close to Damascus said to contain missiles capable of reaching Israel, according to a report cited by the Times of Israel.
The photographs reveal two recently constructed buildings likely to be hangars housing short and medium-range missiles, in an area known as Jabal al-Sharqi, located approximately eight kilometers northwest of the Syrian capital.
The edifices are said to resemble those seen at a separate base in Syria reported to have been used as a depot for the Iranian Revolutionary Guard Corps troops, reported Fox News referencing information from Israel-based ImageSat.
Defense Minister Avigdor Lieberman, according to Haaretz, said on Wednesday in response to the images that "there's nothing new under the sun, and there is no need to treat all information in the media as absolute.We are listening and following the events."
These images from @imagesatint reveal yet another facility suspected to be an Iranian base in #Syria, near Damascus, believed to store ballistic missiles. Images taken by the Israeli Eros B satellite @i24NEWS_EN pic.twitter.com/Fm2h6RE426

— Shai Ben-ari (@ShaiBenari) February 28, 2018
In December, Israeli fired at an alleged Iranian military base in El-Kiswah south of the Syrian capital. The size of the building, measured at 30 meters by 20 meters, is said to be identical to the base identified in the recently revealed images. A BBC report about the same construction said they were likely to be military barracks, whereas an ImageSat report believed it to be a mosque or dining room.
Israel has repeatedly warned that Iran is seeking to establish permanent air and naval bases in Syria as a means to arm its Lebanese-based proxy group, Hezbollah. Adding that these installations could double up as posts for carrying out eventual attacks against the Jewish State.
"If they build their bases in Syria, we will act against that," Israel's Prime Minister Benjamin Netanyahu warned UN Chief Antonio Guterres, last month at the Munich Security Conference.
"[The Iranians] are investing billions of dollars in weapons of mass destruction and are trying to establish themselves [militarily]," Defense Minister Avigdor Liberman echoed a local government conference in February. "We will do everything that is needed in order to prevent Iranian consolidation in Syria."
On February 10, Israel said it shot down an unmanned Iranian drone entering its airspace from Syrian territory. In what was perceived to be the most direct military confrontation between arch foes Iran and Israel since the start of the Syrian Civil War in 2011, Israel retaliated with a large-scale incursion on air bases and control systems said to be bristling with Iranian personnel and weapons.
Following the incident Netanyahu said, "Israel holds Iran and its Syrian hosts responsible for today's aggression" ad will not let Tehran obtain a permanent foothold in its northern neighbor.
Iran has vociferously rejected Israel's claims. "No, we do not have them [in Syria]," Iran's Foreign Minister Mohammad Javad Zarif said. He acknowledged that Iran does send military advisers to the country but has refrained from deploying Iranian troops on the ground there.