Israeli police filmed throwing tear gas at Palestinian couple carrying infant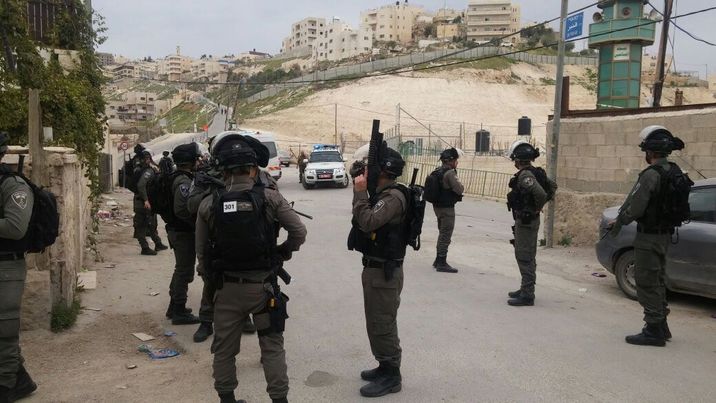 Israeli police surround the house of terrorist who killed 4 in Jerusalem on January 8, 2017
Police argue that the video 'presents a partial and edited picture'
An Israeli Border Policeman was filmed throwing a stun grenade and tear gas at a Palestinian couple carrying an infant on Friday in the West Bank village of Burin, the Times of Israel reported citing footage released by the Yesh Din rights group.
The grenade was thrown amid demonstrations taking place close to the village of Burin, apparently triggered by several Israeli's from the nearby settlement of Givat Ronen attempting to enter the area.
According to residents of the village, the family targeted by the tear gas in the video, were apparently fleeing from a building where tear gas had entered during the Israeli police efforts to disperse the riots. Outside an ambulance was said to be treating those suffering from smoke inhalation.
The Yesh Din video shows police officers walking down the road towards the ambulance. As the Palestinian couple run from the house with their infant, one Israeli officers throws a grenade in their direction which explodes nearby.
Soldiers and border police arrived to Burin today and according to residents threw tear gas and stun grenades at youths who gathered  after noticing 2 Israelis approaching from the direction of Givat Ronen. A tear gas grenade landed in one of the houses where a large family lives pic.twitter.com/upom6Ahbqn

— Yesh Din (@YeshDin) March 2, 2018
The police argue that the video "presents a partial and edited picture." They stated that prior to the incident dozens of Palestinians were throwing stones at the officers and the house.
A Red Crescent ambulance was permitted entry by the Border Police to assist the wounded and evacuate them from the area.
According to the police, they said that they were unaware the couple were holding a child as they fled with their backs to them. Adding that the couple was "characteristic of the same rioters throwing rocks towards the officers" and "trying to flee the area in order to avoid arrest" reported the Times of Israel.
"If the officers had noticed the baby, needless to say they would've acted accordingly," police said.
The last few weeks has witnessed a number of violent incidents in the West Bank.