Israel's Netanyahu supports Syria strikes, officials less enthused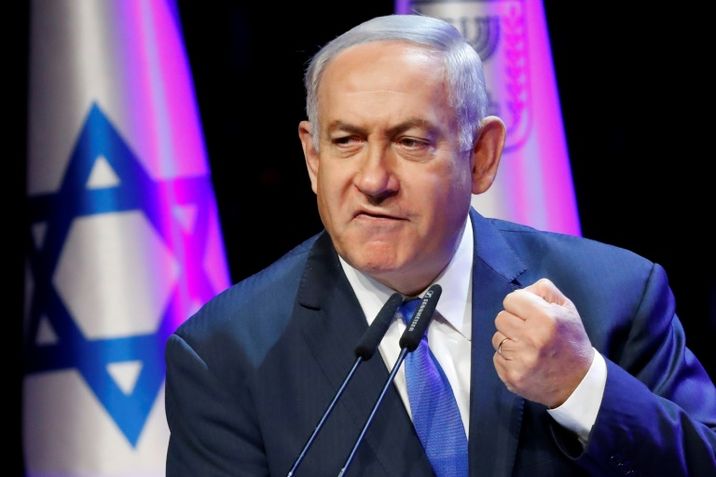 Israeli Prime Minister Benjamin Netanyahu addresses a conference in Tel Aviv on March 27, 2018
JACK GUEZ (AFP)
Israeli Prime Minister Benjamin Netanyahu on Saturday voiced his "total support" for US-led air strikes against Syria over its alleged use of chemical weapons.
"A year ago I gave Israel's total support for President Donald Trump's decision to mobilize against the use of chemical weapons," he said, referring to US strikes against the Syrian regime in April 2017 after a sarin gas attack on a rebel-held town.
"Israel's support remains unchanged," Netanyahu said in a statement. 
"This morning the United States, France and the United Kingdom showed that their commitment is not limited to declarations of principles," he added.
The three countries had carried out a wave of pre-dawn missile strikes, hitting targets near Damascus and in Homs province, including a scientific research center in the capital fingered as a location of chemical weapons manufacture. 
Israeli public radio reported that Western allies had given Israel, which remains technically at war with neighboring Syria, advance notice of the air strikes.
Netanyahu warned Syrian President Bashar al-Assad that his "ceaseless efforts to acquire and use weapons of mass destruction, his blatant disregard for international law and his willingness to allow Iran and its affiliates to establish military bases in Syria -- put Syria in danger."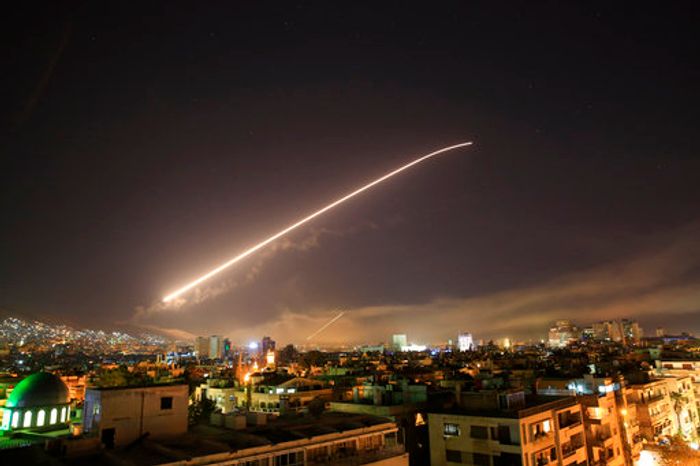 Despite fulsome praise from their top boss, current and former Israeli officials greeted the Western strikes with disdain. 
Speaking at an event in the southern city of Beersheba on Saturday, retired General and Labor party hopeful Amiram Levin said he "hoped that Trump would erase the presidential palace [in Damascus] and return the US to be a major player in the Middle Eastern arena."
"The strike served Assad, the Russians, the Iranians -- and hurt us," he added.
An anonymous government source told told Hadashot, Israel top commercial TV channel, that the limited nature of the attack harmed Israeli interests in Syria.   
"The attack will allow the Americans to say 'we did what was necessary,' and to leave Syria," the official said. 
"And Israel is left alone to deal with the threat of Iran's reliance on the northern border."
Israel has reportedly been behind dozens of air strikes against the Syrian government since the outbreak of civil war in 2011, chiefly targeting weapons stockpiles and bases belonging to Assad's regime and its allies, Iran and Hezbollah.
The IDF's continued ability to undertake similar raids could be curbed by the consequences of the US-led strikes, the source warned. 
"Using the cover of the attack, Russia will accelerate the sale of advanced weapons systems to the Syrians, which will hurt the IDF's operational freedom."
On Saturday, a Russian military official said the country was considering selling the S300 surface-to-air missile system to Syria, which it had previously refused to do. 
The Pentagon said on Saturday that Syria's own air defense system was "ineffective" against US, French and British missiles, despite Russia's claim that the bulk of the rockets were successfully shot out of the sky. 
Read more:
Pentagon on Syria strikes: 'We successfully hit every target'
At UN, Haley warns US 'locked and loaded' if Assad uses gas again
You need to be logged in in order to post comments. Sign up or log in
teach Iran a lesson ASAP.