Firebombs tied to kites launched from Gaza spark fires in Israel near border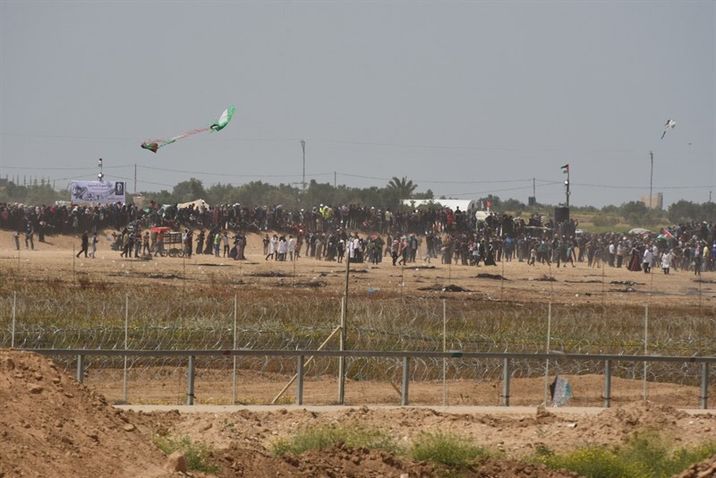 A molotov cocktail is attached to a kite and launched at IDF soldiers during Gaza Strip protests
IDF
Israeli officials from communities adjacent to the Gaza border said Sunday that Palestinians across the border have attached firebombs to kites and flown them over the security fence, sparking several fires in the region.
At least four such kites have been discovered recently in the vicinity of fires near the border fence. The blazes have caused damage to fields, but no injuries.
A statement from the Eshkol Regional Council said that both the army and local firefighters were on high alert and prepared to deal with future incidents. And asked residents to remain alert and report any unusual fires in the ares.
Last Wednesday, a burnt kite was discovered near where a fire was extinguished in the vicinity of Kibbutz Be'eri.
Two days later, during mass protests held along the border on Friday, the Israel Defense Forces (IDF) said that demonstrators had attempted to fly a kite with a Molotov cocktail attached to it into Israeli territory. The kite fell on the Gaza side of the border fence, however, causing no injuries.
On Saturday, fire investigators found a kite string at the scene of yet another fire near Kibbutz Be'eri, and on Sunday, a kite decorated in the colors of the Palestinian flag was found at the site of a blaze at the nearby Kibbutz Kissufim.
For the past several weeks thousands of Palestinians have staged mass protests along the border fence with Israel, demanding hundreds of thousands of Palestinian refugees who fled or were expelled during the war surrounding Israel's creation in 1948 be allowed to return.
Israel, meanwhile, accused Gaza militant groups of using the protests as a cover to either break through the border or launch terror attacks.
The so-called "March of Return" is set to climax on May 15, when Israel will mark 70 years of independence -- a day Palestinians mark as the "nakba" ("catastrophe" in Arabic) -- and the United States will cut the ribbon on its controversial new embassy in Jerusalem.