Palestinian journalist dies of wounds by IDF fire, two weeks after Gaza clashes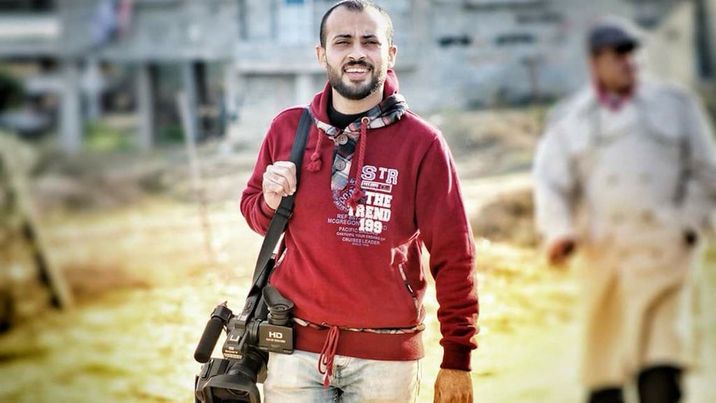 Palestinian journalist Ahmad Abu Hussein died of gunshot wounds in an Israeli hospital on Wednesday April 25, 2018.
Supplied
He is the second Palestinian journalist to die from IDF live fire despite wearing clearly marked 'press' vest
A Palestinian journalist has succumbed to his wounds after being shot by Israeli troops fire during Gaza border clashes two weeks ago, the Palestinian health ministry announced on Wednesday.
Photojournalist Ahmad Abu Hussein, 25, was shot in the stomach and wounded by an Israeli sniper amid the third week of consecutive 'Great March of Return' protests on April 13.
He was among a number of journalists said to have been wounded by live Israeli fire during the demonstrations that week and the week prior, according to the Palestinian Journalists' Syndicate. One, Yasser Murtaja, died soon after being shot by Israeli troops.
Hussein was given permission by authorities to pass through Israel in order to travel to Ramallah in the West Bank where he received medical treatment. He was then transferred to the Sheba hospital near Tel Aviv, where he was pronounced dead on Wednesday.
He is the second journalist to be killed by Israeli fire since the demonstrations began on March 30.
Abu Hussein worked for Radio Shaab, a well-known radio station seen as close to the left-wing Popular Front for the Liberation of Palestine (PFLP) party, as well as being a photographer for a local news agency.
His body was later transferred to Gaza, health officials said, ahead of a Thursday funeral.
Images from the day appear to show him wearing a press helmet in the moments after he was shot.
Israel considers the PFLP movement a terrorist organisation.
Tens of thousands of Palestinians are partaking in a six-week-long protest demanding the right to return to their ancestral homeland after fleeing or being forced out in 1948 when the State of Israel was created.
Demonstrations have been characterized by the throwing of explosives, Molotov cocktails and rocks. The protests are set to climax on 'Nakba Day' (translates from Arabic as 'the catastrophe') on May 14, a day that also coincides with US President Donald Trump's inauguration of the newly-relocated American embassy from Tel Aviv to Jerusalem.
Yasser Murtaja, 30, who worked for the Gaza-based Ain Media agency, died after the clashes on April 6. Witnesses said he was with the vanguard of protesters but was said to be clearly identified wore a protective blue vest marked "press."
According to the Palestinian Journalists' Syndicate, Murtaja was standing 350 meters from the border fence but was still targeted by Israeli fire.
Responding to incident, the IDF said it did not deliberately take aim at Murtaja or his colleagues.
"The IDF does not intentionally target journalists," the military told i24NEWS in a statement. "The circumstances in which journalists were allegedly hit by IDF fire are not familiar to the IDF, and are being looked into," the statement continued.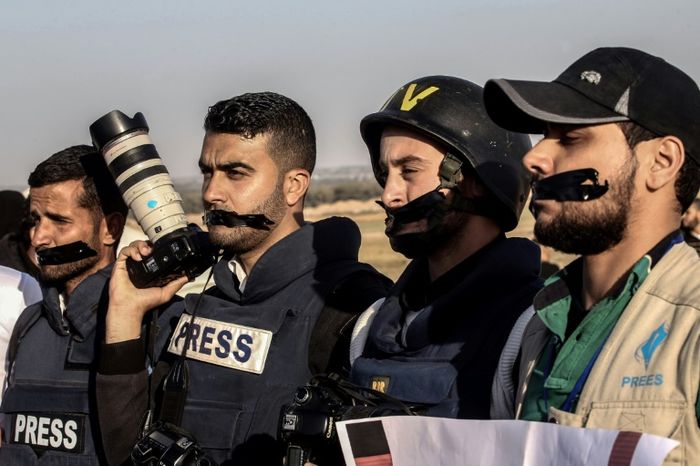 The military said that it warned Gaza residents not to approach the fence but that when necessary "the IDF uses means such as warnings, riot dispersal means, and as a last resort, firing live rounds in a precise, measured way."
Israel has come under fierce criticism for its use of live fire. The head of international press freedom watchdog Reporters without Borders (RSF) accused Israel of "deliberate shootings" of journalists.
"Palestinian photographer Yasser Mourtaja wore a vest marked "Press": he was obviously the victim of an intentional shot," Christopher Deloire wrote on Twitter. "RSF condemns with indignation the deliberate shootings of the Israeli army against journalists.
The Union of Journalists in Israel demanded clarifications on the reports of the Palestinian journalists being shot from the state's military chief.
"A democratic state's army should not harm journalists in the line of duty," the union said in a letter to Lieutenant General Gadi Eizenkot and urged an investigation into the claims that soldiers fired at journalists.
Abu Hussein's death brought the toll of Palestinians in Gaza killed by Israeli fire since March 30 to 41.
AFP contributed to this report.