15-year-old Palestinian dies after being shot by Israeli troops in Gaza clashes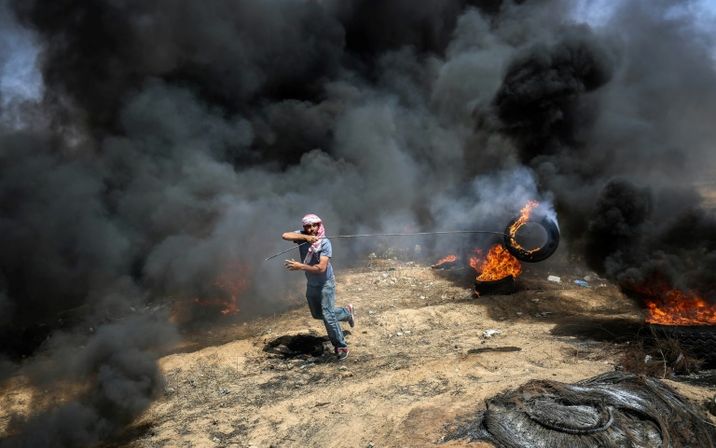 A demonstrator moves a burning tyre during protests on the Gaza border on May 11, 2018
SAID KHATIB (AFP)
A 15-year-old Palestinian died on Saturday after being shot by Israeli forces during mass border protests in Gaza the day before, the Palestinian health ministry said. 
Palestinian news agency Maan reported that the boy, Jamal Afaneh, was shot in the head near the city of Rafah in Gaza's south. 
His death brought the toll during Friday's clashes to two and makes Afaneh the 54th Palestinian killed since protests began on March 30 calling for Palestinians to be able to return to the homes they fled in 1948, which are now inside Israel.
Organizers have said they want the protests to remain peaceful, but the Israel military says Hamas has used the demonstrations to carry out terror attacks and that participants hurl explosives, rocks and Molotov cocktails at troops. 
On Friday, the army said some 15,000 Palestinians took part in protests and clashes on the Israeli border in five different locations.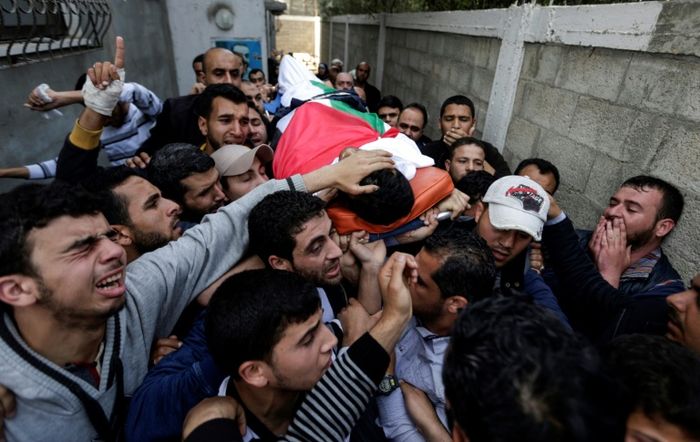 "The rioters are violent, burning tires, and hurling rocks at the security fence and at IDF soldiers," it said in a statement. Rioters were also "launching kites with burning items attached to them with the intention of igniting fires in Israeli territory."
For the second week in a row, protesters damaged gas pipes at the Kerem Shalom border crossing, which are responsible for transporting gas into Gaza. Israeli authorities on Saturday announced the post will be closed until further notice. 
Israeli forces responded with riot dispersal methods and said it was firing in accordance with the rules of engagement.
Eighteen Palestinians copped bullet wounds from live Israeli fire, the Palestinian health ministry said. 
Israel's use of live has sparked international outcries and calls for an investigation, particularly after the death of several minors and two journalists.
Israel says it only opens fire "below the knee" when necessary to stop infiltration, attacks and damage to the border fence.
Read more: