As it happened: 55 Gazans killed by Israeli fire in bloodiest border clashes yet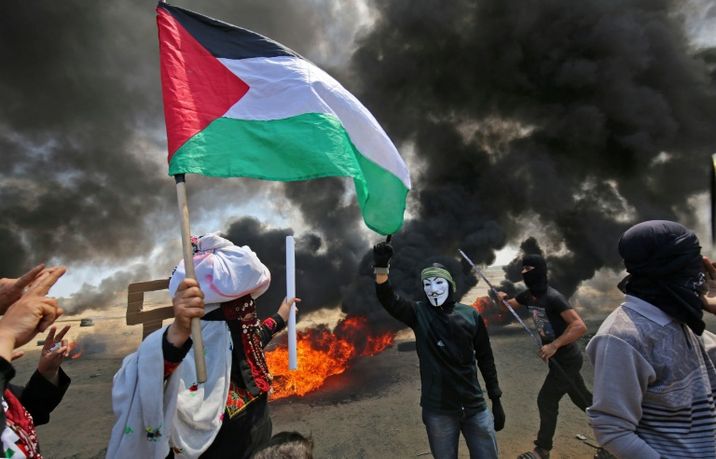 Palestinians protest during clashes with Israeli forces along the border with the Gaza Strip on May 14, 2018
SAID KHATIB (AFP)
Scroll down for real-time updates as they happened from Gaza clashes and international reactions that followed
Around 50,000 Palestinians staged mass protests in both the West Bank and the Gaza Strip on Monday in what was deemed the most violent and extensive "Great March of Return" demonstrations to date, topping off weeks-long unrest.
Clashes along the Gaza border quickly turned deadly as Israeli troops fired towards the crowd surging towards the border fence, only hours before the US Jerusalem embassy inauguration even got underway.
It was described as the bloodiest day in the Israeli-Palestinian conflict since a 2014 Gaza war.
The total number of those killed by IDF fire now sits at 55, with numbers expected to rise. More than 2,400 Palestinians were reported wounded, a number that includes everyone who presented themselves for treatment to medics.
The dead included eight children under the age of 16, according to the Palestinian envoy to the United Nations.
Along the border, crowds built throughout the day along 12 different flash point locations. Hamas, rulers of the blockaded enclave had issued a call for thousands to breach the heavily fortified border security fence.
The embassy inauguration nonetheless went on as planned, attended by a Washington delegation that included US President Donald Trump's daughter Ivanka and her husband Jared Kushner, both White House aides.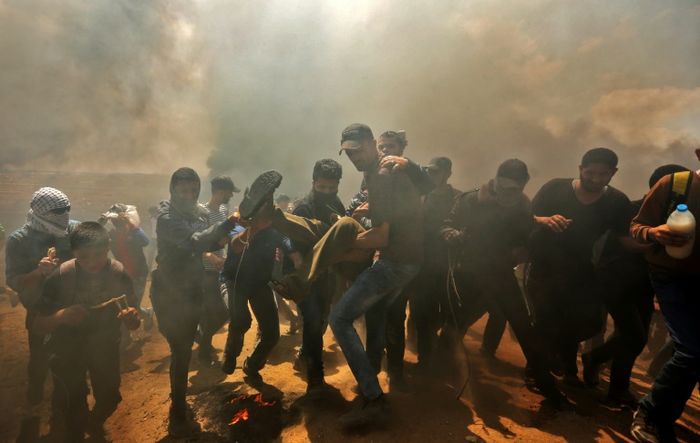 The army claimed that those killed in the clashes had attempted to plant explosives along the border fence. The IDF also claimed, that on two separate incidents, the protesters had fired at the Israeli troops.
In retaliation for the violence, the IDF confirmed that it had launched a string of airstrikes and a fighter jet struck five Hamas targets in the northern part of the Strip. Earlier in the day, the army struck two further military positions belonging to the militant group.
Jonathan Conricus, IDF military spokesman, alleged "we have seen three different squads, fully equipped terrorist squads with weapons, trying to plant IEDs at the (border) fence in three different locations."
Prime Minister Benjamin Netanyahu defended the use of force, saying "every country has the obligation to defend its borders".
Israeli intelligence warned a day before that there could be attempts to vandalize IDF infrastructure near the border, while the IDF was also preparing against attempts to kidnap soldiers and massacre Israeli civilians.
Palestinian president Mahmoud Abbas accused Israel of "massacres," while Amnesty International called the violence an "abhorrent violation" of human rights. Human Rights Watch denounced a "bloodbath".
The surge in fatalities led South Africa to recall its ambassador in Israel "with immediate effect until further notice" while condemning the deaths "in the strongest terms possible".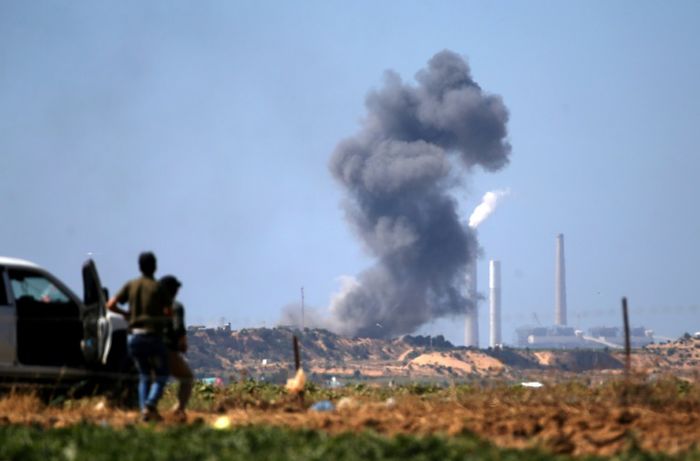 Turkey's government also recalled its ambassadors from Washington and Tel Aviv back to Ankara "for consultations" after President Tayyip Recep Erdogan's fierce criticism of the Trump administration's decision to recognize Jerusalem as Israel's capital.
Kuwait requested an emergency meeting of the UN Security Council for Tuesday and condemned the bloodshed.
EU foreign policy chief Federica Mogherini said "we expect all to act with utmost restraint to avoid further loss of life," while British Prime Minister Theresa May's spokesman urged "calm and restraint".
The US declined to back widespread calls for Israel to exercise restraint and took aim solely at Hamas, the Islamist militant group that controls the Gaza Strip.
On Sunday, Hamas posted pictures and maps on social media showing the shortest routes from the border fence to nearby Israeli communities in case any protesters manage to breach the security fence.
Israeli jets dropped leaflets on Monday morning warning Gazans who plan to take part in the protests against approaching the security fence that the army "will act against every attempt to damage the security fence or harm IDF soldiers or Israeli civilians".
The protests on Monday took place on the 70th anniversary of Israel's founding, the day after which is mourned by Palestinians as the Nakba, or "catastrophe," commemorating the more than 700,000 Palestinians who fled or were expelled in the 1948 war surrounding Israel's creation.
See also:
i24NEWS poll finds two-thirds of Israeli-Jews back US Jerusalem move
Pastor who criticized Islam, Jews to deliver prayer at US embassy opening
Israeli cabinet allocates $2 billion to expand sovereignty in East Jerusalem
Monday 14 May 2018
7:29 PM
"Syria condemns... the brutal massacre carried out by the Israeli occupation against unarmed Palestinian civilians," a foreign affairs ministry official was quoted as saying by the official SANA news agency.
7:26 PM
"There is no justification for the recklessness and cynicism Hamas has shown in urging people to engage in violence that exposes them to terrible risk," a State Department official said.

"The events of the past six weeks only underscore the need for finding solutions to the serious humanitarian challenges facing Palestinians living in Gaza. We can't lose sight of the fact that Hamas bears primary responsibility for the dire humanitarian and economic situation," the official continued.
6:48 PM
Iran decried "a day of great shame" over the deaths of dozens of Palestinians. "Israeli regime massacres countless Palestinians in cold blood as they protest in the world's largest open air prison," Iran's Foreign Minister Mohammad Javad Zarif wrote on Twitter.

"Meanwhile, (US President Donald) Trump celebrates move of US illegal embassy and Arab collaborators move to divert attention" he added.
6:40 PM
Qatar, foreign ministry spokeswoman Lulwah al-Khater strongly condemned "the massacre" of Palestinians. Cited by Qatar's official QNA news agency, Khater called on the international community to take action and stop "the savage killings".
6:39 PM
"Saudi Arabia strongly condemns the Israeli occupation forces' gunfire against unarmed Palestinian civilians which has left dozens of dead and wounded," a Saudi foreign ministry spokesperson said.

The spokesperson, quoted by the kingdom's official SPA press agency, called on the international community to "take responsibility and put an end to the violence against the Palestinians", noting Riyadh's support for the "rights of the Palestinian people".
6:37 PM
The French President Emmanuel Macron condemned "violence" in Gaza and said he "will speak to all the actors in the region in the coming days."

Macron had "warned repeatedly of the repercussions" of President Donald Trump's decision to recognize Jerusalem as the capital of Israel, it added.
6:36 PM
The White House in a press briefing said responsibility for 55 deaths in Gaza "rests squarely with Hamas" and adds Israel has right to defend itself.

When asked if Israel should "exercise restraint, Deputy Spokesman Raj Shah said Hamas' "cynical exploitation" was leading to the deaths. He was asked the same question three times, and declined to answer on all occasions.
6:28 PM
South Africa withdrew its envoy from Israel over what it called the country's "violent aggression" in Gaza.

"Given the indiscriminate and grave manner of the latest Israeli attack, the South African government has taken a decision to recall Ambassador Sis Ngombane with immediate effect until further notice," a statement from the foreign ministry in Johanessburg said.

A spokesman confirmed to i24NEWS that the envoy would be on the first available flight out of Tel Aviv.
5:19 PM
Hamas vowed protests would continue.

"We say clearly today to all the world that the peaceful march of our people," senior Hamas official Khalil al-Hayya said. He added that Hamas's armed wing and other militant groups "will not prolong their silence over the crimes of the occupation."
5:12 PM
Israel Prime Minister Benjamin Netanyahu said: "every nation has the right to defend its borders."

"Hamas clearly says its intentions are to destroy Israel and sends thousands to break through the border for that end. We will continue to act with resolve to defend our sovereignty and our citizens," the PM tweeted.
5:11 PM
German Foreign Ministry responded to the events in Gaza today with, "dismay and with deep concern."

In a statement released, the ministry defended Gazans "right to peaceful protest but added that it "must not be abused or used as a pretext to exploit or escalate the situation." It also affirmed Israel's right to "defend itself and to secure the fence against a violent intrusion" but said that "the principle of proportionality applies."

Germany said it was "ready to support development, cooperation and humanitarian aid" in the Gaza Strip where the people face a "depressing humanitarian situation." It said that "an important step in this direction is that those who exercise power in the Gaza Strip renounce violence and the Palestinian Authority regains control in Gaza."
4:46 PM
Palestinian president Mahmoud Abbas condemned Israeli "massacres" along the Gaza border.

Abbas, who declared three days of mourning, also said "the US is no longer a mediator in the Middle East," and the new embassy was tantamount to "a new American settler outpost" in Jerusalem.
4:07 PM
Death toll rises to 52 Palestinians killed more than 2400 wounded, Gaza's Health Ministry reports.

Eight children under 16 among those dead, Palestinian envoy to UN, Riyad Mansour said.

"We condemn in the strongest terms these atrocities by the Israeli occupying forces, using this massive fire power against civilians who have the right to demonstrate peacefully -- and they have been demonstrating peacefully," Mansour said.
3:46 PM
UN High Commissioner for Human Rights, Zeid Ra'ad Al Hussein tweeted: "Shocking killing of dozens, injury of hundreds by Israeli live fire in #Gaza must stop now. The right to life must be respected. Those responsible for outrageous human rights violations must be held to account. The int'l community needs to ensure justice for victims"
3:41 PM
The Egyptian Foreign Ministry condemned Israel's "use of force against peaceful marches" and warned of the "negative repercussion of such serious escalation in the Palestinian occupied territories."

Cairo added that it "totally supports the legitimate rights of the Palestinian people, and first and foremost its right to an independent state with East Jerusalem as its capital."
3:40 PM
Britain urged "calm and restraint" in Gaza Strip, Prime Minister Theresa May's spokesman told reporters.

"We are concerned by the reports of violence and loss of life in Gaza. We urge calm and restraint to avoid actions destructive to peace efforts," the spokesman said, adding that the embassy move was "unhelpful in terms of prospects for peace in the region".
3:22 PM
Kuwait, a non-permanent member of the Security Council, said it might call for an emergency meeting of the UN body.

"We condemned what has happened," the Kuwaiti ambassador to the United Nations, Mansour al-Otaibi, told journalists. "We will see what the council will do. Today or tomorrow we may ask for an emergency meeting." He said he was consulting with the Arab Group at the UN and with the Palestinian ambassador to the world body.
3:00 PM
French Foreign Minister Jean-Yves Le Drian called for all parties to "act responsibly to prevent a new flareup" in the Israeli-Palestinian conflict after Israeli troops killed dozens of people at the Gaza border.

"France calls again for Israeli authorities to act with caution and restraint in the use of force, which must be strictly proportional," Le Drian said in a statement on the conflict's bloodiest day in years.
2:44 PM
Amnesty International tweeted: "We are witnessing an abhorrent violation of international law and human rights in Gaza.... This must end immediately."

The London-based rights group said that more than 500 people had been injured "with live ammunition" and that many were reporting injuries to the head and chest. "This is a violation of international standards, in some instances committing what appear to be wilful killings constituting war crimes," Amnesty's Middle East and North Africa director Philip Luther said in a separate statement.

"As violence continues to spiral out of control, the Israeli authorities must immediately rein in the military to prevent the further loss of life and serious injuries," Luther said, calling for an arms embargo.
2:44 PM
EU foreign affairs chief Federica Mogherini said: "Dozens of Palestinians, including children, have been killed and hundreds injured from Israeli fire today, during ongoing mass protests near the Gaza fence. We expect all to act with utmost restraint to avoid further loss of life."

"Israel must respect the right to peaceful protest and the principle of proportionality in the use of force. Hamas and those leading the demonstrations in Gaza must ensure that they remain strictly non-violent and must not exploit them for other means," she added.

"During these days, both Israelis and Palestinians are commemorating defining moments for their nations. Each side in this conflict has legitimate claims and aspirations which need to be mutually acknowledged,"she ended.
2:24 PM
IDF strikes five targets in the Gaza Strip belonging to Hamas in response "to the violent acts of the last few hours carried out by Hamas along the security fence", an army statement read.

Earlier today, the IDF said that it also targeted "two additional military positions belonging to the Hamas terror organization."

"The IDF operates with determination in order to prevent massive terror activities constantly being led by the Hamas terror organization in each act of terror will be met with a harsh response," the statement wrote.

40,000 Palestinians, across 13 locations were said to be currently partaking in "violent riots." Protesters are said to be hurling firebombs, burning ties, throwing rocks and launching flaming objects at the IDF.
1:33 PM
"We appeal to Egypt to supply the Gaza Strip hospitals with medicine urgently, dispatch specialized medical staff and transport the wounded to the specialized hospitals inside because of the increasing number of injured on the Gaza border," Palestinian ministry of health reports.
1:27 PM
Death toll of Palestinians killed rises to 41, more than 1700 killed wounded
1:20 PM
Death toll of number of Palestinians killed in border clashes rises to 38, Palestinian Health Ministry reports.
1:19 PM
"We will face the Israeli actions in a series of steps, the first, a call for an emergency meeting of the Security Council," Secretary General of the Executive Committee of the Palestinian Liberation Organization, Saeb Erekat said.
12:17 PM
Palestinian government accuses Israel of committing 'terrible massacre' in Gaza
12:17 PM
The death toll in Gaza border clashes has jumped to 28, the health ministry in the Palestinian enclave said. It is the deadliest day in the Israeli-Palestinian conflict since a 2014 war between Israel and Gaza's Islamist rulers Hamas.
12:16 PM
Jordan denounces US embassy move as a "clear violation" of the UN charter and "condemned" a unilateral decision by US President Donald Trump to recognize Jerusalem as the capital of Israel
12:07 PM
UN rights experts urged Israel Monday to halt all excessive force against Palestinian protesters in Gaza and called for an "impartial, independent investigation" into the deaths of dozens of protesters.

The UN Committee on the Elimination of Racial Discrimination said it was "alarmed by the disproportionate use of force displayed by the Israeli security forces against Palestinian demonstrators" and "gravely concerned that many of the persons who died or were injured were reportedly posing no imminent threat at the time they were shot."

It also voiced alarm at "many reports according to which Israeli authorities have denied and continue to deny access to urgent medical treatment to injured Palestinians."
11:35 AM
Israel has carried out strikes against Hamas positions after thwarting what it called an attempted terror attack along the border. An IDF plane targeted a Hamas outpost in the Jabaliya area of the Gaza Strip after protesters opened fire on Israeli troops from the position. The IDF said soldiers shot and killed three Gazans who attempted to plant an improvised explosive device along the security fence.
11:21 AM
Gaza's health ministry says the number of Palestinians killed by Israeli fire in protests along the Gaza border has jumped to 18. The Israel Defense Force (IDF) says that 35,000 Gazans are currently protesting along the border. An IDF spokesperson told Israel's Kan broadcaster that the protests are "the biggest protests we have seen on the border with Gaza so far".
11:01 AM
President Donald Trump, set to address invitees to the opening of the new embassy in Jerusalem by video, says that today is "a great day for Israel!"
U.S. Embassy opening in Jerusalem will be covered live on @FoxNews & @FoxBusiness. Lead up to 9:00 A.M. (eastern) event has already begun. A great day for Israel!

— Donald J. Trump (@realDonaldTrump) May 14, 2018
10:44 AM
Ten Palestinians were killed by Israeli fire on the Gaza border Monday, the Gazan health ministry said, as mass protests and clashes intensified. More than 500 were injured, the ministry added. One of the dead was 14 years old, it said.

Two of the deceased have been identified as Anas Hamdan Qudeiah, 21, who was killed east of Khan Yunis, and Musaab Abu Leila, 29, who was shot dead east of Jabalia in northern Gaza.

One Israeli soldier was reported lightly wounded by shrapnel.
10:29 AM
Turkish President Recep Tayyip Erdogan says that the US has lost its role as mediator in the Middle East as Washington prepares to move its embassy in Israel to Jerusalem.

"With its latest step America has chosen to be a part of the problem, not a solution, and lost its mediator role in the Middle East peace process", he told the Chatham House international affairs think tank in London on Monday.

"We are rejecting once again this decision which violates international law and which is against UN resolutions," he said.

Erdogan called the US embassy move from Tel Aviv to the disputed city of Jerusalem "very, very unfortunate" and said it "will increase tensions and ignite an even greater fire between communities".

"The international community must do its part as soon as possible and take swift action to put an end to Israel's increasing aggression," he went on.

"The establishment of an independent Palestinian state with Jerusalem as its capital is the only way for lasting peace and stability," he said.
10:18 AM
The Arab League will hold emergency talks Wednesday to discuss Washington's "illegal" decision to move the US embassy in Israel to Jerusalem, a senior official said.

The meeting will focus on "ways of countering the illegal decision by the United States to move the embassy to Jerusalem", the organisation's deputy secretary general for Palestinian affairs, Saeed Abu Ali, said.

He told reporters the permanent representatives of members of the Cairo-based Arab League would meet "at the request of the state of Palestine".
9:25 AM
The IDF has declared the Gaza border area a closed military zone as more than 10,000 protesters gather in more than 10 locations in the Strip. The army said that its intelligence indicates that protesters will attempt to stage a coordinated mass charge on the border from a number of locations.

"The IDF is preparing for a wide range of scenarios, with reinforced forces and a range of special capabilities," the army said in a statement. "The IDF will act harshly against any terrorist activity and will act to preserve Israeli sovereignty and prevent attacks on civilians and soldiers."
8:47 AM
Clashes have erupted along the Gaza-Israel border, where have gathered to protest the opening of the US embassy in Jerusalem. Gaza's health ministry said 12 Palestinians were wounded.
7:50 AM
The Lebanese Hezbollah militant group says the opening of the new US embassy in Jerusalem is a unilateral step "that Palestinians will not accept and therefore it is worthless," the Associated Press reports.
7:26 AM
Iran's parliament speaker Ali Larijani, a key establishment figure, denounced President Donald Trump as "feeble-minded" over his controversial move of the US embassy to Jerusalem, calling for resistance from the Palestinians and the international community.

"America has entered a crisis of strategic decision-making that looks at the international arena immaturely and adventurously," Larijani said at a conference on the Palestinian situation in Tehran.

"I believe the current US president is not capable of identifying and judging the long-term consequences of his actions," he added.
6:39 AM
Israeli Defense Minister Avigdor Liberman says in a message to Gazans "we will protect our civilians with all our means and not enable the fence to be crossed."
4:16 AM
The Palestinian Authority has urged West Bank residents to take part in mass protests against US embassy move. A march departing Ramallah for the Qalandia checkpoint outside east Jerusalem is set to begin at 11:00 a.m. Other demonstrations will be held in Bethlehem, Hebron, Nablus and Jericho.
4:15 AM
The IDF has dropped leaflets over the Gaza Strip warning protesters against approaching border fence. Israel is expecting some 100,000 protesters to rally along the border in three main areas. The army is preparing for mass attempts to breach the border fence and vandalize IDF equipment along the border as well as attempts to kidnap soldiers. The IDF is under order to prevent soldiers from infiltrating Israeli territory by any means necessary, including use of live fire.