LIVE BLOG: Uneasy calm falls on Gaza, Israel as ceasefire holds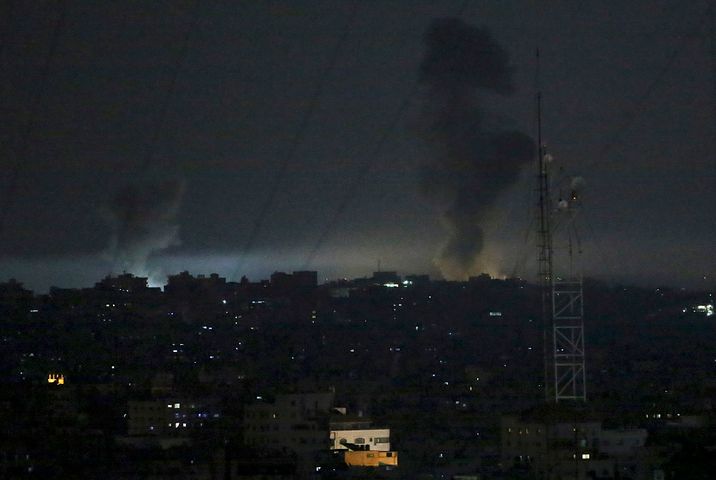 Smoke rises following an Israeli strikes on Gaza City, early Wednesday, May 30, 2018.
AP Photo/Adel Hana
Scroll down for the latest updates
Scroll down for the latest updates from Gaza, Israel's south, Tel Aviv and Jerusalem.
Hopes that a sudden conflagration between Israel and militant groups in Gaza has subsided grew on Wednesday as a lull in rocket launches and retaliatory air strikes stretched into the longest break in violence in 24 hours.
Rocket fire into Israel from Gaza and retaliatory Israeli strikes continued overnight despite two separate ceasefire announcements from Hamas and Islamic Jihad, as Israelis and Palestinians waited to see whether the sudden conflagration would flare into a larger escalation.
The Israel Defense Forces (IDF) said it has struck 65 "military targets" in Gaza since the beginning of the flare up. The strikes came after what the Israeli military said late Tuesday were more than 70 projectiles fired from the enclave since Tuesday morning, although that figure swelled overnight.
Late Tuesday Hamas and Islamic Jihad, another Gaza militant group, announced an Egypt-brokered ceasefire would come into force at midnight. An Israeli official briefed local media that they were not aware of any agreement.
Rocket fire continued throughout the early hours of Wednesday, with one falling in the Israeli town of Netivot.
A Hamas official then announced a fresh ceasefire would be imposed at 4am, although Israeli ministers said there was no agreements with the group. Sirens blared in Israel's south again after this deadline, although it is not clear whether they were caused by projectiles or were false alarms.
Reporting contributed by i24NEWS correspondents Daniel Tsemach, Emily Rose and Ellie Hochenberg.
Wednesday 30 May 2018
8:07 PM
The Israeli army released further details on 6 of the 65 targets it bombed in the strip which included a drone storage facility, a rocket manufacturing plant and Hamas naval armory.

One site was identified as a collection of unmanned submarines intended for "carrying out maritime terror attacks", according to the army.
6:08 PM
Israel's Intelligence Minister Israel Katz said, according to Walla news site: "The time has come to change the rules of the game, I support the idea of separation from Gaza."

"We need to separate from Gaza, to stop the fuel and water and to rely on military power as in the case with southern Lebanon."

He added, "there is an anomalous situation here that happened at the end of the disengagement, and we remained responsible."
4:58 PM
The head of the IDF's Southern Command Maj. Gen. Eyal Zamir said that militant groups in the strip were "very deeply deterred" by the IAF's bombardment of targets in the enclave. He added that "there is a lack of will and desire to reach a situation of another full-scale campaign."
4:54 PM
Kuwait blocked the US-drafted UN Security Council statement that would have condemned Palestinian rocket fire in order to allow for consideration of a draft resolution on the protection of Palestinian civilians.

"We cannot agree to the text put forth by your delegation especially as we are considering a draft resolution that deals with the protection of civilians in the occupied Palestinian territories and the Gaza Strip," Kuwait said in a statement cited by AFP.
2:49 PM
Prime Minister Benjamin Netanyahu says terrorists in Gaza suffered the worst blow in years and that if they 'test us again, they will pay much more', apparently referring to Hamas and Islamic Jihad
12:15 PM
IDF rolls back restrictions on Israeli residents in the Gaza area to avoid outside activity and stay close to bomb shelters.
10:59 AM
When asked why the IDF did not respond to rocket fire taking place at 2,3 and 5 am on Wednesday, a senior officer told i24NEWS that "The IDF chose its targets, and when they were hit successfully, we achieved our goals. The important questions is not who shot last."
8:40 AM
Yesh Atid party leader Yair Lapid, whose party recent polls have suggested would be the parliament's second-biggest after the next elections, was just interviewed on i24NEWS.

Pressed on whether, as a potential prime minister, he supports the IDF entering Gaza and toppling Hamas, Lapid said it is definitely part of the army's "toolbox" -- along with knocking out Hamas leaders.

He also sharply condemned the "international community" for, in his view, not acknowledging Hamas' role in the recent border clashes and protests.

"If [Hamas] feels they have some sort of backing from the international community they will go on and on with terror attacks," Lapid said, adding that it is "time for the international community to sir back and think about their behavior in these issues."
8:16 AM
Hamas tried to use a UAV to drop bombs on Israel last week. Overnight, Israel took out Hamas' UAV infrastructure, the senior Israeli official said.
8:13 AM
A senior Israeli officer from the Southern Command says Islamic Jihad fired mortars because they thought the Iron Dome could not intercept those. However, the Iron Dome did intercept some them.
7:45 AM
In a tweet, the Israeli foreign ministry said that "over 100 rockets and mortars" were fired at Israel since Tuesday morning.

It added that some were "Iranian-made".

A senior IDF officer has made the same claim to reporters near the Gaza border, an i24NEWS correspondent said.
4:33 AM
A senior Israeli official has warned that if fire from Gaza is renewed, the Israeli military's retaliatory attack on Hamas will escalate.

Although there is no Egyptian mediated agreement, the official said, there is an understanding with Hamas that if there is no fire from Gaza, Israel will not attack.
3:07 AM
Education Minister Naftali Bennett, also a security cabinet member, has also denied any ceasefire arrangement. He was quoted as saying by the Walla website that "there is no understanding with Hamas" but that any escalation would come from Gaza, not from Israel.
2:55 AM
In the same interview, Katz said "there is no ceasefire" with Hamas or Islamic Jihad but that Israel has "no interest" in a war.
2:35 AM
Israeli Intelligence Minister Yisrael Katz has given a radio interview, saying the onus is on Hamas and Islamic Jihad to end the Gaza violence.

"Israel does not want the situation to deteriorate, but those who started the violence must stop it," he said in a public radio interview cited by AFP. "Israel will make (Hamas) pay for all fire against Israel."
2:18 AM
The IDF has released an updated map of its retaliatory air strikes on Gaza. It lists 65 locations across the enclave including "sheds of drones used for terror purposes, a rocket manufacturing workshop, advanced naval weaponry, military compounds, training facilities, and a munitions manufacturing site."
2:17 AM
Six Israelis have been injured by rocket and mortar attacks since Tuesday, the Magen David Adom paramedic service says.

Three of those were Israeli troops, two of which were released from hospital late Tuesday.
1:43 AM
Since Hamas' self-declared ceasefire at 4am local time, sirens have blared twice in Israel's south. However the Israeli military has not said if rockets were fired. They may have been false alarms.
1:38 AM
Good morning.

The IDF has not given a recent total number of rocket and mortal shells that have been fired since Tuesday morning. The last number given was 70 at around 8pm Israel time, however since then there have been several more volleys.