LIVE BLOG: Four Palestinians killed by Israeli fire during Gaza border clashes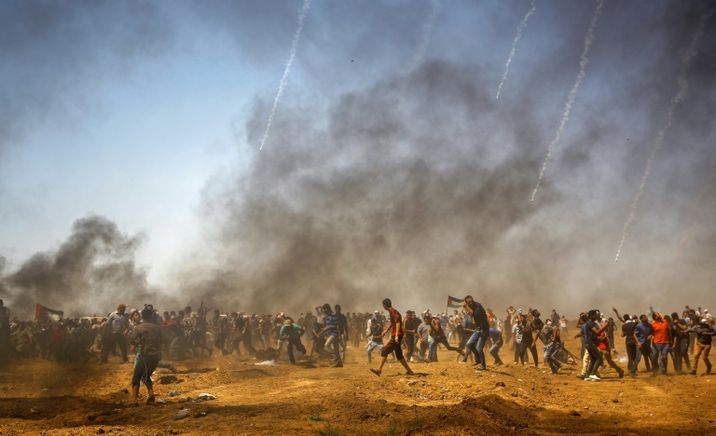 Palestinian protesters protect themselves from Israeli tear gas during protest in Jabalia, central Gaza Strip, June 8, 2018
Mohammed ABED (AFP)
Scroll down for live updates as thousands of Palestinians protested on the Gaza-Israel border
Four Palestinians were shot dead by Israeli fire on Friday as violence spiked in now regular clashes with the Israeli army along the Gaza border.
Some 10,000 participants turned out to mark the "Naksa" or "the setback", which commemorates the 1967 Six-Day War where Israel captured swathes of land from Jordan and Egypt, including the West Bank, East Jerusalem, and Gaza.
According to the Palestinian health ministry in Gaza, 127 Palestinians have been killed since the "Great March of Return" demonstrations began on March 30.
Israel says it troops strictly adhere to live fire regulations and only open fire to prevent a mass border breach. A senior officer told i24NEWS on Thursday that only 30-40 of those killed were done so on purpose.
On Friday, it said participants hurled explosives at troops and sent a number of "fire kites" into Israel, although no major blazes broke out as a result and many of them were downed by small drones.
The army said militants inside the impoverished enclave also fired shots at Israeli troops, hitting one position but not causing any injures.
In addition to the four deaths, over 600 Palestinians were injured, with at least eight remaining in a serious condition at the end of the night. The Palestinian health ministry said well over a hundred were injured by live fire.
Ahead of Friday's expected protests in Gaza, the Israel Defense Forces (IDF) dropped leaflets across the Hamas-ruled territory, warning the Palestinian residents of partaking in any destructive activities such as damaging the border fence and carrying out acts of terror.
Friday 8 June 2018
5:34 PM
The Palestinian health ministry now puts the number of dead since April 30 at 127, all from Israeli fire.
5:32 PM
The Committee to Protect Journalists has released a statement following the shooting of an AFP photographer (details in a post below).

"The use of live ammunition against journalists covering the Gaza protests shows how little regard Israel has for their safety," CPJ's Middle East and North Africa Program Coordinator Sherif Mansour said.

The organization said a further two Palestinian journalists were injured on Friday.
2:48 PM
Haaretz newspaper reports that while Israel generally sees militant groups in Gaza as being averse to an escalation, it is preparing for the possibility of rocket fire from strip as protests wind down.

According to the paper, additionally Iron Dome missile defense systems have been deployed near the border.
2:28 PM
Agence France Presse says one of their award-winning photographers was shot in the leg while covering the clashes:

Mohammed Abed al-Baba, who has worked for AFP in Gaza since 2000, said he was shot in the leg while wearing a clearly identified press vest and helmet around 200 meters (yards) from the border east of Jabalia in northern Gaza.
2:25 PM
A couple of hours ago Israeli Defense Minister Avigdor Liberman tweeted in support of the "determination and professionalism" of IDF soldiers.

He also wrote that "despite the great efforts of Hamas and Iran", fewer and fewer "terrorists" are participating in the protests.
1:35 PM
The health ministry says a fourth Palestinian has died from Israeli fire.

The ministry identified him as Yousef El-Faseih, 29.
1:12 PM
Israeli soldiers have come under fire from within Gaza, the army says:

"A short time ago, terrorists fired at our forces in the northern Gaza Strip. A hit on a position was identified. None of our forces were injured."
1:09 PM
The Palestinian health ministry released its latest injury toll a few moments ago.

It puts the number of injured at 618. One of those is in a 'very critical' condition (likely the man who was revived) and eight as serious.

117 were injured by live bullets so far, the ministry says.
12:58 PM
The Israeli military has released an update on the situation in Gaza as it sees it.

It still says 10,000 are taking part in the demonstration, and that "over the last few hours, terrorists launched dozens of kites and balloons with explosive devices attached to them over the fence."

"In addition, a number of explosive devices and a grenade have been hurled and tires have been set on fire at the riot locations next to the security fence," the statement continues.
12:55 PM
The Palestinian health ministry just updated that the fourth man reported killed by Israeli fire was successfully revived.

He is still in a critical condition, however.
12:51 PM
Another death brings the death toll so far in the clashes up to four, according to the health ministry.

Karam Ibrahim Abu Arafat, 26, was shot east of Khan Younis.
12:49 PM
Two more deaths have been confirmed by the Palestinian health ministry of Gazans hit by Israeli fire.

Imad Nabil Abu Drabi, 26 was shot east of Bureij refugee camp and Haitham Mohammed Khalil al-Jamal, 15, who was shot easy of Khan Younis.
12:44 PM
A Palestinian man has been killed by Israeli fire east of Khan Younis, the health ministry in Gaza has said.

The man, identified by the ministry as Ziad Abdulqader al-Buraem.
12:16 PM
Health ministry says 413 injured including 21 children. IDF says there have been several cases of exploding kites and balloons in the past few hours
11:16 AM
Palestinian health ministry says 386 injured
10:40 AM
IDF says a grenade and a pipe bomb thrown towards Israeli soldiers
10:16 AM
IDF reports 10,000 Palestinian protesters at five different locations along the Gaza border
10:15 AM
Palestinian health ministry says more than 100 injured
9:34 AM
Gaza media report 8 Palestinians injured
9:13 AM
"The IDF is prepared with reinforcements along the Gaza Strip fence to defend the residents of the Gaza periphery and security infrastructure from attempted terror attacks by terror groups led by Hamas," the army says.
9:13 AM
Kites reportedly sent over border, stones thrown at IDF jeeps, and tear gas fired at Palestinian demonstrators
8:41 AM
4000 Palestinian protesters gathered at five different locations on Gaza border