A Prince's Pilgrimage: Could William, like his ancestors, get inked in Jerusalem?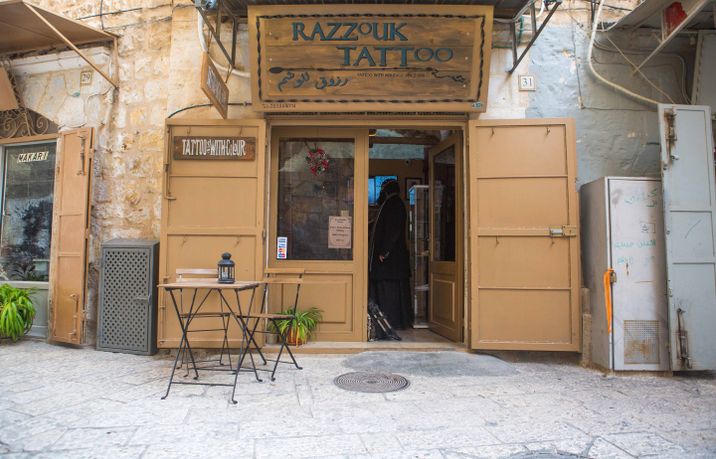 A monk is pictured inside Razzouk Ink: Tattoos with Heritage in Jerusalem's Old City
Shiran Golan
While Prince William leaves his mark on history this week as the first member of the British royal family to embark on an official visit to Israel, the city of Jerusalem left its own mark on at least three of William's ancestors.
At least three British princes received tattoos in Jerusalem after making pilgrimages to the Holy City in the 19th century. Albert Edward, Prince of Wales (later King Edward VII) began the tattoo tradition with the first royal pilgrimage to the Holy Land in 1862.
Two decades later, two of the prince's children, Prince Albert Victor and Prince George (who would later become King George V), made the same trip and received tattoos of their own.
While there is no evidence to suggest who inked the princes, Wassim Razzouk of "Razzouk Ink - Tattoos with Heritage" in Jerusalem -- whose family has been tattooing pilgrims for the past 700 years -- speculates that the British royals may very well have been marked with one of the hand-carved stamps handed down through his family for generations.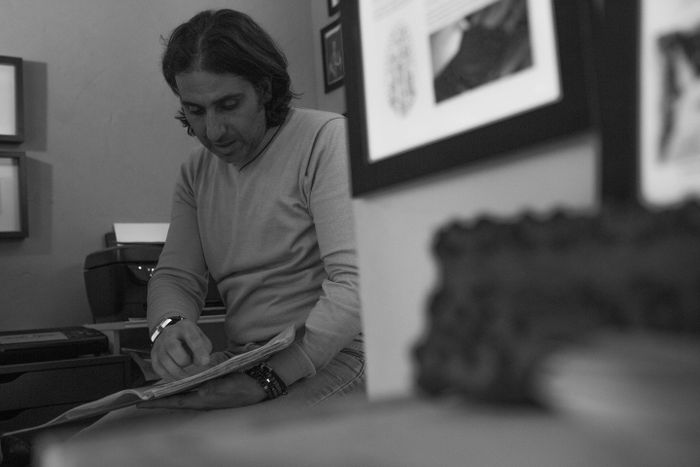 Wassim's family began tattooing Coptic Christian pilgrims in Egypt centuries ago, before his great, great grandfather settled in Jerusalem in the early 18th century and began tattooing pilgrims to the Holy City.
Wassim's grandfather, Yacoub Razzouk, was a carpenter by trade, and his father before him hand-carved olive wood blocks with intricate religious motifs and other traditional designs such as the emblematic Jerusalem cross (also known as the "Crusaders' cross" or "Five-fold Cross").
Many of the Wassim family stamps found their way over the years into the hands of collectors and tattoo artists in San Francisco, London, Paris, and Amsterdam, where they were traded for modern tattoo machinery.
But many are still in use by Wassim today.
"Most probably this was the same stamp and the same cross that his ancestors were tattooed with," Wassim tells i24NEWS, displaying a wooden block featuring the Jerusalem cross.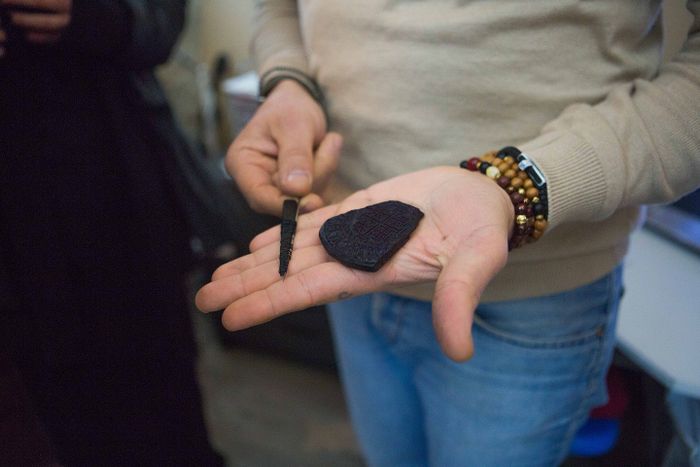 Wassim's east Jerusalem studio, "Razzouk Ink - Tattoos with Heritage" is a landmark, with tour guides regularly stopping to explain the studio's historic and cultural significance on the way to the nearby Church of the Holy Sepulchre.
Christian pilgrimage tattoos date back to the early 7th century, to the spread of Islam into Egypt, which at the time was a mainly Coptic Christian society. After being conquered by Muslim armies, many of Egypt's Copts were forced to convert to Islam, coerced by threats and high taxation of non-Muslims.
But some resisted, and were tattooed by the state with a cross on their inner right wrist identifying them as Christians -- a practice borrowed from the ancient Greeks who tattooed convicts on their faces. Over time, Coptic Christians adopted this tradition and began tattooing themselves with the cross, and for many centuries, the Coptic Churches would only grant entry to those who could prove their Christian identity with a tattoo.
Today, for many Christian pilgrims to Jerusalem, a tattoo is a must.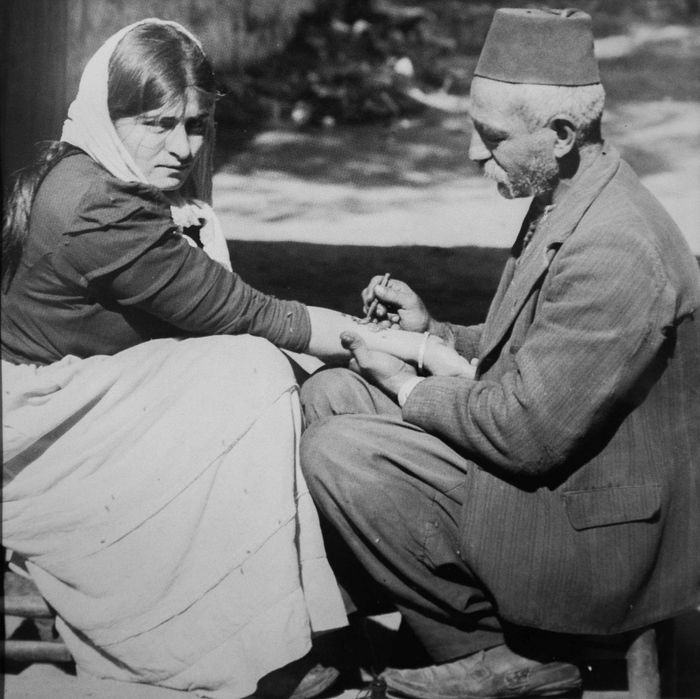 "Pilgrimage tattoos really is part of the history of the Holy Land," Wassim tells i24NEWS. "Pilgrims have forever gotten tattoos whenever they came to the holy land...as proof and certification of their pilgrimage."
"These days it's easy, you go on Google and you buy a ticket and come here the next day. But hundreds of years ago it wasn't like that," Wassim explains. "You would prepare all your life for a trip like this and it would take you months to get here. This was an experience of a lifetime. Not many people could make it more than once."
"The tattoo is a symbol of their journey to the Holy Land. It's a symbol of their identity and it's something they want to take home as a souvenir, as proof, and as a source of pride of their Christianity and of their pilgrimage to the Holy Land," Wassim says, comparing the practice to the Catholic Church's issuing of pilgrimage certificates.
Wassim, whose father tattooed Ethiopia's last Emperor Haile Selassie, told i24NEWS it would be an honor to tattoo William and resume the tradition among the British royals.
Though unlikely, William's visit to Jerusalem and the mark it leaves on world history has left religious pilgrims, tourists, and locals alike eager to mark their own bodies with the most traditional and culturally authentic relics available in the Holy Land.
See also:
Tattoos with heritage: Jerusalem artist inks pilgrims to the Holy Land