Arab Israeli sentenced to 8 years in jail for planning terror attacks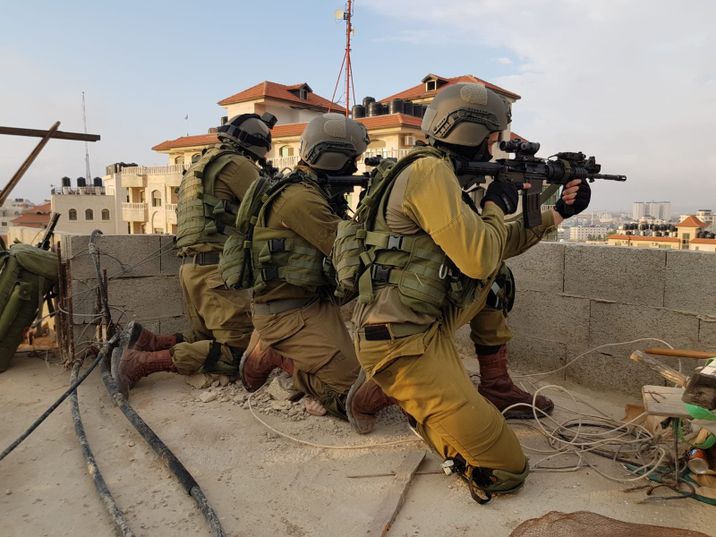 IDF soldiers operate in the al-Am'ari refugee camp near Ramallah
IDF Spokesperson's Unit
An Arab Israeli man was sentenced to eight years in prison on Sunday for planning terror attacks against IDF soldiers in the Negev desert. 
46-year-old Firas al-Omari was sentenced to jail by a court in the southern Israeli city of Beersheba which said that the terror attacks he was planning was to avenge Israel's outlawing of the Northern Branch of the Islamic Movement in 2015.
Omari was a member of the outlawed movement until 2015 where he then joined Hamas.
According to the charge sheet, Omari was planning to target a bus stop or an army base in the Negev desert and the attack should have been in the form of either gunfire, stabbing or car-ramming.
The 46-year-old Arab Israel man was also believed to have hidden bomb components and being in possession of an illegal rifle in 2016.
The Beersheba District Court convicted Omari of belonging to and aiding a terror group, contacting a foreign agent, buying materials for terror purposes and conspiring to help an enemy at war time.
"The offenses of which the defendant was convicted are grave, harm the State of Israel's security and undermine its very legitimacy," Judge Natan Zlotchover said in his ruling on Sunday, adding that the fact that Omari is an Israeli citizen makes the case more serious.
On Friday, the leader of the Northern Branch of the Islamic Movement, Sheikh Raed Salah, was released on house arrest on Friday after serving 10 months in Israeli prison for incitement to terror.
The Sheikh will not be allowed to be interviewed by media or give public lectures, and will be subject to electronic monitoring at his house in the Arab town of Kafr Kanna in north Israel.
Salah was arrested August 15, 2017 in connection with an attack on July 14, 2017 at Jerusalem's flash point Temple Mount holy site, in which two Israeli police officers were shot to death.
Judge Erez Porat of the Rishon Lezion Magistrate Court quoted Salah's charge sheet during August 2017 legal proceedings, saying that he made inflammatory statements inciting violence against Israel at a funeral for the assailants who carried out the July 14 attack.
Prime Minister Benjamin Netanyahu has pledged legal measures to outlaw the Islamic Movement, which he accuses of leading anti-Israeli "incitement" that encourages violence.