Netanyahu says no Gaza ceasefire without end to 'fire kite' phenomenon
After an intense flare up between Israel and Gaza militant groups over the weekend, Israeli Prime Minister Benjamin Netanyahu vowed that his country would not agree to any ceasefire that does not include a definitive end to the launching of incendiary kites and balloons across the border.
"I heard that Israel agreed to a ceasefire without stopping the kite terror. This is not true," Netanyahu told cabinet ministers at the start of their weekly meeting on Sunday.
"The IDF dealt the harshest blow against Hamas since Operation Protective Edge [the 2014 Gaza war]. I hope they got the message; if they didn't, they will down the road," Netanyahu added of the weekend conflagration.
A ceasefire struck via Egyptian mediators to end a major escalation in tit-for-tat rocket fire and airstrikes over the weekend had also been intended to bring to an immediate halt the launching of such devices across the border.
It was not immediately clear if Hamas or Islamic Jihad, Gaza's second-largest militant group, had agreed to those terms.
While Israel was reported to have agreed to the truce, a senior official later clarified that "only facts on the field will determine how we continue to respond."
Fires caused by flaming balloons have resumed today despite a ceasefire declared by #Hamas and PIJ. The point of the Israeli strikes in #Gaza over the weekend was to put a stop to this #Israel @i24NEWS_EN pic.twitter.com/pWbVuAQgIB

— Shai Ben-ari (@ShaiBenari) July 15, 2018
Netanyahu's remarks came as right-wing ministers criticized Israel's reported agreement to quell tensions on the border.
Meanwhile, at least three new fires were reported to have torched fields near the border Sunday morning, with local officials saying they were sparked by flaming kites or balloons, while the IDF confirmed striking a "Hamas terror squad" launching incendiary devices into Israel from a position in the northern Gaza Strip.
Hawkish Education Minister Naftali Bennett renewed criticism of the reported ceasefire on Sunday morning, deeming any truce which did not put an end to the phenomenon "a submission".
"A ceasefire without stopping fire terror is not deterrence -- it is submission," Bennett said, adding that he and Justice Minister Ayelet Shaked would oppose any truce "that allows Hamas to rearm and continue to fire balloons at the residents of the south."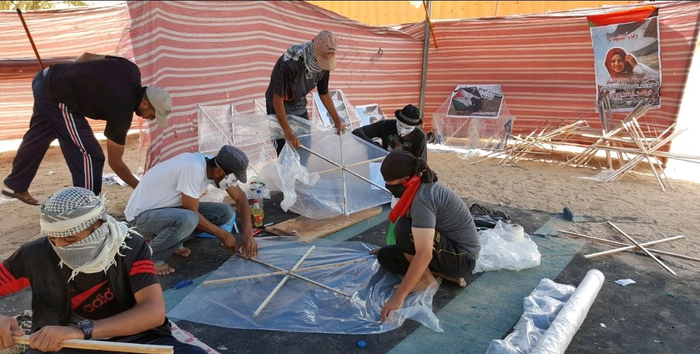 Bennett issued similar remarks late Saturday, saying that "allowing Hamas to dictate the terms of the ceasefire after two months of arson attacks and hundreds of rockets on the residents of Gaza border communities is a serious mistake. Showing restraint creates an escalation in violence."
Defense Minister Avigdor Liberman said, meanwhile, that Israel had no intention of allowing Hamas to continue launching flaming kites and balloons across the border.
"We've had a stormy weekend. As for the rest of the week, it's important to emphasize that there is no intention to allow rockets, kites, UAVs, or anything," Liberman said at the Sunday cabinet meeting.
The low-tech incendiary devices have become a popular way for Palestinian rioters along the Gaza border to inflict costly destruction on Israeli land without putting themselves in danger.
The improvised devices have have wrought damage to thousands of acres of Israeli farmland near Gaza over the past several weeks, causing millions of dollars in damages to the state and costing residents of the area their livelihoods.
Israel believes the tactic, which began spontaneously, is now being strategically organized by Hamas.
Last month, Israel's Foreign Affairs and Defense Committee unanimously approved a proposal on Monday to deduct funds from the Palestinian Authority to compensate for damages caused by the incendiary aerial devices.